As show season begins to wind down many of us equestrians start to dread the cold weather. While fall is still prime riding time, we all know what is to come. A long, long wait for the fun and sun to resume. Here are some ways to make the most the beautiful fall weather and enjoy your horse before winter is upon us.
Trail Ride
Ok, let's start with the obvious fun way to spend time with your horse. Go for a trail ride! Trail riding is so much fun and speaking for myself, I rarely make the time. But as a kid, I used to love trail riding after school and on weekends during the fall and any time I wasn't going to a horse show instead. If you're new to riding or new to trail riding, check out this article where I outline beginner friendly trail riding tips to get the most enjoyment out of hitting the trails without putting yourself and your equine partner at risk.
If you're a more experienced rider you might be thinking ok, trail riding is fun but not with my show horse. And I can relate. I love trail riding especially with my horses Rythum and Beau. However, my current show partner Luke and I are still getting to know each other and quite frankly, I'm not sure if he's ever been on a trail ride in his life. Secondly, he's not a fan of the bugs.
All that said, trail riding can be extremely beneficial especially for show horses. It's great for their minds and bodies, which I detail in another article. Check out the reasons you should trail ride your show horse, it might change your mind! I do plan to take Luke on a trail ride this fall, with a nice confident friend (probably Beau with my mom aboard) in case he gets nervous and to show him the ropes without overwhelming him.
Beach Ride
In New England we are fortunate to have access to many beautiful beaches. Many of which allow horses beginning after Labor Day and until Memorial Day. Check your local beach rules about horses before heading out!
Riding on the beach is the most thrilling and fun experience I've ever had! Yes, the horses sometimes take a little time to settle down and realize the waves won't eat them. But, if you have a little patience you and your horse will soon be having the time of your lives! Galloping through the surf with the wind in your hair and friends by your side is indescribable. But don't worry, you don't have to gallop to have fun!
Just make sure to watch out for other beach-goers and be courteous to dogs and pedestrians. You might also want to scope out the parking area before you make the trek with your horse trailer if you've never been to the beach you plan to ride at.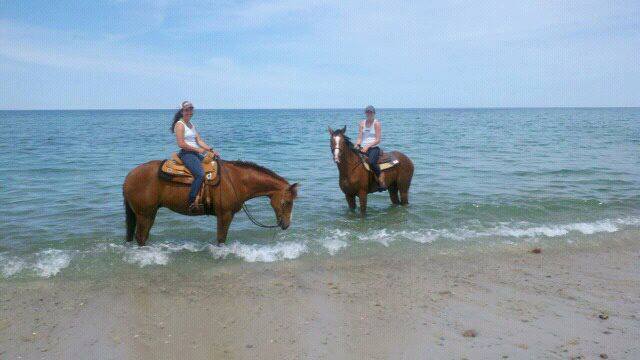 Ride In A Clinic
Fall or winter is a great time to expand your knowledge and refine your skills by gaining new perspective from another trainer. Sometimes riding in a clinic with an unfamiliar instructor can help you and your horse overcome an obstacle. Often times a concept you've struggled with will just click all of a sudden. Even if the clinician gives you the same advice your trainer has been providing. This is a known phenomenon.
Also, riding in clinics may help you get out of your comfort zone and try an exercise or maneuver that you find intimidating. Good clinicians have a way of making this happen. If you're not sure if this is the right move for you, try auditing a clinic first. Then, you can decide if you want to sign up for a future clinic.
Often times horse show judges teach clinics during the off-season or in-between shows. This is a great opportunity to get a judges perspective out side of the show ring!
Ride In A Hunter Pace
If you're looking for a more exciting way to trail ride this fall, try a hunter pace! Here's the best part, the jumps are optional, you can go around any that you don't feel comfortable jumping. And, if you need a bit more of an adrenaline rush, you can jump everything, even the really scary fences! Plus, you get to bring your friends!
Sometimes entering a hunter pace will give you access to ride on trails and properties that you would not normally be able to ride on. Usually organized events scope out locations with good footing and wide trails which makes the ride even more fun.
Dress Up For Halloween
If you have kids, or just like to get into the spirit of the season, consider dressing up your horse for Halloween! My daughter and I have a whole list of ideas going for how to dress up Beau to match her Halloween costumes.
Pinterest is a great resource for Halloween costume ideas! Check out my Pinterest Halloween Horse Board here.
Plan Goals For Next Season
Fall and winter is a great time to reflect on your progress over the show season, strengths, weaknesses and think about new goals. Maybe there is a specific skill you want to improve, or maybe after a successful season you're ready to move up to a new level. Take some time to meet with your trainer and talk about your goals for next year so that you'll be able to focus on preparing over the winter.
Want more tips for setting your riding goals? Check out my free guide to Equestrian Goal Setting here!
Download your FREE Equestrian Goals Worksheet and start achieving your goals today!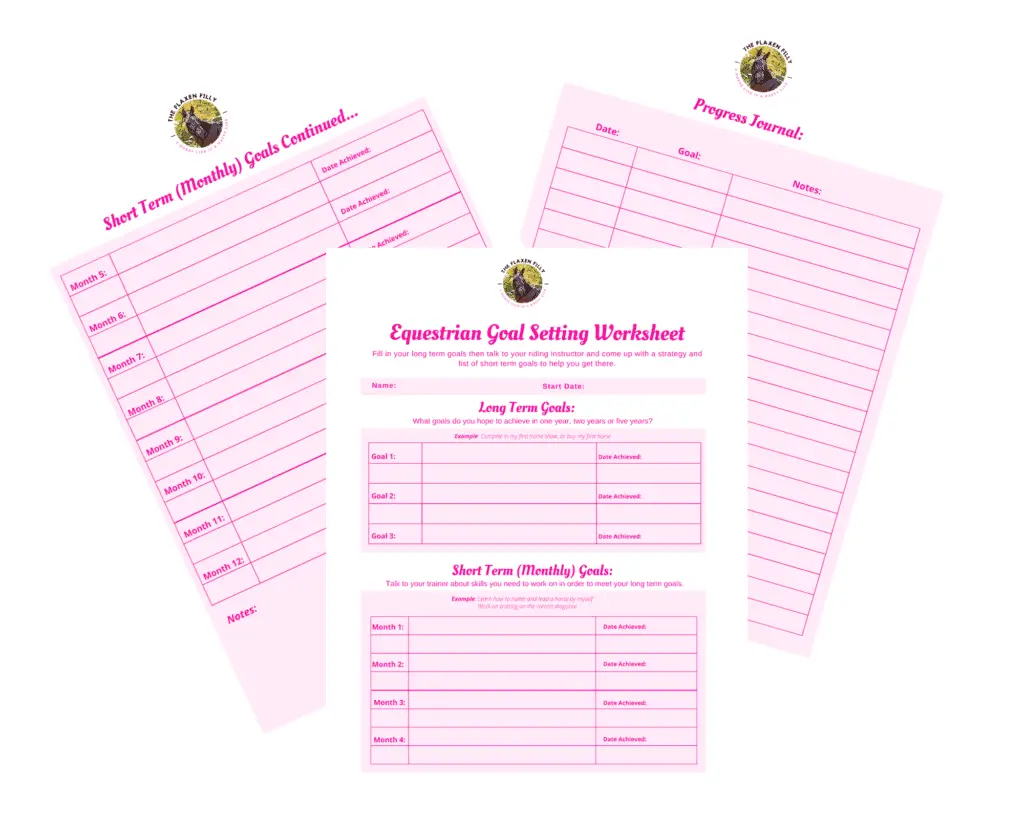 And, if you want to know how I set my riding goals each year to continue making progress, check out this article: My Personal Riding Goals & How To Set Yours
Strategize For Winter
Now that you've had a chance to think about your goals for next season it's time to come up with a tangible strategy. It's important to take the time you have available during the off season to address any training issues or bad habits that may have arisen during show season. It's also a great time to focus on prepping for the upcoming season. For example if you plan to move up to a new division, getting comfortable and confident with new skills or expectations.
Fall and winter are a great time to challenge yourself to improve your riding and your relationship with your horse!
Your Horse Will Love Time Off & Turn Out
Some horses benefit greatly from taking some time off after show season and just having a few weeks to be a horse. I like to keep riding my horse through the fall but focus on more fun activities and make work less intense. If I give my horse time off completely with just rest and turn out, I like to wait until winter.
Not all horses need or want time off and for some, time off while also maintaining fitness is a better option. You can decide what works best for your horse. Just remember that if your horse has a few weeks or a couple of months off from working, you'll need to give him time to get back into shape when it's time. Your horse will need to get back into work slowly and regain his fitness before he can perform at the same level.
Another option is to give your horse time off from riding but to keep him fit with lunging, turnout and ground work. Consult your trainer and come up with a plan that works best for your horse.
Ground Work Can Be A Fun Way To Spend Time With Your Horse
It seems like it's common to do ground work with young horses and problem horses but not seasoned show horses in many barns. With the exception of showmanship and halter practice that some exhibitors may need to practice.
However, ground work is a great way to earn your horse's trust and respect. This leads to a greater bond between you and your horse and you'll likely find that your horse will become a more willing and happy partner.
You don't have to just practice mundane leading exercises either, if your horse is very polite on the ground try challenging yourself to teach him a new skill. You can practice things like asking your horse to yield his hip or shoulder, side pass or any other skill he doesn't already know.
If your horse is a pro at ground work, try removing your halter and lead rope, this is a pretty fun and entertaining way to practice! I suggest doing so safely and don't try this unless your horse is respectful of your space.
Lastly, and a very useful skill is ground tying. If you're having fun doing groundwork with your horse and you want to up the difficulty, try teaching him to ground tie!
Learn A New Skill
As I mentioned above, the off season is a great time to learn new skills. Many people work to improve and ride their best during show season but hold off on trying too many new maneuvers. Some horses can handle learning new skills and stay focused on their current job but others become a bit frazzled. If your horse is the type to get frazzled or anxious about a new activity, mid-show season is probably not the best time to introduce anything new.
For example, my mom's horse Rayven needs to learn to do a flying lead change. But, this takes a lot of focus and practice. So, my mom and I decided not to start working on it until after show season ends this year.
Teach You Horse A Trick
Another fun way to hang out with your horse and improve your bond is to learn a new trick. I don't know about you, but I've always wanted to teach my horse a trick like bowing, counting, laying down, smiling etc. If you want to give your horse a mental break from his current job but also keep him engaged, learning a new trick may be just the right solution.
Fall Foliage Photo Shoot
Although it's sad when show season winds down, we have the beautiful fall foliage to look forward to! And, if you plan to spend your time enjoying the autumn with your horse, why not snap some nice fall photos while you're at it.
In the past we've set up photo shoots with a professional photographer in the fall to capture memories with a beautiful background. Spoiler alert, the photos came out beautiful! Here's one example: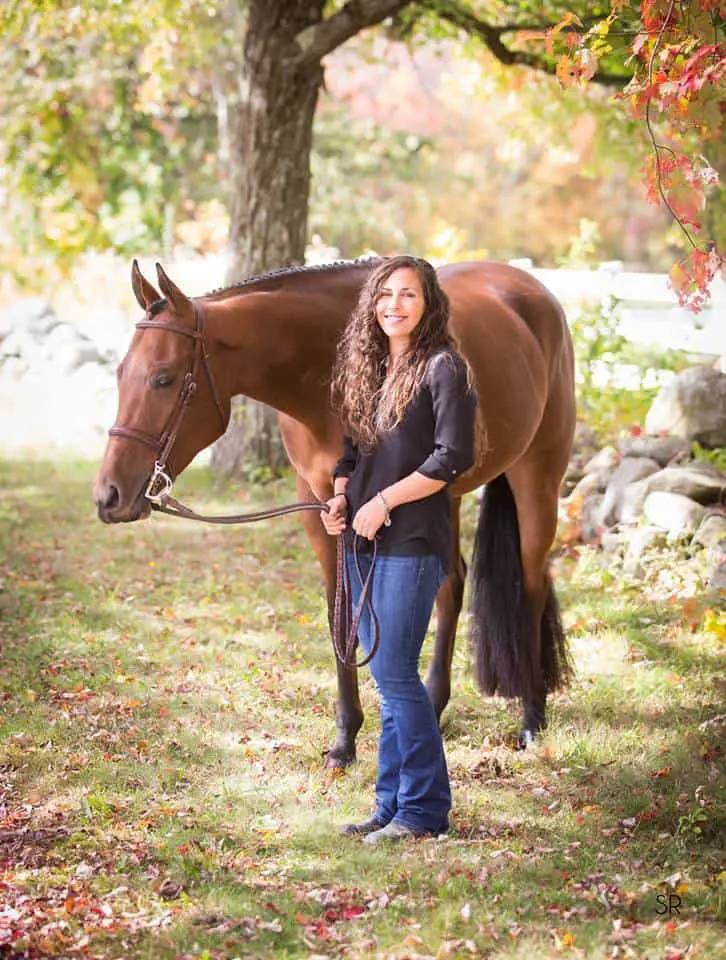 Give Your Horse A Massage
Massage is a great way to help your horse relax and recuperate after a long season. You can hire a professional massage therapist to come out and work on your horse but you can also learn some basic techniques and try them yourself. What better way to spend some quality time with your horse and show him some appreciation!
Ride Bareback
Maybe you've spent many days riding bareback in the summer already. Bareback riding is great all year-round. You know what they say: Too hot, ride bareback. Too cold, ride bareback. Short on time, ride bareback. Too lazy to tack up, ride bareback!
Or, maybe you avoided riding bareback in the heat to avoid sweaty hair stuck to your legs! If so, now is your chance to get out there and enjoy it. I you need some tips on getting started riding bareback check out this article.
Participate In A Game Day
Game days can be lots of fun no matter what discipline you normally ride. Game days can have a variety of gymkhana events like barrel racing and keyhole race or other games like obstacle courses and more. Trying new events is a fun way to challenge your horse, keep him engaged and give him a break from the norm.
Practice Riding Without Stirrups
If you really want to get a jump start on next show season, spend time improving yourself. Ride without stirrups! Plus, No Stirrup November is coming up soon, so if you get the practice in now you'll be ready to go. Check out my tips for surviving no stirrup November and reasons you should participate, even if in moderation.
I hope you found these ideas helpful! If you did, please share this article on Pinterest, using the image below, for others to enjoy!