The weather is starting to turn and for many of us that means the snow and ice along with freezing temps will soon be up on us! In this article we'll cover the best winter horse care tips you need to know this year! As for me, our horses are already bundled up in blankets and hoods. Aside from blanketing, there are lots of ways to keep your horse cozy, comfy and safe this winter!
This post may contain affiliate links which means that I may earn a small commission at no extra cost to you. As an Amazon Associate I earn from qualifying purchases.
Winter Horse Care Tips For Horse Health
Hay
The absolute best way to keep your horse warm this winter is to load them up with hay! Hay is absolutely crucial for keeping your horse happy and healthy through the winter months.
The process of digesting hay will help keep your horse warm throughout the day. Horses also burn extra calories when they are cold and may lose weight so feeding extra hay in the winter can help your horse to stay in good weight as well.
For more in depth information about feeding your horse in winter, check out this article from Rutgers Equine Science Center.
Want to learn more about daily horse care? Check out this article!
How To Care For Your Horse: Daily Checklist
Monitor Body Condition
To keep your horse in good health check their body condition often. This can be done when you groom your horse throughout each week or at feeding time. Check to make sure your horse hasn't lost weight or muscle over the winter. If you notice a change or problem, work with your barn manager and veterinarian on a solution. It may be as simple as feeding more hay.
Water
Many horses are prone to dehydration in the winter as they may not have an interest in drinking or their water freezes too quickly.
Keep your horse hydrated by checking their water for ice a couple of times throughout the day. Make sure to break and remove any ice at the top to ensure your horse has access to fresh water. And, keep your horse's water clean!
It's a good idea to buy a hot water heater specifically made for horse water buckets to keep your horse's water from freezing. Keep the bucket full at all times. The heater needs to be fully submerged in the water to prevent your horse and the bucket from getting burned.
If your horse is stubborn, try feeding a mash made with warm water and some grain or bran to help encourage water consumption. You could also feed hay or alfalfa cubes soaked in water as well.
Access To Shelter
One of the best ways to keep your horse warm this winter, is to keep them dry! Access to shelter is crucial so that your horse can get out of the elements if needed.
If your horse lives outside they just need to have shelter to get away from the rain, snow and wind if they choose. Often times horses will choose to stay outside in the snow. If a horse has sufficient hay available and a long and thick winter coat, they will be well insulated. Even with snow piling up on their back! But, don't wipe the snow away or it will soak into the hair causing your horse to become wet.
However, if your horse becomes wet from rain and does not have access to shelter they can quickly catch a chill and become very ill.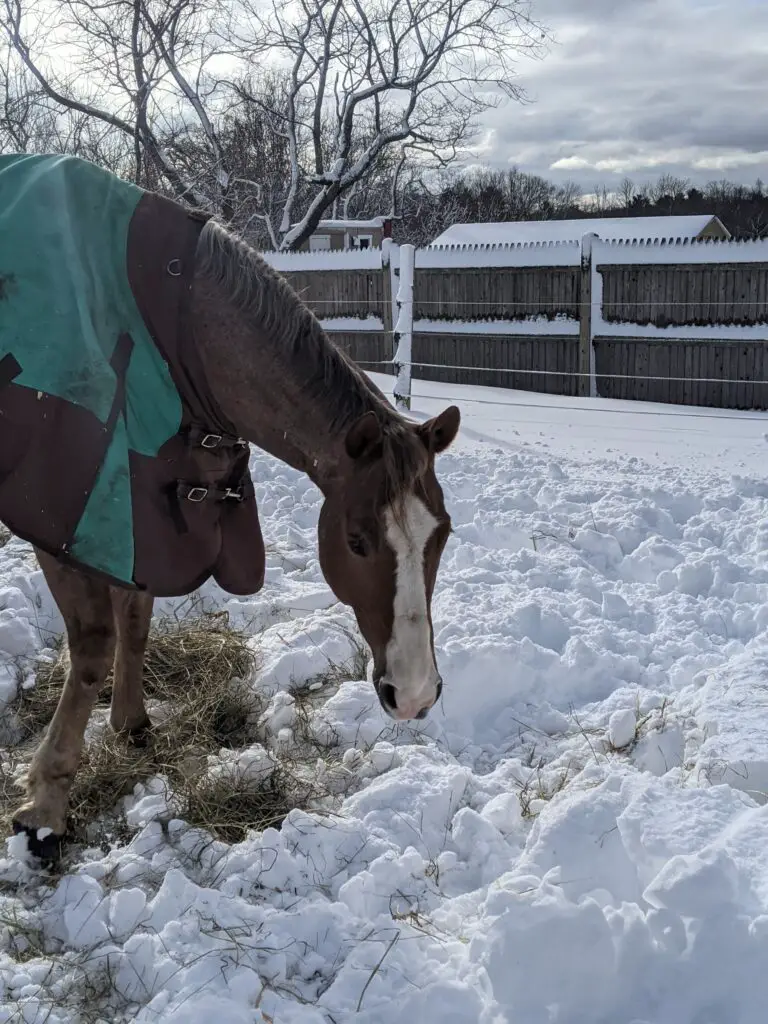 Extra Bedding
Some horse owners choose to provide extra bedding in their horse's stall during the winter. Your horse may enjoy it and it may provide a little extra insulation. However, this step is not completely necessary to keep your horse warm and happy during the winter months.
Just make sure your stalls are bedded heavily enough to soak up urine and spilled water from the water buckets to avoid any slick spots that could cause your horse to fall.
Want more stall cleaning tips to keep your horse cozy and comfortable? Check out this article!
How To Clean Your Horse's Stall Perfectly In 8 Easy Steps!
Blanketing
If you choose to blanket your horse, be sure to check to make sure they are warm enough but not overheating. Your decision to blanket or not blanket your horse should be based on their coat, age, overall health and work load.
If your horse is in steady work all winter and has been body clipped, you will definitely need to blanket.
If your horse does not work in the winter and has a nice thick coat, you may not need to blanket.
Either way, winter is famous for weather changes. So you'll need to be able to adapt and change or remove your horse's blanket based on the weather. If your horse wears a lightweight blanket when the temperature is 40 degrees, you'll need a heavier blanket for when the temperature drops.
Just the same, on those odd warm days that hit 60 degrees you'll need to make sure your horse's blanket can be removed. Of course this means being available to put it back on when the temperature drops later that night.
Blanketing needs to be closely monitored throughout the winter months to avoid overheating, chills, skin irritation etc.
Winter Horse Care Tips For Turn-Out & Riding
Turn-Out
If you plan to let your horse have turn-out during the cold weather, be sure they have access to fresh water and shelter. And, keep an eye on your fencing as materials may become brittle in the cold and break more easily. Turn-out, exercise and play time are still just as important in the winter!
Exercise will help your horse's circulation as well as their digestion. So, don't lock your horse inside bundled up just because you feel the urge to snuggle up in a blanket on the couch with a warm drink! If the weather is severe, even without precipitation or the wind chill is high you may want to occasionally keep them inside. Otherwise, let them get out to play and burn off steam!
Snow Shoes & Ice Pads
Many horse owners use snow shoes with studs and anti-balling pads on their horses to protect against slipping on ice. And to prevent chunks of snow and ice from building up in the horse's hooves making it difficult for them to walk.
Alternatively, if your horse can be comfortable and sound without shoes, many horse owners remove their horse's shoes in the winter. Either way, you'll want to do your best to help your horse avoid a fall.
Talk to your farrier about what is best for your horse!
Riding
Riding in the snow can be lots of fun! But, here are some tips to keep in mind.
Firstly, cooling out horses properly in the cold is very important and can be difficult. So try not to let your horse get sweaty if they are not clipped. Make sure you have a cooler with wicking material available to put on your horse after your ride to keep them warm while they cool down. This will help to prevent them from becoming cold and ill.
Secondly, keeping your horse and their muscles warm is important, so try using a quarter sheet. Of course, if your horse has a thick coat you may not need one. And, some horses will require desensitizing before riding with a quarter sheet.
Also, make sure you pick your horse's feet before and after your ride! If your horse doesn't have snow shoes but is wearing shoes, you should not ride in the snow!
Body Clip Or Trace Clip Horses In Moderate To Heavy Work
Horses that continue to work throughout the winter months and have already grown a winter coat may need to be clipped. Trace clipping (another word for partial body clip) or body clipping can help prevent your horse from overheating and becoming sweaty under thick hair. It can also help them to dry faster if they do sweat.
Just remember, horses that are clipped or do not have winter coats (due to living under lights and in warm barns) will need to be blanketed in order to stay warm.
If you're not quite sure whether this is right for your horse, talk to your trainer about whether or not your horse needs to be clipped this year!
Winter Horse Care Tips For The Farm
Back Up Care Taker Or Barn Manager On-Site
In the case of a severe storm or dangerous driving conditions, you or the farm owner should have a system in place. Whether the barn manager or farm owner lives on site and can care for the horses or someone else who lives near by.
Make sure you know what the plan is if you or the normal staff cannot make it to the barn to care for your horse. Your horse will still need feed and water regardless of the weather.
Keep The Horse Trailer Plowed Out In Case Of Emergencies
Inevitably emergencies seem to happen at the most inconvenient times. Usually in bad weather, in the cold or on holidays. During the winter months it's important to clear snow and ice from the top of and around your trailer each time there is a storm. The last thing you want to have to do in an emergency is dig out your trailer!
Cover Your Hitch To Keep It Free From Ice
On a similar note, keep your trailer hitch covered and free from ice to ensure you can hook up your trailer. Once again, taking time to de-ice your trailer hitch during a severe colic episode or other severe illness can make it difficult to properly care for your horse. Chances are, if your horse is ill enough to need to go to the clinic for care time is of the essence.
Plow To Allow Access For Deliveries
It's typical in winter for deliveries to be delayed due to inclement weather. Make sure you keep your farm driveway accessible for deliveries all winter long. Feed and bedding are a necessity all year round and you don't want to have to scramble to find them.
Stock Up On Supplies
And, in addition to keeping your drive way clear to allow for deliveries, it's a good idea to stock up on hay, grain and bedding in the winter months. Many farms purchase one month worth of supplies at a time but in the winter, purchase more. If you can afford it, stock up on extra supplies before the snow!
Use Animal Safe Salt or Sand On Walk Ways
One of the absolute most important winter horse care tips is to keep your walk ways free of ice! Whether you use sand or another animal safe alternative, keep your walk ways clean! Keeping your walk ways free from ice will help to prevent and horse or human falls. Need I say more? Last winter I fell down right outside of our front barn door on a spot that I didn't realize was missed. Not only did I break the phone in my pocket, I also ended up with pretty nice bruise and soreness!
I hope you found this article helpful! If you did, please share it on social media!