All the essential fall riding gear you need for fun fall riding this year! Keep yourself and your horse nice and warm as the weather gets chilly. Don't forget, dress in layers so you can stay comfortable no matter the weather or if you work up a sweat, and stay hydrated!
Where To Shop For Fall Riding Gear
Here's a list of links to some of my favorite stores and brands!
Horse Tack & Apparel at Equinavia
This post may contain affiliate links which means that I may earn a small commission at no extra cost to you. As an Amazon Associate I earn from qualifying purchases.
Fall Riding Gear For Your Horse
Quarter Sheet
Keep your horse's muscles from getting cold and tight in the cool weather! Quarter sheets are very handy for fall and winter riding gear no matter what discipline you ride and come in a variety of styles and colors!
Protective Boots
If you plan to hit the trails, be sure to protect your horse's legs! It is important to use boots instead of wraps for trail riding in case your horse's legs become wet from puddles, mud or if like mine mare, your horse likes to splash in water!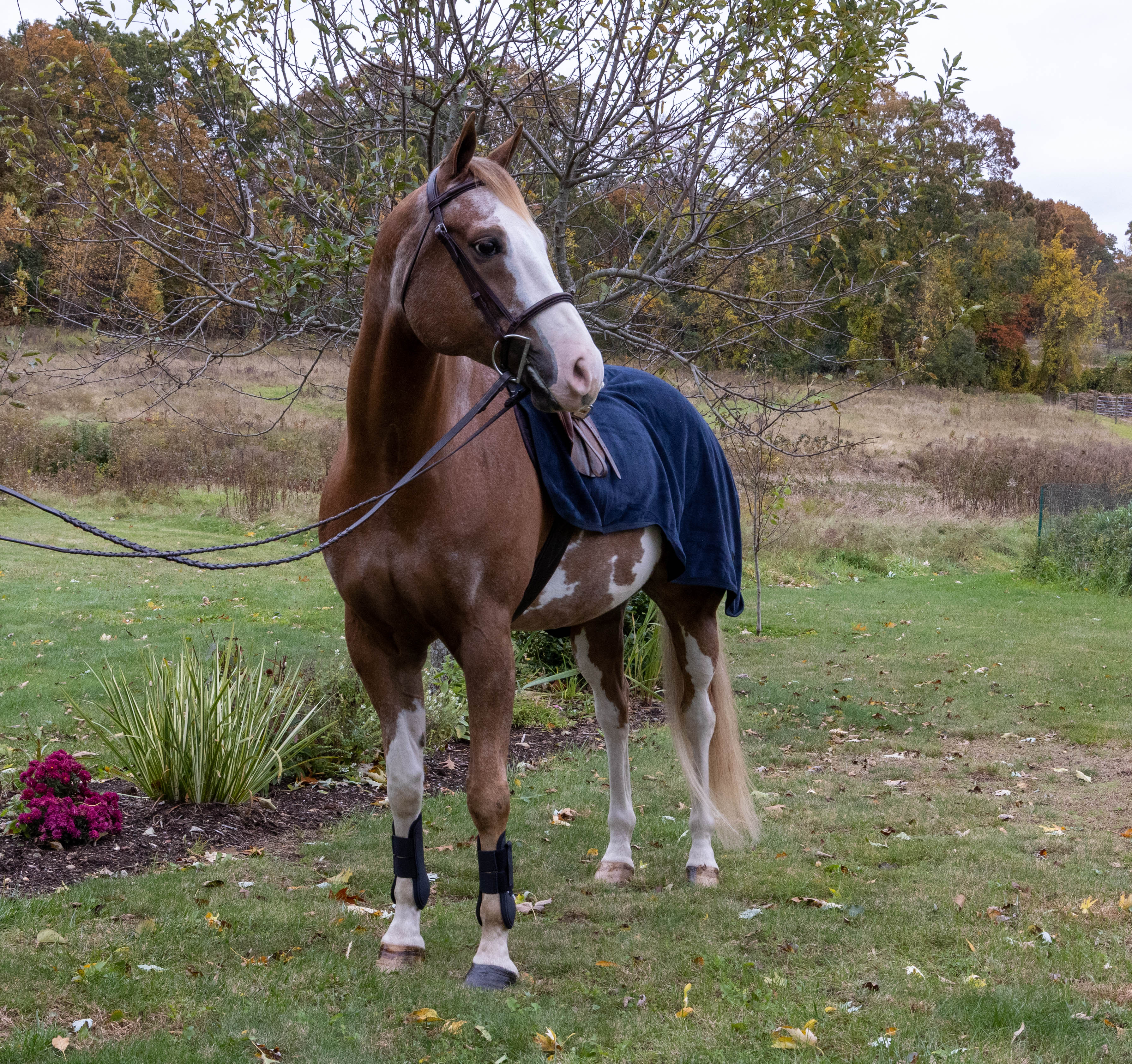 Reflective Gear For Your Horse
It's important to distinguish your horse from deer or other wild life if you're out on the trails during hunting season! Plus, it can't hurt to be more visible if you plan to do any riding down the road. Being seen will help you stay safe this fall!
Fall Riding Gear For The Rider!
Warm Riding Boots!
There's nothing worse than cold, wet feet at the barn or out on the trail! Make sure to get warm and waterproof boots to ride in! I always find it challenging to find boots that keep me warm and dry and are also comfortable to ride in! Ideally, try to find a pair that gets the job done and will also fit in your stirrups!
Reflective Gear For Trail Riding!
Just like your horse needs some reflective gear for trail riding, safety is key, so riders should do the same! So make sure to wear reflective clothing to avoid any mishaps with cars, hunters, etc! For more trail riding tips to keep you safe this fall, check out this article!
Top 10 Best Tips For Trail Riding This Fall!
Warm Jacket
A warm jacket and layers are essential for cold weather riding! I like to stick with a lightweight jacket until the temperatures really drop in winter.
Vest
I love wearing vests for riding in the cool weather! Having my arms free while still staying warm at the same time is about good as it gets in my opinion!
Gloves
It sure is tough to hold the reins with ice cold hands! Plus the cool weather can make your hands more sensitive so if your horse gets strong in the bridle you may find your fingers get sore faster. Do yourself a favor and grab some gloves!
Warm Socks
One quick way to ruin a great ride is with icy toes! Not only are cold toes uncomfortable, it makes it very difficult to ride effectively. Plus there's always the moment you cringe when dismounting, right before your feet land on the ground when you're just praying it isn't too painful! In short, remember warm socks!
And, when the weather gets really cold in winter, you can also add foot warmers, I find them super helpful along with warm socks and insulated boots!
I hope you found this post helpful! If you did, please give it a share on social media! And stay warm out there!
Here are a few other articles you may be interested in!