With the cooler weather comes the glorious fall foliage and less bugs! And with show season winding down for many of us, you know what that means! Trail Riding! In this article you'll find the best tips for trail riding safely and happily this fall! So, get out there and have some fun!
This post may contain affiliate links which means that I may earn a small commission at no extra cost to you. As an Amazon Associate I earn from qualifying purchases.
Safety & Etiquette Trail Riding Tips
Don't Ride Alone
You never know when things may go wrong even if your horse is well trained, bomb proof and you're a great rider! One of the best ways to stay safe is to ride with a friend! In the event that you fall and get hurt, your horse becomes injured or you cross paths with someone looking to harm you. There is safety in numbers! Having a friend who can easily dial 911 or help you get home safely is crucial!
Pick The Right Companions
Riding with a companion can help keep you safe, but be sure to choose the right companion! Bringing along a friend who is a novice rider with a hot horse for example, could be more dangerous. Bring a companion who understands trail riding etiquette and can keep their horse under control.
If you want to bring along a friend who is just learning to ride, consider bringing another more experienced friend so that there are additional hands in case of difficulty.
Wear Bright Colors
One of the most important trail riding tips, no matter the season is wearing bright colors! Its important to make sure drivers on the road, hunters or rescue teams spot you! The last thing you want to do is blend in! Wearing florescent yellow or orange can help keep you and your horse safe!
Price:

$7.99
Price:

$5.99
Price:

$12.99
Keep A Safe Distance
Even if your horse and your companions horse are both well behaved, be sure to keep at least one horse-length between you and the other horses you are riding with. Keeping your horse far enough away will ensure that your horse doesn't get kicked if the horse in front of you becomes upset. Secondly, if another horse you are with spooks or acts up, you'll have time to get out of the way.
Trail Riding Tips To Prepare Your Horse
Assess Your Horse's Experience Level
Before you hit the trails, ask yourself how your horse reacts in different situations? What is your horse's experience level? If you are on a young or green horse who has not trail ridden much or at all, you can prepare them by desensitizing them at home first.
Build Your Horse's Confidence
Take the time to build your horse's confidence by introducing new obstacles in a controlled environment, for example, at home in the arena. And, don't forget to ask your trainer to help you!
Need a trainer? Check out my best tips on choosing a trainer that's right for you in this post!
How To Find A Riding Instructor
Ride with a companion whose horse is calm and confident. Take your horse for short stints to begin with to increase the chances of ending on a positive note. Creating a low stress and enjoyable experience for your horse will help them feel more confident and look forward to new experiences in the future.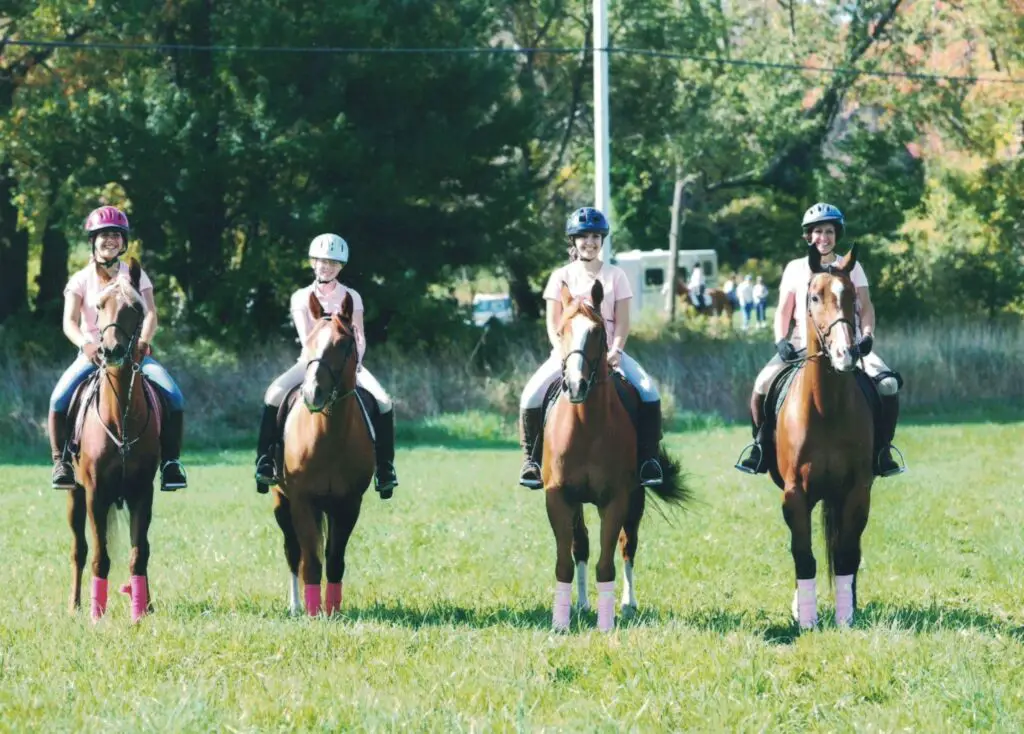 Teach Your Horse How To React
Man years ago I watched John Lyons at a clinic and something he said has stuck with me ever since. While these are not his exact words, the gist of what he explained is this: You cannot teach your horse not to be afraid. What you CAN teach them, is how to react. You can teach your horse to react by looking to you for direction and remaining calm instead of panicking.
While John is not currently conducting clinics (according to his website), his children are professional horse trainers and he has many books and articles that have been published over the years. I highly recommend checking them out!
Trail Riding Gear
Extra Halter & Lead
Pack an extra halter and lead rope in your trailer if you plan to travel to your trail ride destination. You never know if your halter or bridle will break and having a spare may come in handy.
Leg Protection
It's a good idea to protect your horse's legs with boots when trail riding. The terrain may be difficult and rocks could get kicked up while you're riding. However, it is better to use boots rather than polo wraps in case your horse's legs become wet. Wet leg wraps can cause injuries.
Water
Staying hydrated is crucial! Make sure to pack both horse and human water. Bring water with you in a saddle bag and for your horse bring a few gallons of water from home and a bucket. Make sure to give your horse a drink when you finish your trail ride before loading him or her back onto the trailer.
Cell Phone
Even if you're not heading out alone and the reception is spotty, bring your phone! Just in case of emergency you should always keep a phone with you! And, remember to charge the battery before heading out!
Wear Boots That Can Get Dirty
In the event that you need to dismount and lead your horse through a puddle, over a bridge, or through a stream you'll want to stay dry! Wear boots that won't get destroyed by walking in mud and will keep your feet dry!
Use Fly Spray
Use good quality fly spray to protect your horse from horseflies, deerflies and other bugs you'll encounter on the trails!
My favorite heavy duty fly spray is Pyranha. I like this one because it actually works! I love using at horse shows especially if I'm competing in halter and showmanship classes to make sure my horse will stand still!
Navigating The Trails
Take A Map
If you're not familiar with the area you'll be riding in be sure to bring a map. Many parks and state forests have maps available at the trail head. Make sure to follow trail markers and stay on the main path unless you are confident that you know the way back.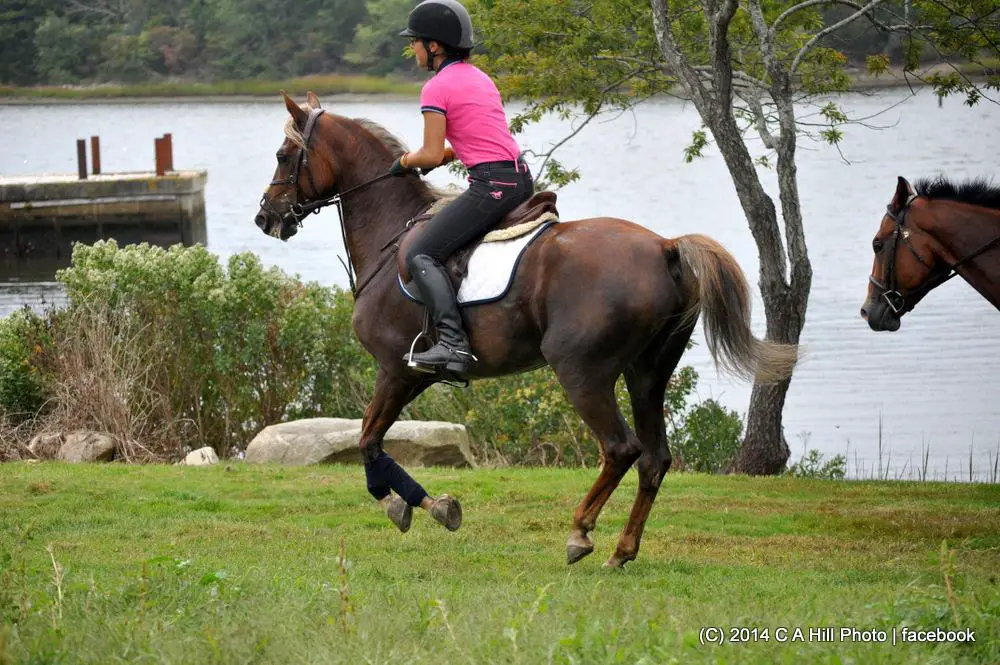 Leave a comment with your favorite trail riding tips and don't forget to give this post a share if you enjoyed it!
Check out these related articles!
Fall Riding Gear You And Your Horse Need!
5 Reasons You Need To Participate In No Stirrup November (In Moderation)!
Top 16 Reasons Your Kids Need Horses In Their Life!