If you're involved in the equestrian world, you've probably participated in, dreaded or at least heard about No Stirrup November. Across many if not all disciplines, when November arrives, riders drop their stirrups for the month. If the thought alone is making your stomach sink and you don't want to participate in no stirrup November, consider this:
There are a ton of great benefits that come from riding without your stirrups!
You don't have to dread riding for the next thirty days! Nor do you have to push yourself to the point of injury. Over doing it can have severe consequences for both you and your horse!
So, now what? Come up with a plan to drop your stirrups in moderation! Need some tips on what that looks like? Then check out this article!
5 Tips To Remember For A Successful No Stirrup November
This post may contain affiliate links which means that I may earn a small commission at no extra cost to you. As an Amazon Associate I earn from qualifying purchases.
A Friendly PSA About Participating In No Stirrup November
Please, do everyone (your horse, your loved ones, your barn mates) a favor! Even if you plan to go full force and ride without stirrups for the whole month, warm up with your stirrups!
We all know, when the weather starts to get chilly, many of our calm and obedient partners become a bit frisky! So, take a few minutes to assess your horse's energy level and make good decisions!
And, if you are a beginner rider, please consult your trainer and ride only without your stirrups under supervision!
Now, let's get on to the benefits!
Reason #1 To Ride Sans Stirrups: Increase Strength
Riding without stirrups is a great way to develop a stronger seat, legs and core. Even in moderation, the more you practice, the stronger you'll get.
Building strength takes time, like in any other aspect of life. A little practice each day will help you build both the mental and physical strength to continue improving.
Now that I don't ride as many hours each week as I did pre-children and family responsibilities, I find it tough to stay in top riding shape.
My skills and effectiveness as a rider may be improving but, I lack the strength and stamina I once had. Even if I wasn't lacking in those areas, it takes practice to maintain strength.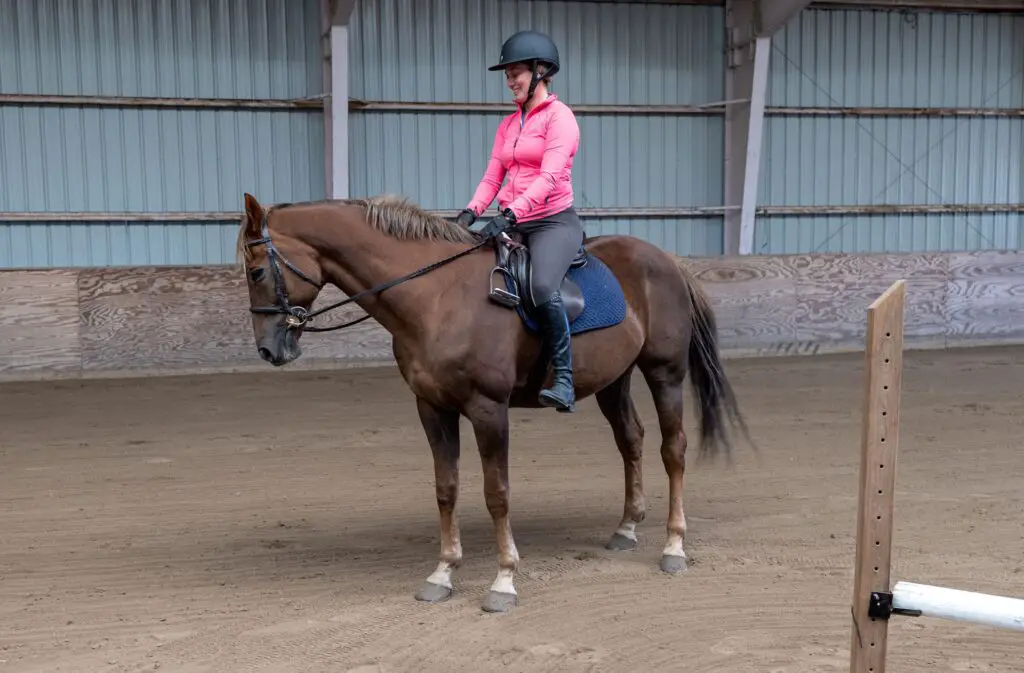 Reason # 2: Better Your Balance
At first you may find that balancing without stirrups is difficult, especially in the trot. The good news is, if you want to participate in No Stirrup November but don't feel ready, you can work on improving balance without stirrups even at the walk.
Try riding in various seats such as sitting, half-seat or standing for a few seconds at a time while at the walk which is a great exercise even with stirrups.
Reason # 3: Improve Body Control
With improved balance and strength, comes increased body control.
As riders we spend our entire equestrian lives trying to learn how to isolate our aids and then coordinate them. Learning to control your seat, legs, feet and hands independently is one of our greatest challenges. Add that to managing your energy level, mindset, and controlling a large animal and it is very easy to become overwhelmed.
As I mentioned in a recent article about the benefits of riding, improvement is incremental when it comes to horses. It takes a lot of patience and repetition to improve our skills as equestrians.
Click Here To Read: Top 16 Reasons Your Kids Need Horses In Their Life
Riding without stirrups can help you identify any weak areas in your riding as well as improve them!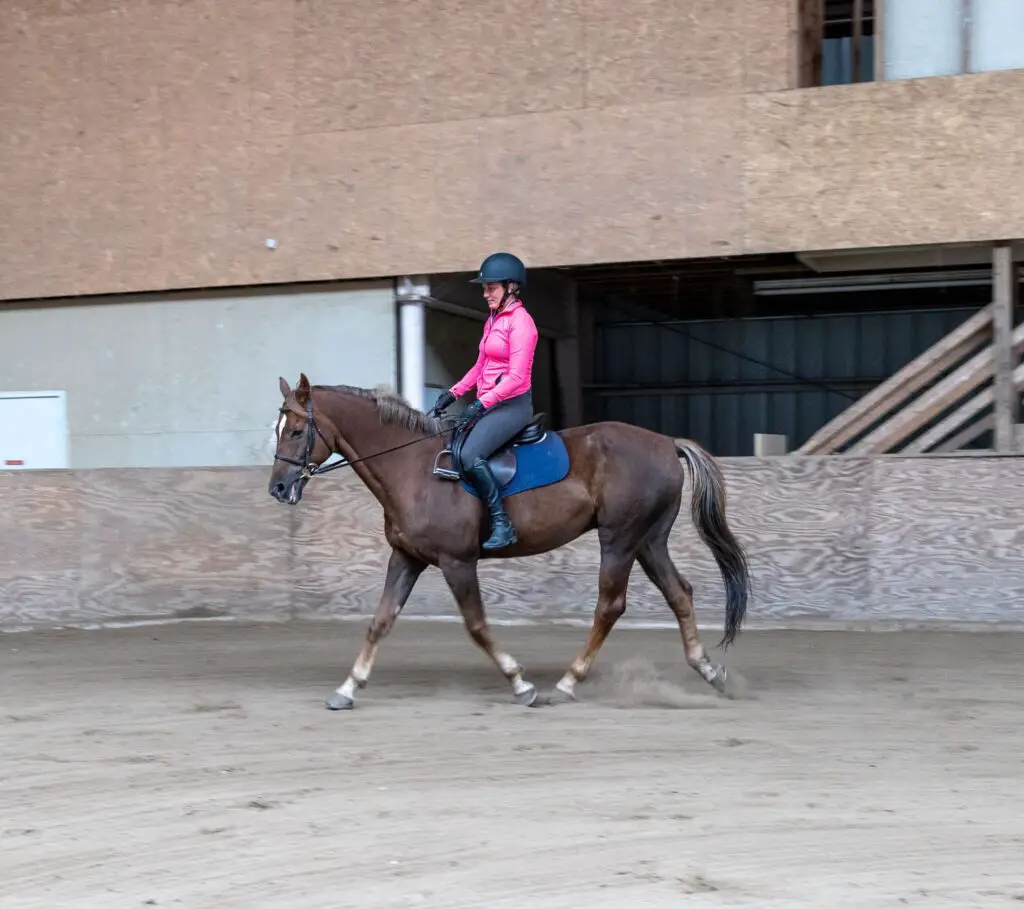 Reason # 4: Build Your Confidence
As the saying goes, "practice makes perfect."
Ok, maybe not perfect, but practice definitely makes you prepared!
As an equestrian, it is inevitable that you'll eventually find yourself in a less than desirable situation. Your horse could spook or stumble, you could simply lose your balance and lose a stirrup. It happens, and no matter how accomplished you are, everyone has those "oh crap" moments.
By practicing without stirrups (all year round) you may find that instead of feeling panicked the next time you encounter a misstep or a spook, you might just have the ability to stay calm and get the situation under control.
Picture that rider who loses their stirrup over a fence at a show and just carries on like nothing every happened and completes a beautiful course. Preparation is the key to handling tough situations calmly and confidently.
Reason # 5: A Little Motivation Goes A Long Way
The repetition, incremental improvements and increased confidence that come from riding without stirrups will surely inspire you to trudge on!
While you may find that if you participate in no stirrup November, even in bite sized morsels is grueling, it will get easier as you go.
Now that you've realized you can do it, you don't have to over exert yourself and you survived, you're probably feeling pretty proud of yourself! Use that sense of accomplishment to fuel your motivation to keep going! Throughout the year, keep challenging yourself (within reason) to reach new milestones.
I hope this article will help you not only get through No Stirrup November but stay positive and achieve your goals! If you like this post, please share it on Pinterest!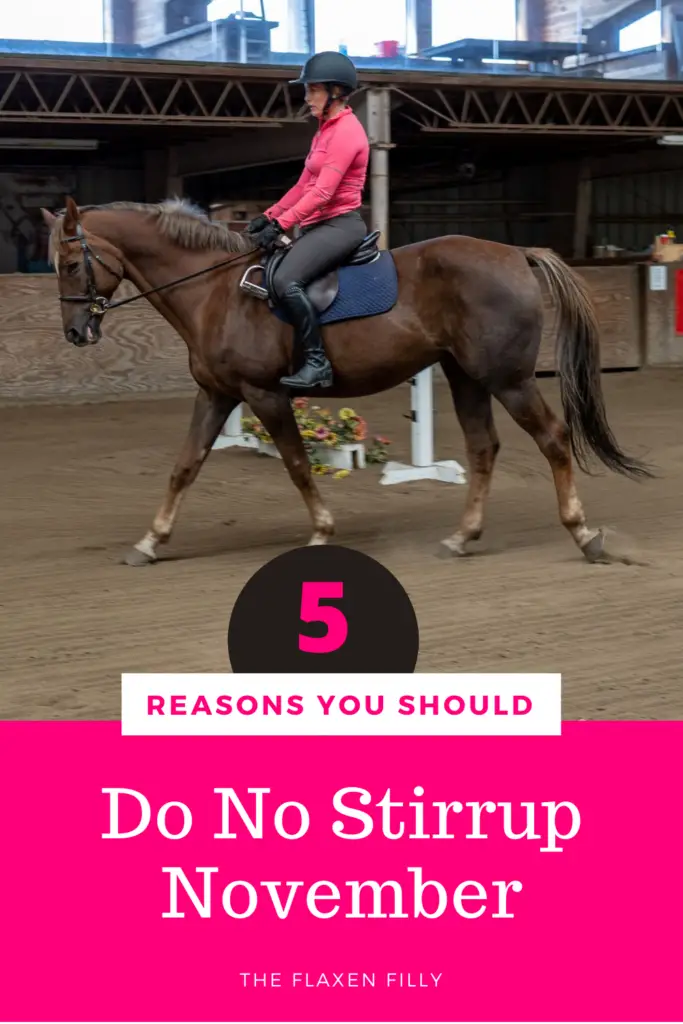 Need some more motivation? Check out the advice of top equestrians in these articles!
NoelleFloyd.com
How To Do No Stirrup November The Right Way (and Keep Your Horse's Back Happy)
Horse & Rider Magazine
5 Safety Tips To Remember During No-Stirrup November
The Plaid Horse