Horseback riding goals are essential to your success as a rider, horse owner, or horse lover whether you want to ride competitively or just for fun. The great thing about this sport is that you can always keep learning and improving.
This post may contain affiliate links which means that I may earn a small commission at no extra cost to you. As an Amazon Associate I earn from qualifying purchases.
My Personal Goals
Ride More!
Over the last four years since I gave up training horses, I haven't been able to ride as much as I would have liked. Between working a full time job, moving into a new house with endless projects and having a second baby, I've been a little limited on time.
But, if there's anything I've learned in 2020, it's the importance of taking time for yourself and your mental health.
Over the last couple of months I've been able to ride 2 to 3 days per week which had a tremendous impact on my health and sanity. That said, my goal is to keep up the momentum in 2021 and continue to ride a minimum of 2 times per week!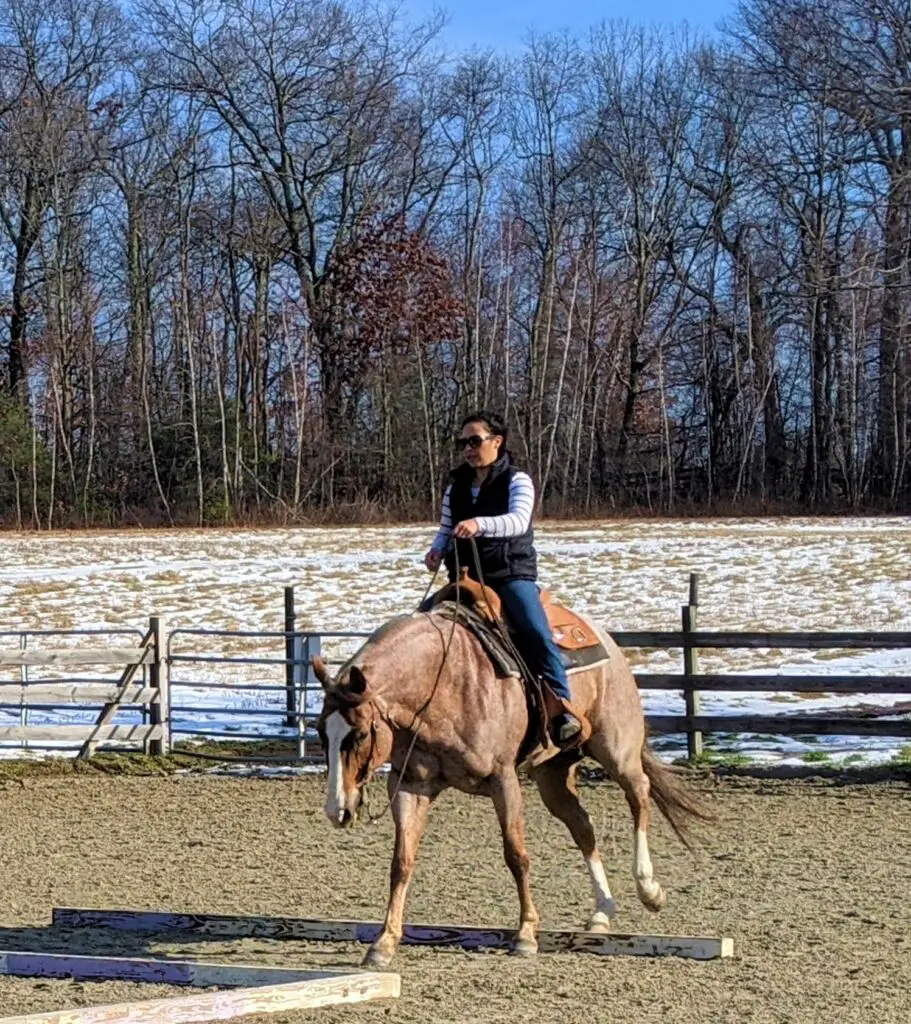 Improve My Hands
For years I've struggled with my hands. I don't know if it's my type A personality that drives my need to pick at my horses or just a bad habit that developed during my early years of riding.
And, while I've made a lot of progress over the years, there are times when I watch videos of my riding and cringe!
So, this year, I want to become more self aware when I'm riding and more consistent.
Horseshow!
Dare I say, and win? Or at least do well. I'm competitive by nature and while I recognize that winning is not necessary to have a great ride, and there's more to it than winning, I can't help but want to win!
I haven't shown any of my horses since 2017, which feels like an eternity!
Don't get me wrong, I've been to plenty of shows, my daughter showed in lead-line, my trainer showed our horse and my mom showed. I've warmed up horses for my mom's riding students at shows and helped with grooming and tack changes. Sadly, I didn't actually compete in any of these shows.
But this year is going to be different! I've missed competing a lot over the last few years and I cannot wait to get back out there!
And, I'm just going to put it out into the universe for good measure; I've had a lifelong (since about age 11) to show at the All American Quarter Horse Congress. I don't know if 2021 will be the year, but I will get there eventually!
Go On Trail Rides
It is so important to have fun with your horse and trail riding is one of the best ways to enjoy adventures with your horse.
Now that my daughter is 5, she is becoming more independent so we plan to go on lots of trail rides together this summer.
Growing up, my mom, sister and I would trail ride every week and some my fondest memories were made while out on the trail. We loved getting lost in the woods or galloping down the beach together with Image, Rythum and Beau!
It may not seem like much, but I'm hoping to get out on the trail at least 3 times this year.
How To Set Your Horseback Riding Goals
There are lots of helpful resources for equestrians to aid with goal setting. Check out some of the books and articles I've found, linked below.
6 Reasons You Need to Set Goals to Improve Your Riding
Goals: How To Get Everything You Want Faster Than You Ever Thought Possible
Atomic Habits: An Easy & Proven Way to Build Good Habits & Break Bad Ones
While I'm not an expert on goal setting, here are some steps I like to take when I'm deciding on my riding goals:
Make a list of everything you want to achieve throughout the year. Write down everything, big, small, thought consuming, completely insignificant …all of it.
Make another list of everything you think your trainer wants you to achieve.
Review your lists and find the goals that you and your trainer have in common. Hopefully, you'll find that your goals and the goals you anticipate your trainer has for you will align. They don't necessarily have to be the same either.
Discuss with your trainer and prioritize your goals together. Find out if they agree or have suggestions.
Once you've made your list and prioritized it, next it's time to come up with a strategy.
Determine how you will go about reaching each of your goals.
For example, if your goal is to compete your horse in a specific event this year, find out what steps you need to take to be prepared. Maybe you've done this event before and have an idea of what you need to work on. In this case, ask yourself how you can improve this time around.
Track Your Progress.
Goals are great, if you can measure your progress.
Sometimes, we lose sight of the small wins. The small wins are important and recognizing them can help you stay motivated.
The fails are important too, because really, they're not fails, they're learning experiences. And if you're not learning, you're not progressing, so you should track your struggles right along with your achievements!
Plus, that feeling of satisfaction when you overcome a difficult obstacle is the best!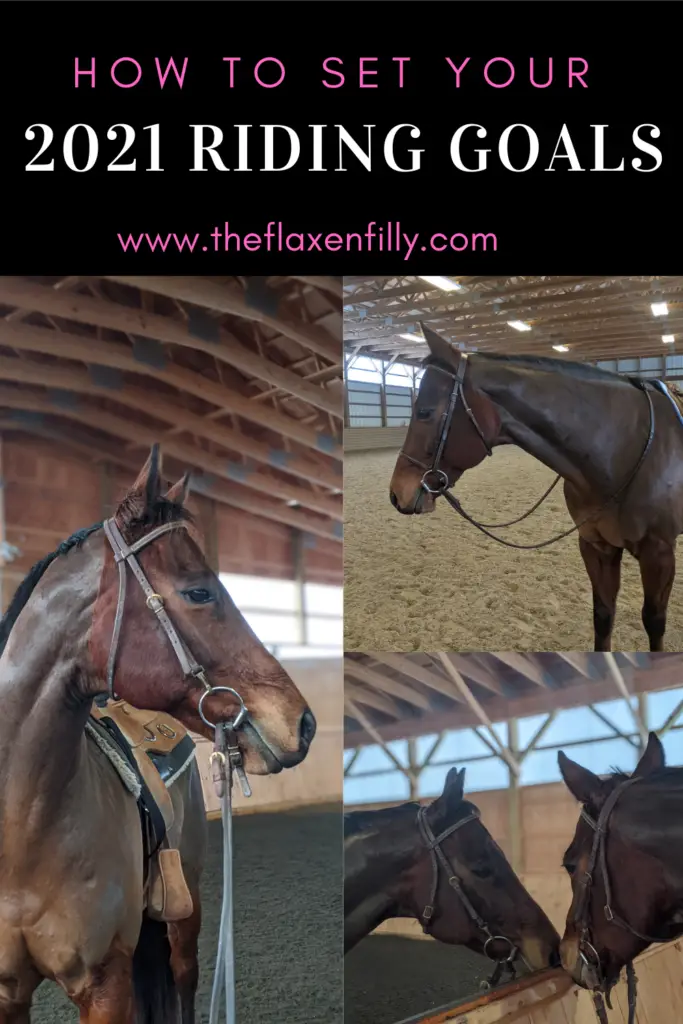 I hope you found this article helpful! Leave a comment below or send me an email and let me know what your goals are for 2021!