Like people our hard working equine partners eventually reach a point in their career when it's time to retire. Or even semi-retire or get a retirement job! Having been through this with my own horses and also acquiring horses at our farm that have semi-retired from show careers I can tell you, retiring a horse is a big decision! And, it's not necessarily straight forward and often times requires the opinion of your veterinarian and trainer.
So how do you know when it's time to retire your horse? Age isn't the only factor when it comes to retirement for horses. Horse owners should consider overall health, happiness and soundness. If your horse is happy to be working and sound they may be able to carry on regardless of age. Alternatively, a young horse may need to be retired early for the same reasons. And, there are different levels of retirement.
Retirement may not mean the same thing to every horse or owner either.
For example, retirement for my horse Beau will mean no more strenuous horse shows and no more riding lessons for my mom's students. But, it won't mean never being ridden. Beau likes to work and enjoys having a job, so his duties will transition into trail riding for fun and just letting my kids continue to learn on him.
We will keep him fit and healthy but scale back largely on the miles and hours he puts in, assuming he stays sound. At 22 years old, this transition isn't too far off and is a frequent topic of discussion in our family. For over 20 years our family has had the pleasure of riding and showing him and countless children and adults have learned to ride on him. He deserves a retirement full of turnout, trail rides and treats.
This post may contain affiliate links which means that I may earn a small commission at no extra cost to you. As an Amazon Associate I earn from qualifying purchases.
Retirement Options To Consider
The great thing about deciding to retire your equine friend is, you can customize their experience depending on their health and well being. If you have a senior horse that is not sound enough to ride, you can still spoil them and give them lots of attention.
My very first horse Image retired in his 20's after he stumbled a couple of times. We consulted with our veterinarian and confirmed, it wasn't safe to put a rider on his back any longer. So, he got lots of grooming and treats and we kept up on his corrective shoeing and maintenance to keep him comfortable. And, since he was a social butterfly, he still got to take part in my mom's program in a non-riding capacity. At her summer horse camp, the kids learned how to bathe him. They also learned the parts of the horse by putting sticky notes all over him and how to groom a horse by brushing him. It was a tough decision at the time, but as most horse owners would, we wanted to do the right thing for him. Sadly, we lost him in 2021 after 25 years with our family. But, I can guarantee he enjoyed living out his retirement with his best friend Rythum at my parent's farm and getting spoiled.
If your horse is ready to retire from showing or teaching lessons but still sound enough to ride, you could consider semi-retiring them like I'll do with Beau. Many horses that have excelled in the show arena enjoy teaching some beginner lessons once their show career has ended. And, a lot of times they are great teachers. My mom currently has two horses in her lesson program that were serious competitors on the AQHA show circuit. And, they still get out to a handful of open shows to teach beginners the ropes of horse showing.
Alternatively, it's common for mares to become broodmares when they retire from riding. If they are sound enough and healthy enough to carry a foal. If you choose to go this route, you will absolutely need to consult with your veterinarian to ensure your mare is fit to become a broodmare.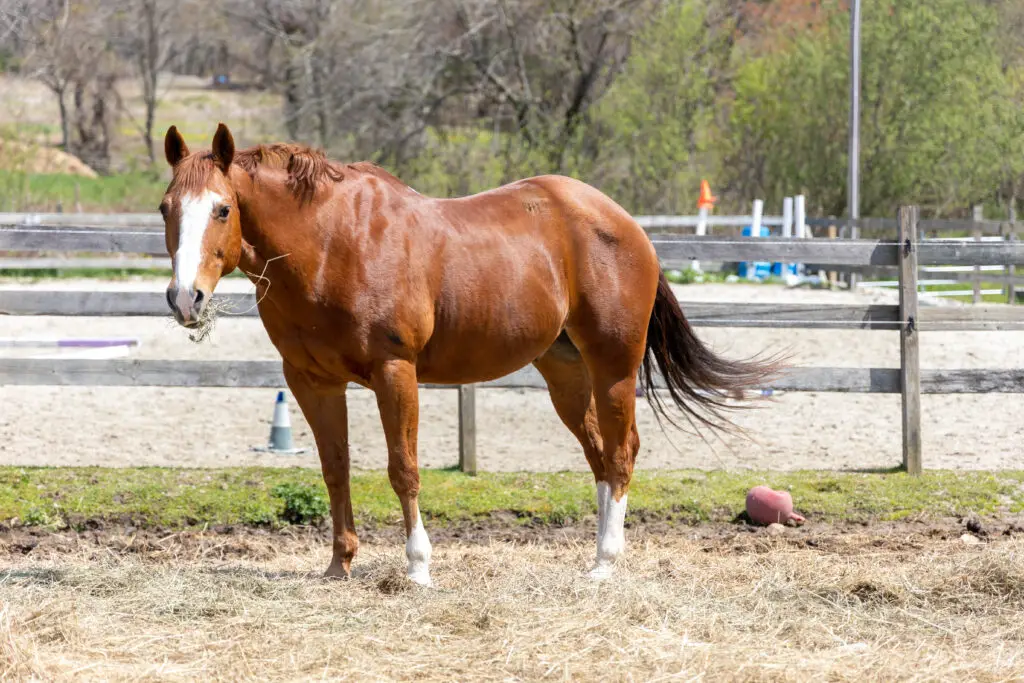 Reasons To Consider Retiring Your Horse
Age: The first and most obvious reason to consider retiring your horse from a riding career is age. As I mentioned above, age is not the only factor. However, it does matter for some horses. As horses age they may have weaknesses, arthritis, dental problems or trouble keeping weight on, Cushing's disease etc. which may hinder their ability to be ridden.
Unsound: Another very common reason for retiring a horse is soundness. Regardless of age, your horse may have soundness issues that cannot be maintained well enough to keep them comfortable during exercise. There are a variety of health reasons a horse may not be fit to be ridden. If your horse has a chronic health or soundness issue you should consult your veterinarian.
Behavior: Some horses are retired due to behavior and lack of trainability. Often times this pertains to horses that are dangerous and after many attempts with different trainers to learn acceptable behavior, the horse is still resistant. Sometimes this includes horses that have been rescued from abusive or neglectful situations. This is less common as many horse owners and trainers know there is a way to connect with any horse if you can figure out what motivates them.
Transitioning Into Retirement
Just like retirement is a major life even for most people, it is a major life event for horses too! There are many ways to go about retiring your horse. But the important part, is to do what's right for them! Your horse's retirement may be gradual if it is planned. Or, if he sustains a career ending injury it could be an abrupt transition. In either circumstance, you'll need to consider how your horse's needs will change as they transition into retirement.
You'll need to make sure that if your horse is able to handle some amount of exercise that you keep them healthy and fit. They may not need to be fit enough to compete but they'll still need a level of fitness that will keep them healthy. Some horse owners lunge their horses or do ground work, walks on the trails, light riding or just turn out. Your horse's needs will be unique so decide what is best for him and consult your veterinarian and trainer.
Another consideration is how your horse's care and maintenance will change based on the change in their routine. Will their need for supplements, medications, massage, chiropractic change? Your horse's shoeing and veterinary needs may change as well.
If you are concerned that your horse will be bored in retirement but they are not healthy enough for exercise, consider other ways to keep them entertained. Maybe your horse needs a buddy or a group of friends to occupy their time. You could even try teaching your horse some low impact tricks to him engaged, in addition to grooming and stall toys. If you're looking for stall toys for your horse, below are my recommendations based on what my horses have enjoyed and used over the last several years.
I hope you found this article helpful! If you did, please share it!