School is out and the count down to summer fun begins now! I'm picturing swimming, popsicles and summer camp! In this article you'll find my top 10 summer horse camp activities to try out at your barn this year! All of the activities below are tried and true! Some of the ideas below even came from my own experience at horse camp as a child!
This post may contain affiliate links which means that I may earn a small commission at no extra cost to you. As an Amazon Associate I earn from qualifying purchases.
Unmounted Horse Camp Activities
Crafts
Horseshoe Decorating
One of the most loved horse camp activities at the Rhapsody Hill Farm Summer Program is decorating horseshoes! All you need is some spray paint, a hot glue gun, ribbon and fun items for your campers to glue to their horseshoe. Of course, the younger children need assistance with hot gluing their decorations, so be sure you have some extra hands to help out! Paint the shoes in either your farm colors or other colors you like a couple of days in advance, and be sure to paint both sides! Let them dry fully before decorating, make a sample to show your campers and give them some inspo!
Picture Frame
For this activity all you need is some wooden or cardboard picture frames and painting supplies. Let each child paint or decorate their own frame.
This is best done early in the session so the frames have enough time to dry.
Hold onto the frames for the duration of the week. Then, take a picture of each camper with their favorite horse and have them printed. Place a photo in each camper's frame to be given to them at the end of the camp session.
Pool Noodle Stick Horses
Your campers are sure to love this project! Take a colorful pool noodle and fold the top over and tie some string around it to hold it in place. This will make the horse's head, do this part ahead of time.
Next, let your campers choose from a variety of googley eyes, felt ears, and a yarn color for their horse's mane and tail. Attach the eyes, ears, mane and tail with a hot glue gun.
Then, tie a ribbon to the string you used to create the head, on either side of the horse's neck and leaving a loop to create reins and your pool noodle horse will come to life.
Lastly, let the kids "ride" around on their pool noodle horses in the riding ring. You can even have races, a small jump course or trail course set up!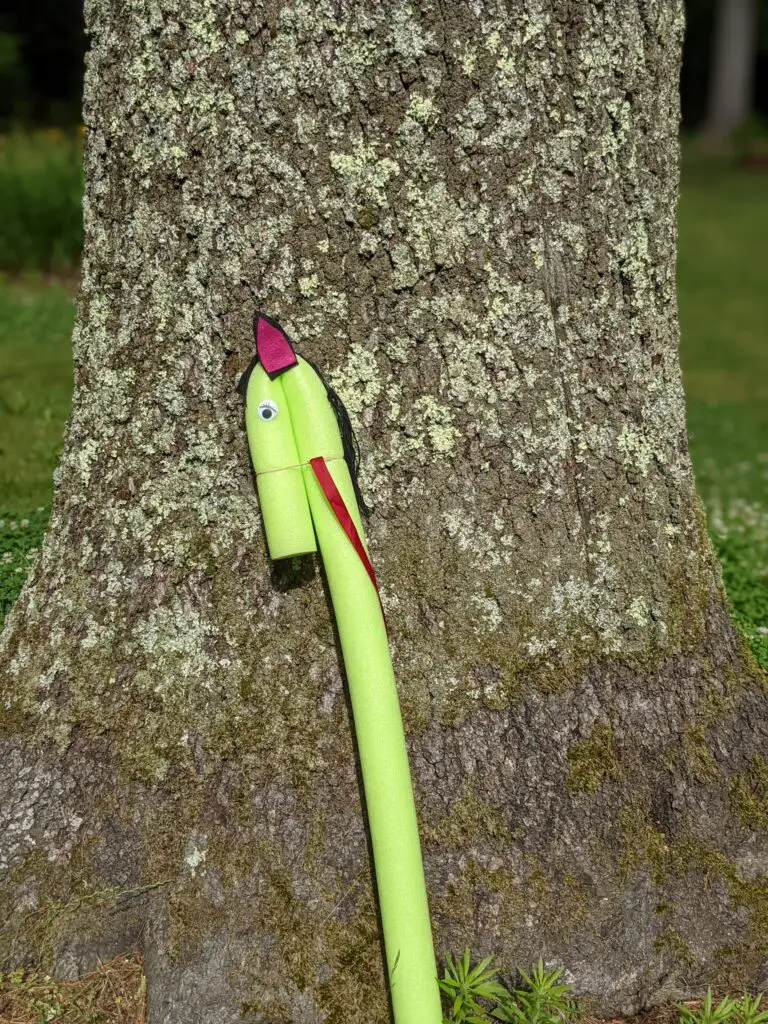 Learning Activities
Parts Of The Horse Stickers
Any good summer horse camp will have a balance of riding, learning and fun! What could be better than having fun while you learn about something you love?
All you need for this activity is a groomed horse, a marker and sticky notes! Use a horse with good ground manners to ensure the safety of the campers.
Write the different parts of the horse on individual sticky notes, and then give the campers each a turn to find the correct body part and stick the name on the horse! Sticky notes can be removed easily without pulling on the hair and won't leave residue on the fur.
Side Note: You can use this same activity to learn the parts of tack and equipment!
Bath Time
Water is pretty much synonymous with fun when you envision summer camp! Learning to bathe horses and playing in the water with friends and horses is the ultimate summertime activity for horse lovers! Plus, all the camp horses will be sparkling clean!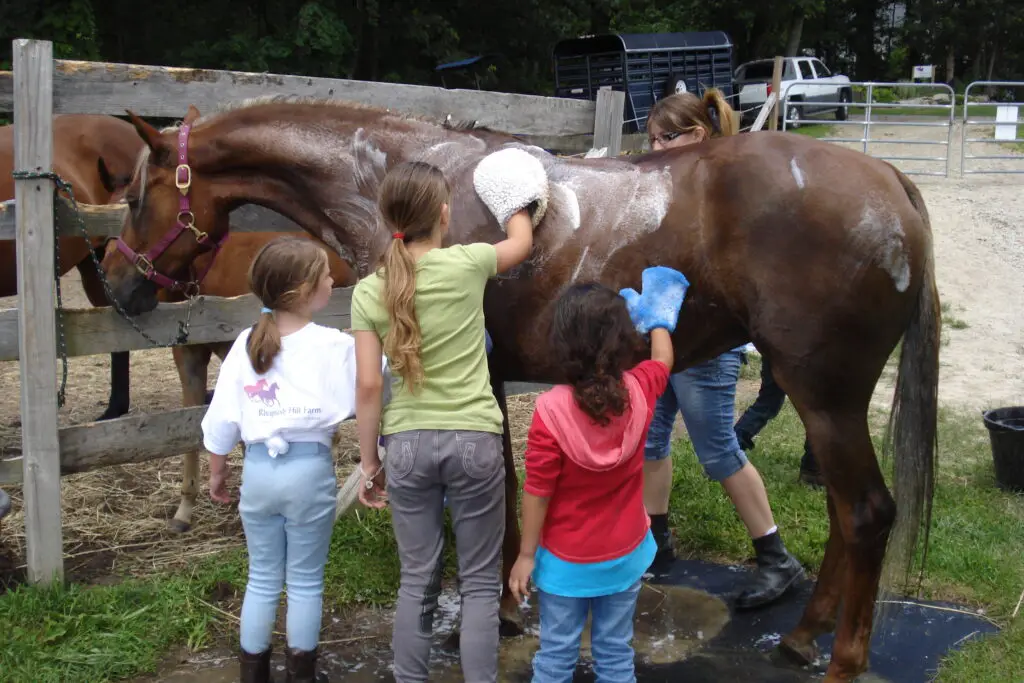 Demonstrations
I can remember as a young kid, idolizing so many trainers and veterinarians that I watched. I loved learning about all aspects of horse care and knew I would have a career in the horse industry in some way.
Growing up, I attended camp at the barns I rode at and can remember watching demonstrations by the farrier, vet, and dentist in awe. Similarly, some of the older students who rode at the barn would dress in their show clothes and give a demonstration with their horses so the campers could learn about different disciplines. Everyone loved it!
So, when my parents first opened their farm and set up the first summer horsemanship program, demonstrations were at the very top of the list of activities. Without fail, this has been a crowd pleaser every year!
And, it's easy to get creative with this, you can give a demonstration on anything! Bonus points if your demonstration engages the campers!
Horse Care Activities
One of the most popular horse camp activities is teaching the campers how to complete barn chores! Understanding the care and work that is put into keeping horses happy and healthy is important.
This is best done in groups to avoid your campers becoming overwhelmed and to keep the activities fun. Have each group and their assigned counselor move through each section of horse care together.
Stall Cleaning
Have all of the campers and their counselor clean one or two stalls together, the campers can try their hand at cleaning stalls while the counselor ensures the stall ultimately gets cleaned and keeps the children safe.
Feed & Water
Explain the types of hay, grain and supplements horses are fed and the importance of water. Let the campers take part in setting up feed as well as dumping, cleaning and refilling water buckets.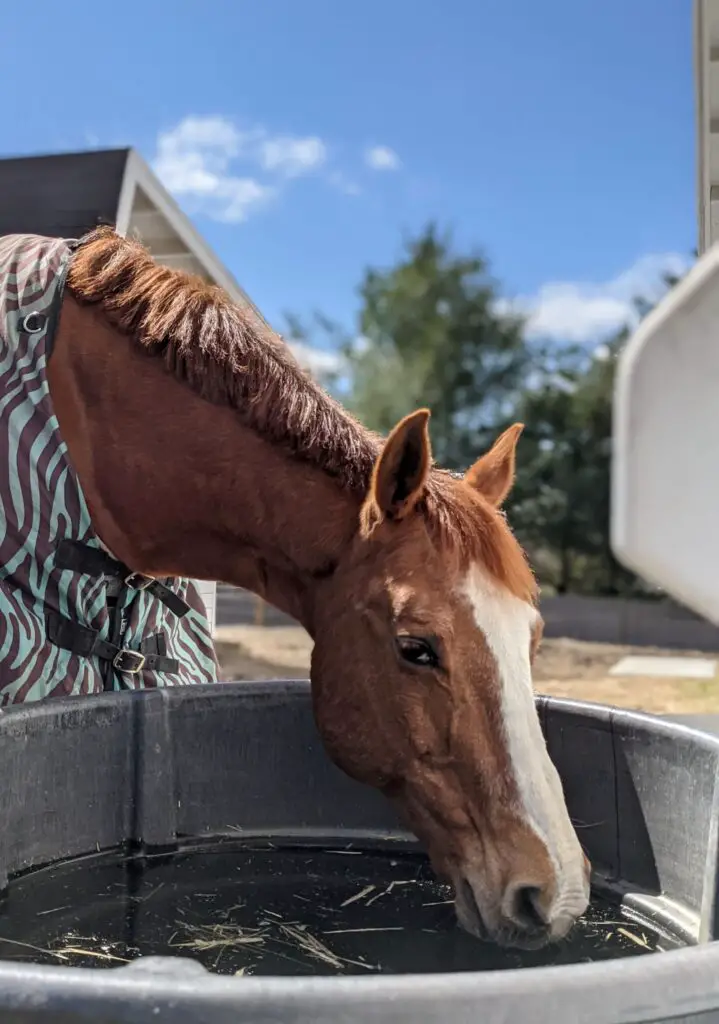 First Aid
Show the campers where your first aid supplies are stored and briefly walk through the contents. Some ideas to cover in the section are listed below.
Wound Cleaning and Leg Wrapping
When to call the vet
Identifying signs of colic
Games
Decorate Horse Competition
It's time to break out the glitter and ribbon! This is always a favorite among campers!
Have the campers work in pairs and start by grooming the horses you'll be using. Next, let them put braids in the horse's manes and tails. They can braid in some ribbon or tie ribbon around the ends of the braids.
Let them draw a shape on the horse's hind quarters with some glitter and polish their hooves.
Once all the decorating is done, let the campers vote on which horse looks the best! Don't forget to give out a prize to the winning team!
Jeopardy
Throughout the week your campers will likely be learning about the parts of the horse, colors, markings, gaits, horse care, tack, tack care, barn chores and more.
Playing Jeopardy is a great way to help them remember what they've learned. You can even divide your campers into teams and let them work together to get the answers!
Mounted Horse Camp Activities
Riding Lesson
It's important to keep the lessons during summer camp fun! Try not to put pressure on kids who may be showing or normally ride in private lessons. This is a great time to keep lessons focused on basics, every level of rider can improve on their foundation with fun and constructive exercises. You may also have some campers in your program that have never ridden in a group before. Campers may become distracted by riding with their friends or overwhelmed or nervous. Below are some exercises you can use in your lessons to help keep everyone focused, safe and feeling confident while still improving their skills.
Follow The Leader Figure 8
Follow the leader serpentine
Weave through cones
Obstacle or Trail course
Switching between the correct and incorrect diagonal at the trot
Alternating between sitting, 3-point and 2 point positions within each gait.
Transitions using the arena letters. For example, have all riders ride sitting trot from B to E and posting trot from E to B on the rail and halt every time they reach C.
Mounted Games
This was one of my all time favorites as a kid! And now, I get to watch my daughter grin from ear to ear as she enjoys games like:
Red Light Green Light
Simon Says
Egg and Spoon
Around The World
Sit-A-Buck
You can also set up gymkhana events such as Barrel Racing, Keyhole Race and Flag Race (regardless of which discipline you ride) to help your campers become more coordinated and learn to use independent aids.
Riding Bareback
Riding bareback is such a treat! Especially when it's warm out!
If you have beginners in your group make sure to have a counselor walk along side them to keep them safe!
Trail Ride
If you have the ability to take your campers for a trail ride this is a great opportunity for them to learn about trail safety and good horsemanship.
Not only will they have a blast, they will also learn how horses act in different environments and start to understand horse behavior.
For a group of beginners it's best to have counselors lead them or walk with them on foot to avoid any mishaps such as a spook.
Drill Team
The benefits of trying out some drill team exercises are endless. Firstly, your campers will learn about team work as they coordinate with each other and learn some of the basic maneuvers. Additionally, coming up with their own routines will spark their creativity. Learning to manage multiple tasks at once by staying in tune with their horse while working with others is an invaluable skill!
Mock Horseshow
What better way to end your camp session than giving your campers an opportunity to show off what they've learned? A mock horseshow with placings, prizes, and parents in the audience is a great way to encourage your riders and reward their hard work.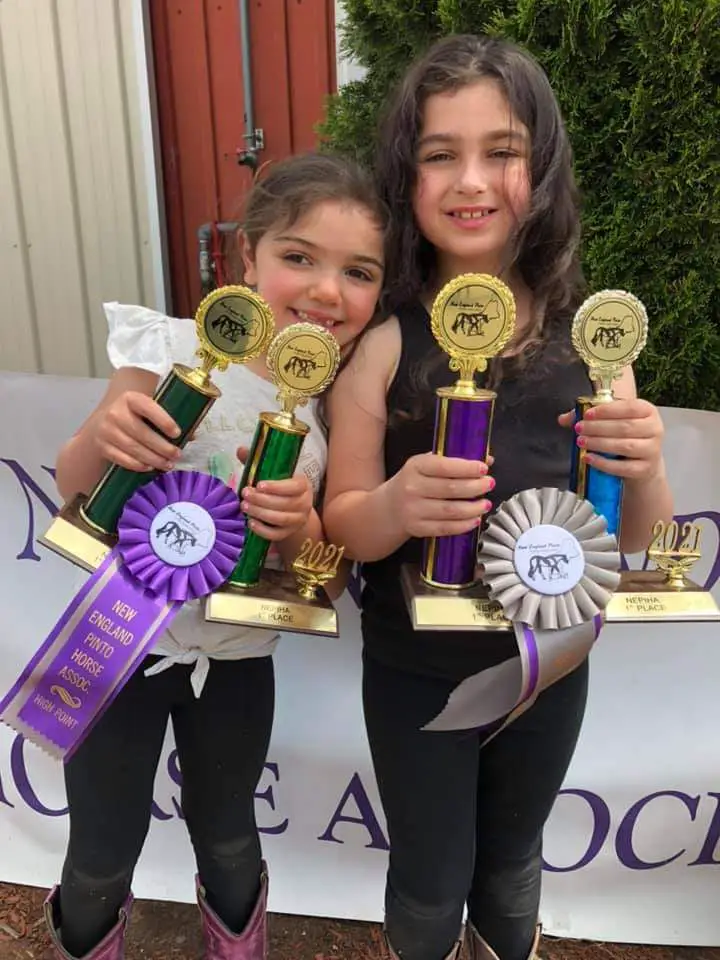 If you use any of these activities at your horse camp this summer, please let me know in the comments and share your suggestions too! And, if you found this article helpful, give it a share so more people can enjoy it! 🙂
Check out these related articles!
Top 16 Reasons Your Kids Need Horses In Their Life
115 Need To Know Horse Terms For Beginner Equestrians
What To Expect At Your First Horseback Riding Lesson