Whether you board or keep your horse at home, knowing how to care for your horse is essential! If you are considering buying a horse or plan to work at a farm, here's what to expect. Horses are a lot of work! There are many tasks that need to be done on a daily basis to keep them healthy, so I've compiled this list as a guide to help you keep track!
Check out these related articles about buying your first horse and where to keep him!
How To Know If You're Ready To Buy A Horse
What You Need To Know When Buying Your First Horse
How To Choose A Boarding Barn For Your Horse
This post may contain affiliate links which means that I may earn a small commission at no extra cost to you. As an Amazon Associate I earn from qualifying purchases.
Daily Feeding Requirements
Hay
Good quality hay is a must for any horse! Each day you will need to make sure your horse has sufficient hay to keep their digestive system running smoothly. Horses are built to graze throughout the day. So, it's important to feed hay frequently enough that your horse has some available at all times.
Many farms feed hay in the morning and at night but give the horses enough to last a few hours. Other horse owners and farm managers find it easier to feed smaller amounts of hay 3 to 5 times per day in order to limit waste.
If you choose to feed smaller amounts of hay more frequently, you will have to commit to being available to provide more hay as needed.
Here are the main reasons horses need hay:
Hay is roughage and helps prevent your horse from colicking or becoming impacted.
Hay provides essential nutrients and calories to help your horse maintain their weight.
Eating hay throughout the day in colder months will keep your horse warm!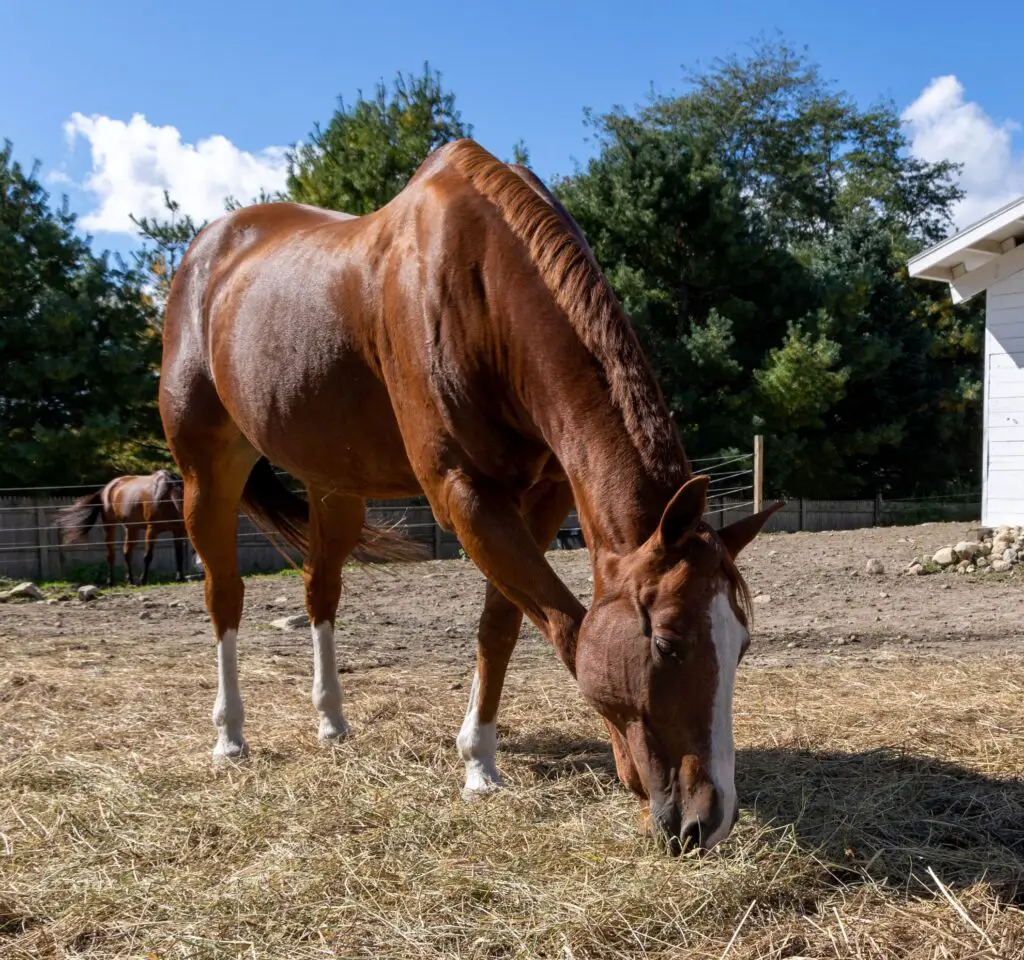 Grain
Not all horses need grain, but the vast majority of horses do consume grain to help ensure they consume enough calories for their work level and age.
Many different types of grain are available with varying levels of protein, fat, fiber and sugars. If you are a new horse owner, talk to your veterinarian and trainer about the type of diet is suitable for your horse's age, body score, fitness and level of work.
For example, young horses that are growing will need to consume more grain per day than a middle aged easy keeper.
Feeding grain appropriately is very important. Over feeding grain or feeding a grain that is too high in sugar can cause colic or other illnesses for certain horses. While under feeding your horse can cause them to lose weight and have low energy.
Water
Water is crucial for your horse's well being just like for other pets and humans. You'll need to make sure your horse has fresh water at all times. Your horse needs water both inside his stall and outside in the paddock. Your horse should never be without access to water or he could easily become dehydrated or colic.
In learning how to care for your horse, one of the most important tasks is to clean your water buckets regularly. Many horses are picky about water and won't drink water that is old and slimy. If your horse is not drinking, check to see if your buckets are clean.
For more information on how to clean your water buckets properly and how frequently this needs to be done, check out this article!
Horse Care 101: How To Clean Your Horse's Water Buckets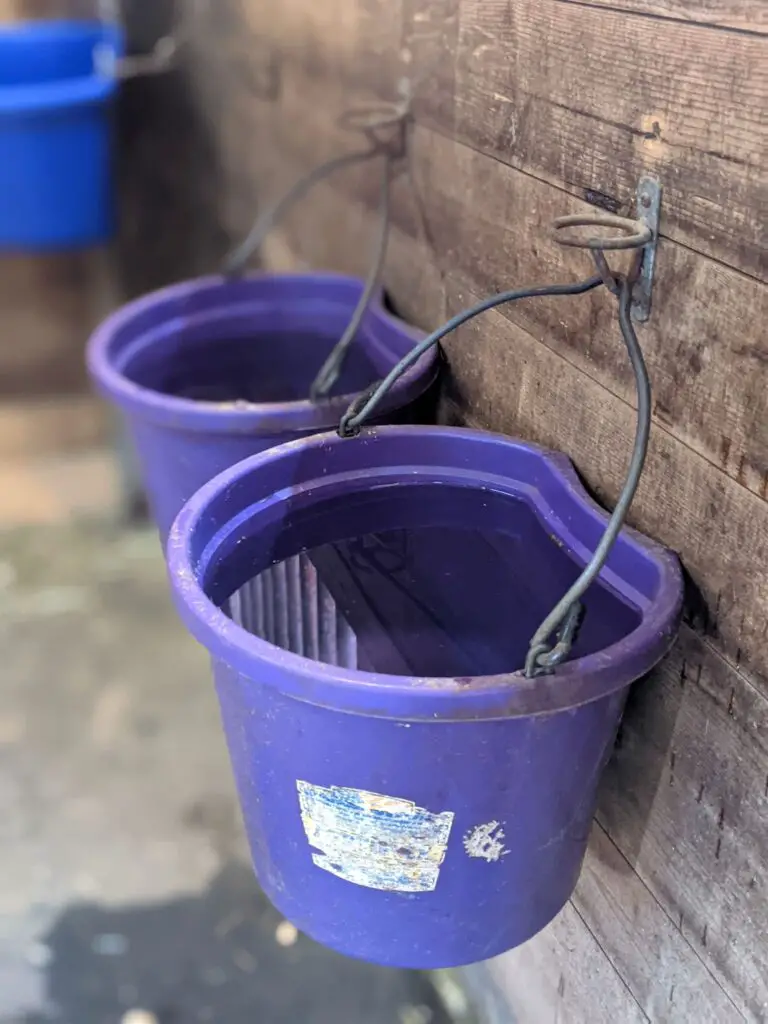 Stall Cleaning
Stall cleaning is important in order to give your new horse a dry and comfortable place to rest. Keeping your stall clean and dry will help prevent thrush, skin problems, odors and bacteria.
To clean your stall, start by removing all of the manure and urine, then use a deodorizer like Lyme on the wet spot. Next, spread out your shavings and check for any remaining manure. Lastly, sweep the front of the stall so that you don't have shavings underneath your horse's feed and water buckets. This helps to keep your shavings dry and if your horse spills food while they're eating, they'll be able to eat it off the ground easily.
For a full step by step tutorial on how to clean your horse's stall, check out this article!
How To Clean Your Horse's Stall Perfectly In 8 Easy Steps!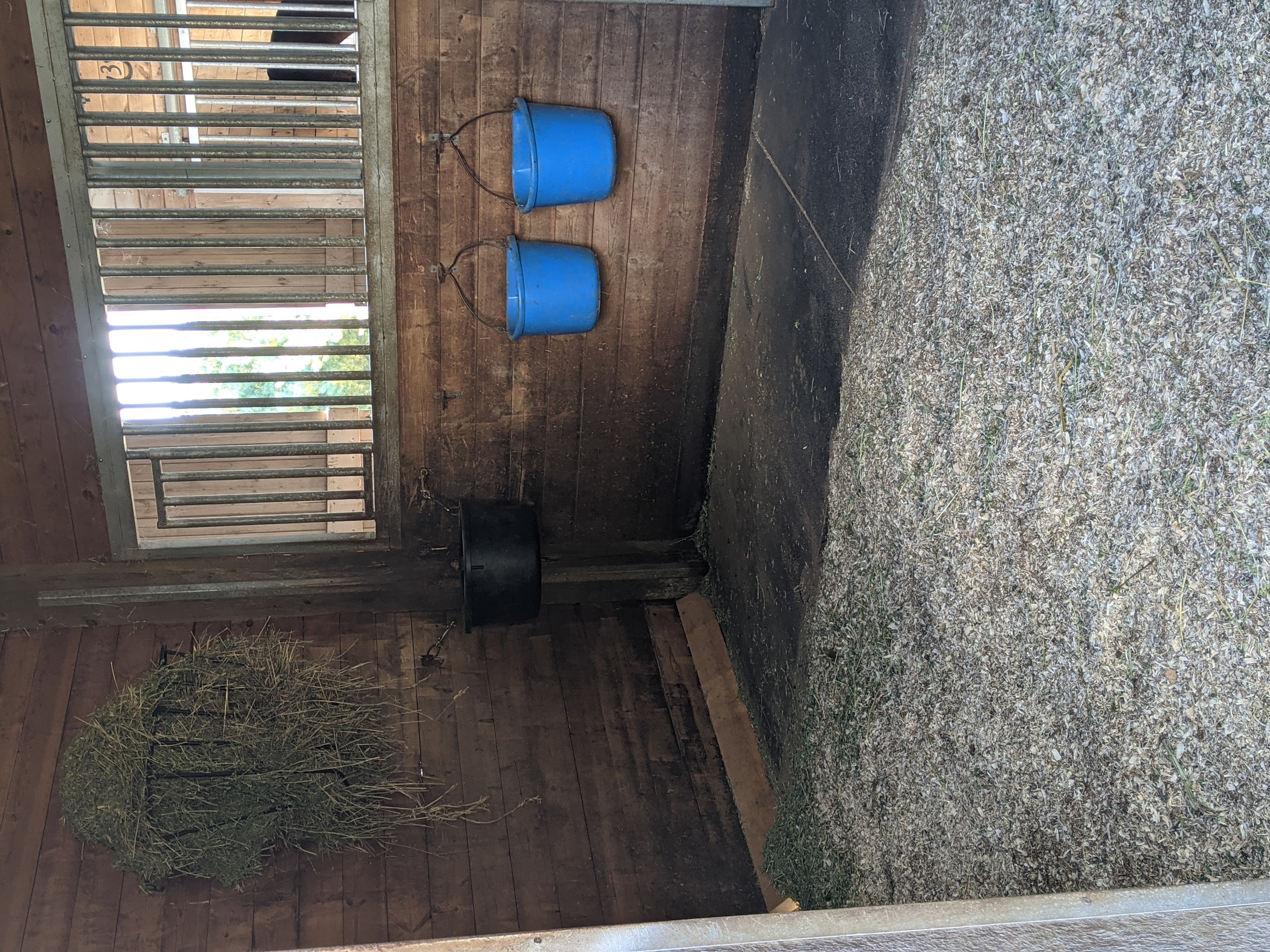 Turnout
Your new horse should be allowed some turnout, weather permitting on a daily basis. Horses need exercise and fresh air just like we do. Allowing them time to play outside will help alleviate boredom and reduce the risk of them exhibiting undesirable behaviors like cribbing and other vices.
Moving around will also aid in your horse's digestion to help prevent colic, stocking up and improve circulation. Stocking up is a term used to describe swelling in the horse's legs after they've been stall bound for a period of time.
If you want to find out more about why turnout is essential, check out this article by The Spruce Pets.
Why Turnout Is Important for Your Horse
Fly Protection
During the warm months of the year, you may notice lots of flies at the barn. Invest in a good quality fly spray to help your horse avoid being swarmed.
You may also want to consider a fly mask for turnout which is a mesh face covering that allows your horse to see but keeps bugs out of theirs eyes and ears.
If your horse is particularly sensitive to the bugs you may need a fly sheet, and fly boots to help prevent them from getting bitten.
Blanketing
Depending on where you live and what the climate is like, you may need or want to blanket your horse in the cooler months. Not all horses need to be blanketed in the winter and in fact, many do quite well with just their thick coat and lots of hay to stay warm.
If your horse does not grow a thick enough coat, or is in work and may overheat or if you have a senior horse who has trouble staying warm, you should consider blanketing.
Blankets come in varying weights and textures depending on how they'll be used. Turnout blankets come with waterproofing while many stable blankets do not. If you choose to blanket your horse make sure you have a consistent system in place for handling temperature changes.
We like to use a chart in our barn to determine what type of blanket is best depending on the weather. This way, you won't risk your horse overheating or being cold.
Pick Paddocks
Similar to stall cleaning, you'll want to keep your horse's paddock or pasture clean and free from manure. If your horse is turned out alone and on dirt, you should clean out their paddock every day. If they are turned out with other horses you may be able to take turns with the other horse's owners.
And, if your horse is turned out in a very large grass field, you may only need to pick the areas near water buckets, the gate or feed areas. It may not make sense to clean manure out of the whole field.
Picking the paddocks will help prevent your horse from getting manure stains and reduce flies and odor. It also gives you an opportunity to check the paddock for safety hazards.
As your are cleaning the paddock, check for broken fencing, loose nails, debris rocks, nails etc. on the ground that could injure your horse. When you are first learning how to care for your horse, you'll want to do the best you can to prevent injury and illness as they can be both expensive and overwhelming to care for.
Grooming
Daily grooming may not seem like an essential task but it will help keep your horse's coat and skin healthy. If you enjoy having a shiny, healthy coat, you'll want to give your horse a good brushing every day!
The benefits of grooming are many and will help you learn how to care for your horse. Grooming gives you the opportunity to bond with your horse and check for any lumps, bumps and scratches. You'll also get to know your horse's personality. You'll get to know how sensitive your horse is and what their normal behavior is. This will help you identify when something is wrong.
You can read more about my full daily grooming routine here!
Daily Grooming Routine Your Horse Will Love!
And, as part of your grooming routine, it is essential to clean your horse's hooves out each day. Here's a full tutorial on how to pick up and clean your horses hooves!
How To Pick Your Horse's Hooves Correctly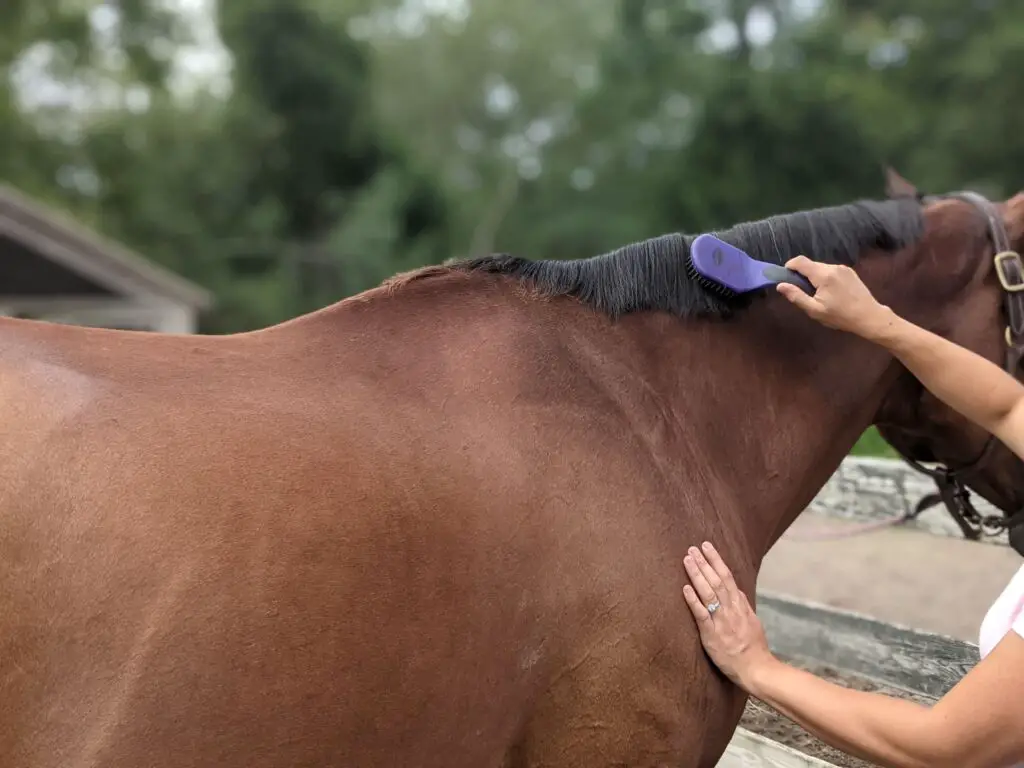 Exercise
Whether you plan to ride your horse, lunge or turn them out to play, it is imperative that your horse get exercise! If you have a busy schedule and can't always ride after work, make sure you at least take a few minutes to lunge or do some ground work!
Alternatively, you can ask a friend or your trainer to help out if needed. Horses need exercise to help them burn off energy and stay sane!
While you are learning how to care for your horse it's important that you continue to work with a horseback riding instructor or trainer. Taking consistent lessons will help you and your horse stay in sync.
Check out this article on how to find a riding instructor that's a good fit for you!
How To Find A Riding Instructor And What To Look Out For!
I hope you've found this article helpful! If you did, please give it a share!