Buying your first horse is so exciting and one of the best parts is shopping for all the supplies they'll require! If you've picked out your horse and are preparing for their arrival use this guide to shop all the essential supplies you need to buy for your first horse!
If you're considering buying a horse or are currently in the process of trying horses out, check out these related articles which will help you make the right decision!
How To Know If You're Ready To Own A Horse
What You Need To Know When Buying Your First Horse
How To Care For Your Horse: Daily Checklist
This post may contain affiliate links which means that I may earn a small commission at no extra cost to you. As an Amazon Associate I earn from qualifying purchases.
Barn Supplies You Need To Buy For Your First Horse
Depending on where you choose to keep your first horse, some supplies like water buckets and feed dishes may be provided by the farm. However, it's always nice for your horse to have their own buckets that do not and have not had any other horses germs in them. Check with your barn manager about this before your new horse arrives.
Next, you'll need some storage solutions to keep your own personal belongings like tack and riding equipment. You'll want to have a place to store your horse's blankets, brushes, boots and fly protection as well.
Water Buckets
Feed Dishes
Stall Front Storage Bag
Tack Box
Pitchfork and Manure Bucket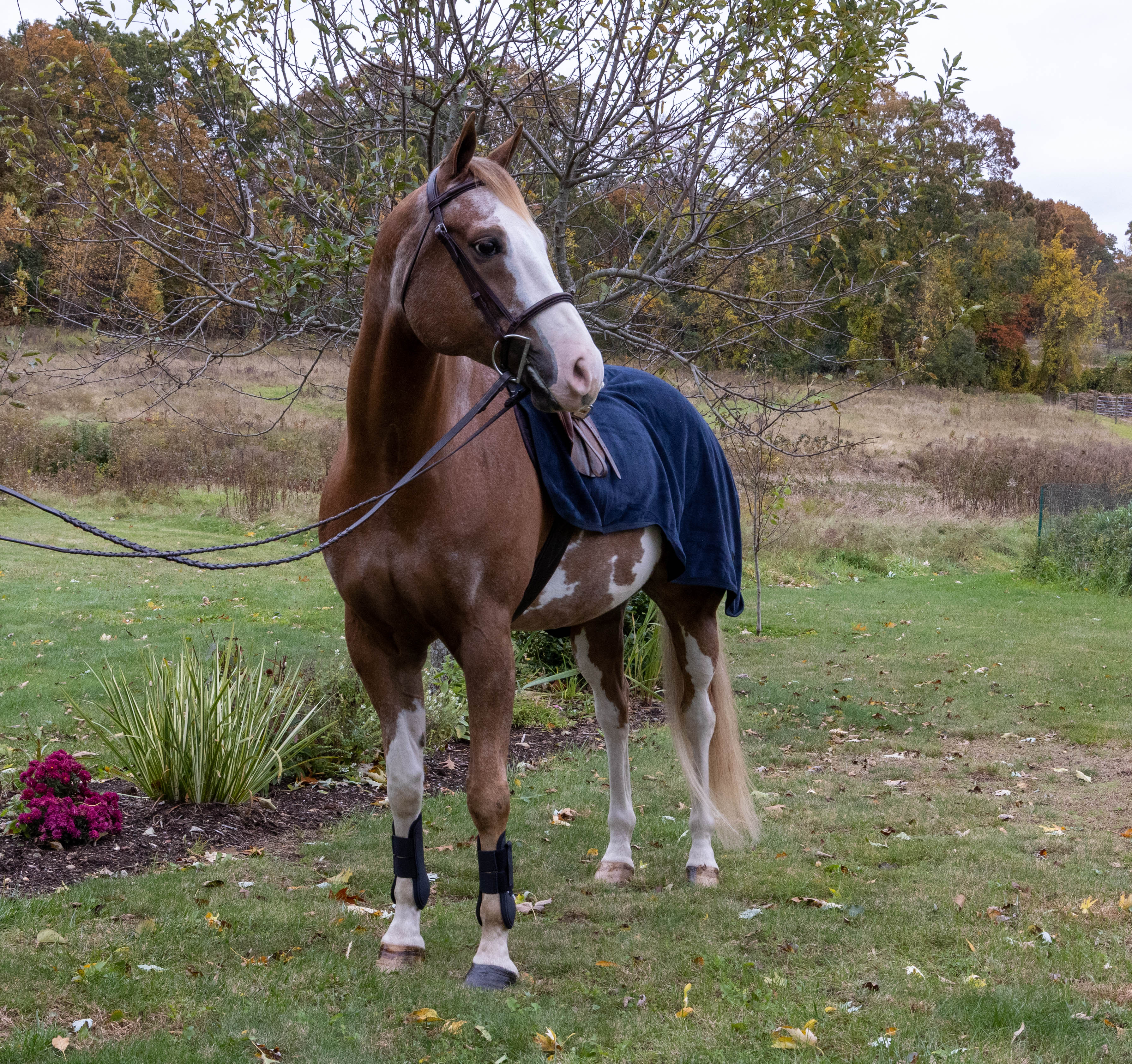 Tack And Equipment You Need For Your First Horse
Next you'll need some basic tack and equipment to use with your new horse. Every horse should be sold with a halter and lead rope however, you may want to buy a new one! Part of the fun of owning your new horse will be outfitting them with their own gear. Below is a general list of supplies your horse will need but remember, every horse is different and you may need to add to this list. If your horse has any special needs or requirements be sure to prepare ahead of time. For example, if your horse is prone to losing shoes you may need to invest in some bell boots for turnout and riding.
Halter & Lead
Tack Trunk
Saddle
Bridle
Saddle Pads
Bits
Brushes
Blankets
Fly Gear
Fly Spray and Coat Polish
Leg Protection
Fleece or Wool Cooler
Quarter Sheet
Feed, Supplements And Medications For Your Horse
Depending on whether you full board or rough board your horse or keep your horse at home you may need to purchase hay, grain and shavings. If you do, try to calculate how much of each of these supplies your horse will use each month and be sure to buy plenty ahead of time.
If you full board your horse you won't need to buy these supplies yourself. You will be required to purchase your own supplements for your horse however. So, if your new horse needs a joint, coat or hoof supplement be sure to stock up on those.
Additionally, during the purchasing process you should be made aware of any special medical needs your new horse has. If your new horse requires medication for any chronic conditions like Cushing's Disease, Respiratory diseases or other types of illnesses you need to manage, be sure you have enough to get started. And, talk to your veterinarian about ensuring your horse has an ongoing supply.
First Aid Supplies You Need To Buy For Your First Horse
You can't necessarily be prepared for all emergencies, but having some basic supplies on hand will be helpful in the event your horse colics or gets a cut. Below is a general list of first aid supplies we like to keep on hand in our barn.
Bute
Banamine
Ulcerguard
Electrolytes
Topical Wound Ointment
Fura-zone Ointment
Betadine
Saline Solution
DMSO
Plastic Wrap
Vet Wrap
Sterile Cotton Pads
Standing Wraps and Quilts
Elastikon
Derma Gel
I hope you found this article helpful, if you did, please give it a share! And, leave a comment with your favorite must have supply for new horse owners!