Check out this list of holiday gift ideas for your horse trainer for some awesome inspiration for the 2021 holiday season!
Our trainers work hard for us all year long, they're our biggest cheer leaders, toughest critics, therapists, friends, and so much more than just horse trainers. They inspire us with their skills and finesse and push us to be better. And not just for us, but for everyone else too! They're like the under appreciated mom who does everything for everyone! She (or he) feels all the happiness and joy when their students succeed as they do! They ride every step with us while we're in the show ring, and feel the pain, struggles and defeat when we're having an off day.
Plus, they run a farm and take care of and train horses for a living! If you want to give your trainer a meaningful holiday gift this year to show them how much you appreciate them, check out the 22 holiday gift ideas for your horse trainer below!
This post may contain affiliate links which means that I may earn a small commission at no extra cost to you. As an Amazon Associate I earn from qualifying purchases.
Gift Certificate Ideas For Horse Trainers
To A Nice Restaurant
Spoil your trainer with a nice night out to a restaurant! Buy a large enough gift card that your trainer and their guest can splurge! Find out what type of food they love and pick a great restaurant that serves their favorite cuisine!
Massage, Mani & Pedi or Other Self Care
Most trainers work far too many hours in a week and neglect themselves. We all know it's a thing, and it shouldn't be. We know they have aches and pains, their hands get beat up and they don't get enough sleep. Generalizations, I know, but show me a horse trainer that doesn't fit into at least one of these categories! So, send them off for some pampering!
Show Clothing Retailer
Show clothes are pricey but when you're out there competing, good quality show clothes that keep you looking neat and professional are a must! A gift certificate to a show clothing retailer that makes custom pieces is a great idea. Custom orders take several weeks if not months to create. If you give your trainer this type of gift certificate near the holidays, your trainer should have enough time to order what they need for the 2022 show season!
Some examples are:
Sells great quality, American made western show shirts, hunt seat blouses and more! I love my CR Ranchwear shirt, pictured below!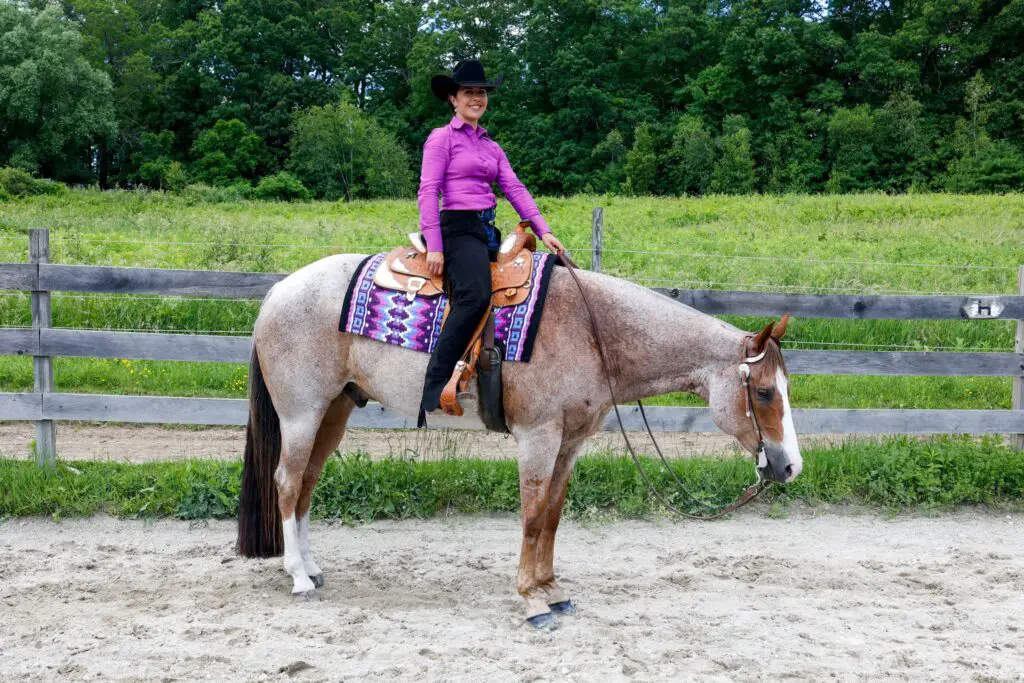 They have beautiful hunt seat shirts and coats as well as other items! I haven't had the chance to get my hands on one yet but have seen other exhibitors wearing Huntress Hunt Coats at shows and they are stunning!
Hay & Grain For The Farm
The winter months are tough, for everyone, especially horse trainers and farm owners. Often times, lessons get cancelled, customers don't always pay on time and deliveries are delayed due to holidays, travel, illness, inclement weather and so on.
If you want to help alleviate the burden of winter horse care for your trainer, one generous gift is to pay the feed bill for the barn for a month. Depending on the size of your barn the bill could be pretty large, so consider getting your barn mates to chip in!
Want to know more about what it takes to run a large scale training operation? Check out this article!
The Best Way To Manage A Horse Training Facility!
Tack Shop
It's always nice to have some extra money for supplies, riding gear, horse blankets etc. Gift cards to the local tack shop or even to SmartPak, Dover Saddlery, Horze Products at Equinavia.com and Amazon are always a safe choice!
Amazon Prime Membership
In addition to an Amazon gift card, you can gift your trainer an Amazon Prime Membership so that when they order products they can receive them quickly!
In addition to 2-day shipping (which we all know and love), your trainer will also be able to stream thousands of tv shows and movies and have access to ad-free music! If your trainer is on the road horse showing, this is a great option for them!
Custom Gift Ideas For Your Horse Trainer
Custom White Board
If you read the article above or you've been in training barns then you know, white boards keep things running like duct tape holds the world together! You will want to get your trainer's input on this one to ensure the board is set up in a way that works for them.
Not sure where to find custom white boards? Barn Boards By Melissa Ilic are beautifully designed and fully customizable!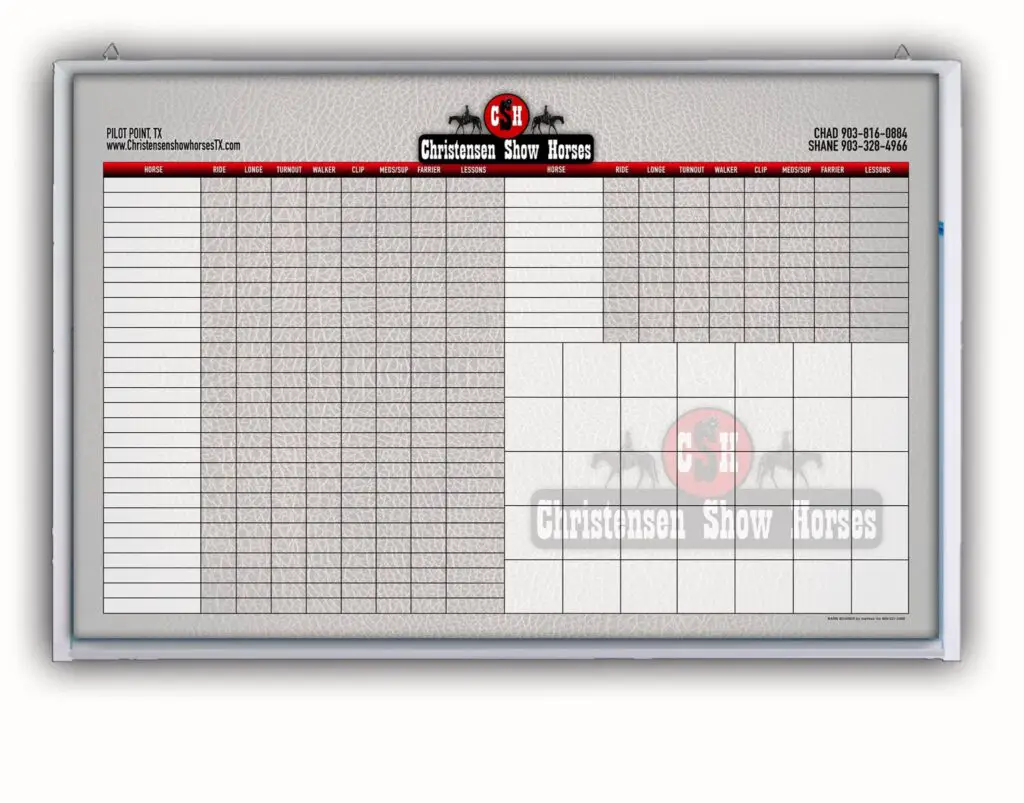 Custom Travel Mug
Even if your trainer doesn't run on caffeine, having a cool mug for warm beverages in winter and cold ones in summer is pretty handy! Especially if you can put their logo, favorite horse etc. on the mug like this one from Brown Acre Designs!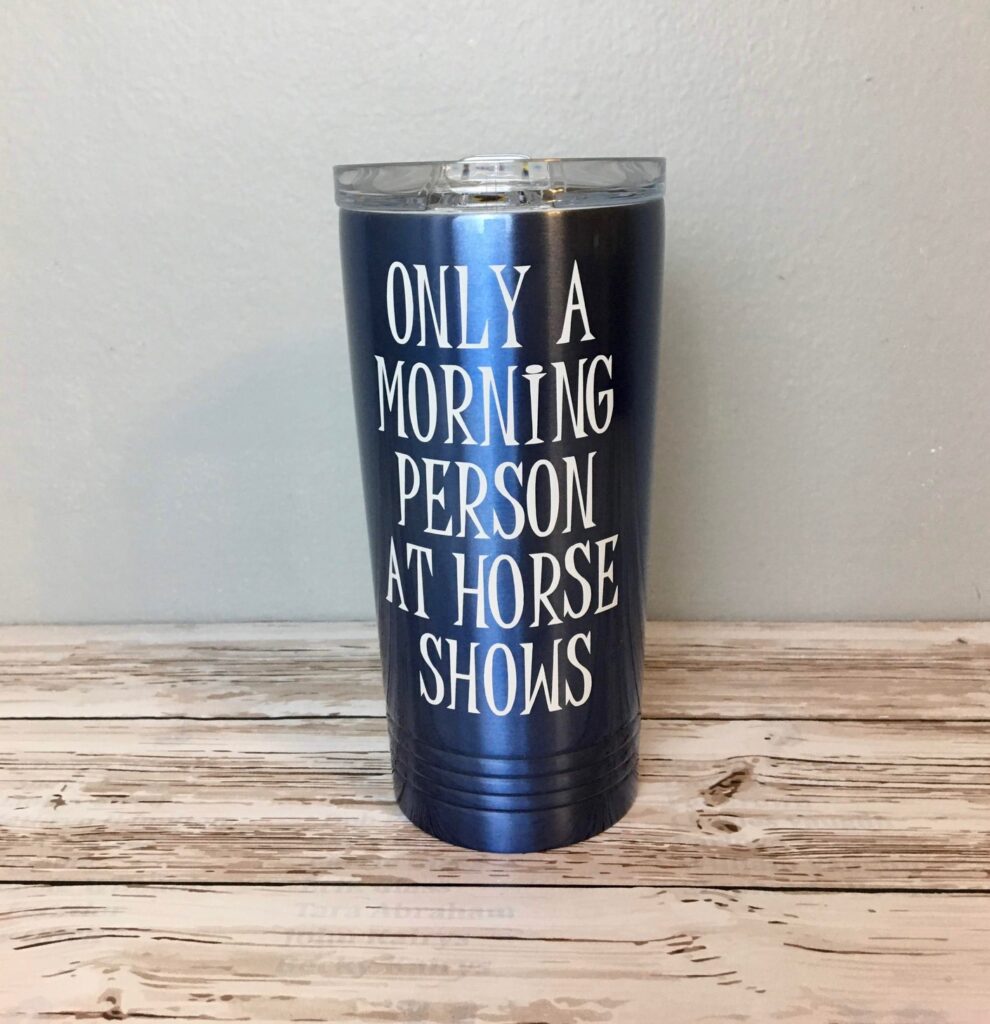 Custom I.C.E Stall Signs
Brandy from Brown Acre Designs invented the I.C.E stall signs, I.C.E stands for In Case Of Emergency! Check out her website to learn more about them and order one for your horse!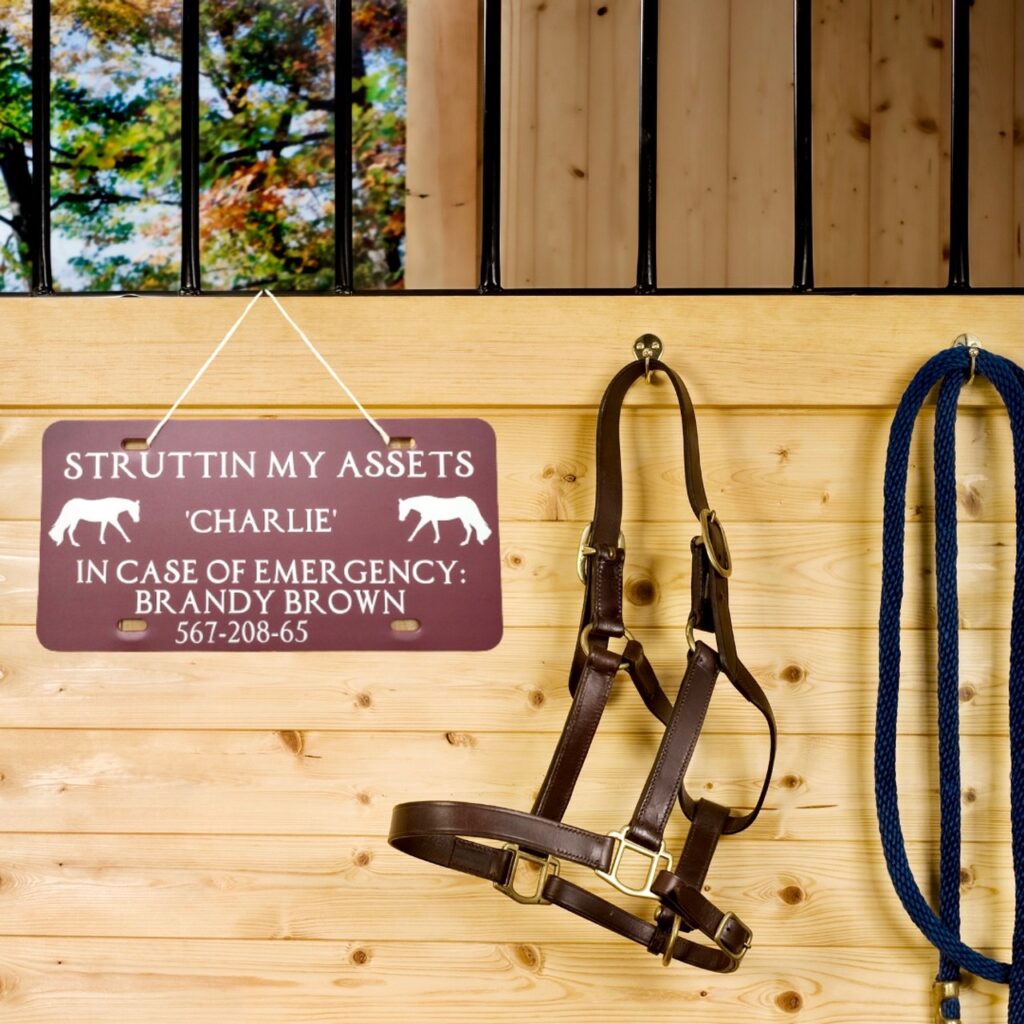 A Custom Ribbon Ornament
In my latest interview with Jenny from EquiRibbon Creations, she walked us through how she got started making crafts with ribbons! Her ornaments, pillows and other designs are beautiful! Jenny currently has a waiting list, so contact her to get on her list if you want to have a gift made for your trainer from ribbons they won! Her creations make great gifts for horse lovers for any occasion!
If you're looking for an ornament in time for the Holiday's this year, check out Starshine Creations by Michelle! Michelle makes beautiful ribbon ornaments as well as other custom products!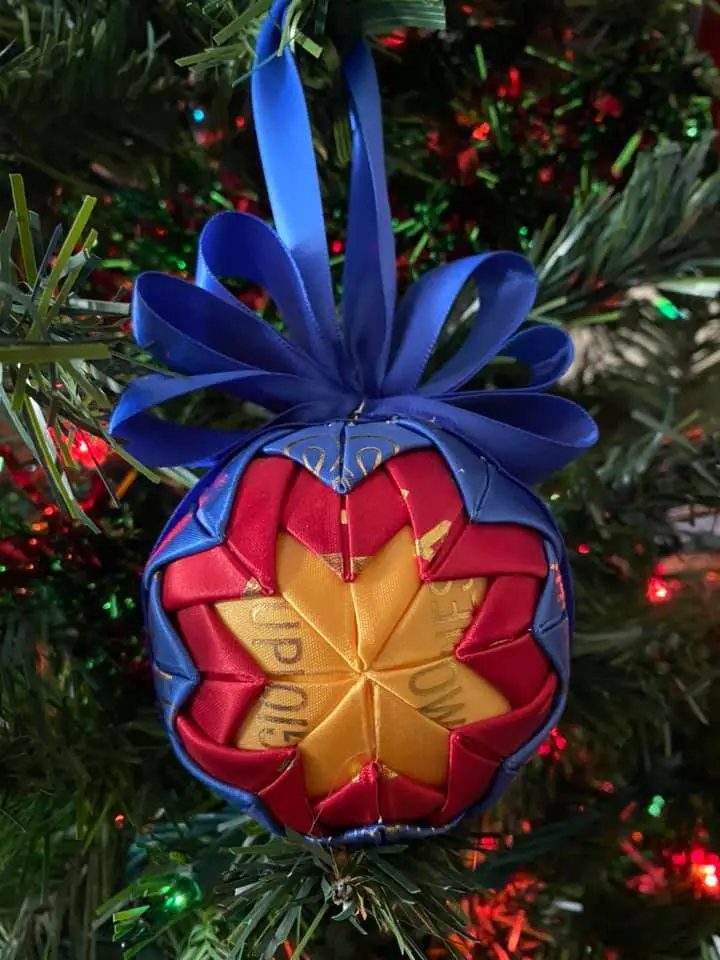 The Ultimate Gift Ideas For Your Horse Trainer, Ways To Give Time Off!
Free Day(s) Of Help
On a low budget this year? Or you just want to give your trainer a break to go get that mani/pedi? Give your trainer a day off by covering barn chores, for FREE.
Help clean stalls, feed horses, turn horses in or out, clean paddocks, scrub water buckets, cob web the barn, clean tack or any number of tasks that need to be done to keep the farm running smoothly.
Find out when your trainer needs help and have them give you a list of tasks. Stick to the list and do a great job. Don't be guilty of a well-intentioned overstep! If you finish all the tasks faster than expected, ASK what they need you to do next or offer to help with a chore you've noticed needs to be done. But be sure to communicate ahead of time.
Meal Delivery or A Week Of Meals
We all know that feeling, after a long day of work not knowing what to cook for dinner. Or buying lunch too many days in a row because we were too tired to prepare a lunch the night before. Take a load of stress off of your trainer's plate…(see what I did there?) and take care of meals.
You can find out what they like and order from a company like Blue Apron or Hello Fresh, or you can make the meals yourself and deliver them!
Miscellaneous Gift Ideas For Your Horse Trainer
Cash
Ok, need I say more? Who doesn't want extra cash? If you have it, give it!
You might think there isn't enough meaning or thoughtfulness behind this one. Well, ask yourself this, how would you feel if someone handed you cash as a gift? I know how I feel about receiving cash for holidays! Pretty dang jolly!
Favorite Adult Beverage
Find out what your trainer likes and stock them up! If you're trainer is a wine drinker, get them a case! If they like margaritas, then go for the tequila!
Stuff For The Barn
Box Of Snacks
Anyone besides me get the munchies while in the barn? Maybe it's because I get so caught up in grooming, riding, cleaning etc. that I go hours and hours without eating because I simply forget! Let me guess, that happens to you too! Why do horse people skip meals? In any case, stock up on your trainer's favorite snacks and send them to the barn!
Single Serve Coffee Maker
This is right up there with snacks! If your trainer is out in the barn and forgetting to eat, they're probably also thirsty. And this time of year, cold. So, why not buy a single serve coffee maker for the barn!
Check to make sure your barn has the space, and ability to accommodate a coffee maker before you purchase one!
New Pitchfork Heads
Since we're talking about the holidays here, I'm going to go ahead and make the assumption that even if you're not local to my area (New England) you're still experiencing cold weather. If not, this still applies but just because stuff wears out. It happens year-round but especially in the cold, tines on pitchforks become brittle and just snap more easily! So, load up on new pitchfork heads so that your trainer and the barn staff can easily replace them as needed!
StripHair Gentle Groomer For Horses
If your trainer doesn't have one of these handy groomers, you need to get them one! They work great for shedding horses and they are flexible and soft unlike a metal shedding blade. Plus, they do a great job scrubbing off leg crud and mud! I've had one for almost a year now and I love it! Here's the link to the full review I did after testing out this product. Does The StripHair Gentle Groomer Work? Find Out If It's Actually Worth It!
Cold Weather Gear Gift Ideas For Your Horse Trainer
Box of Hand and Foot Warmers
Chances are if you've spent enough time on a farm in the cold, you've experienced the misery of over heating under all your layers of warm clothing, meanwhile your fingers and toes are ice! So, you strip off some layers, and then you feel better for 5 minutes until you actually turn to ice and have to bundle up again. Now the cold is in your bones and you just can't get warm. Ugh!
Get your trainer a large supply of hand and foot warmers so they can keep their digits warm even if they have to take off some of their top layers!
Good Quality Gloves And Wool Socks
Some great quality gloves and wool socks will help keep your trainer's hands and feet warm with the help of the hand and foot warmers I mentioned above. Look for gloves that are water proof, comfortable and durable! Remember, gloves that are too thick will make it difficult to hold training equipment and barn tools.
Coveralls or Snow Pants
It's one thing to be moving around and doing barn chores or working horses, but if your trainer has days where they teach for hours on end, you can bet they're slowly turning to ice. Help your trainer stay warm on those long winter days in the barn! Get them a pair of snow pants or better yet, riding snow pants!
High Quality Thermal Base Layers
My personal favorite is Under Armour. I've also tried the North Face brand and Fruit of the Loom thermal long underwear. But Under Armour has kept me the most comfortable! Either way, base layers that wick sweat and regulate body temperature are important to help your trainer stay warm without overheating!
I hope you found this gift guide helpful! If you did, please give it a share!
Check out these related articles too!
25 Holiday Gift Ideas Your Horse-Crazy Kid Will Love!
How To Find A Riding Instructor And What To Look Out For!
Does The StripHair Gentle Groomer Work? Find Out If It's Actually Worth It!