I purchased the StripHair Gentle Groomer about a month ago. After seeing many short videos of the product, I was dying to try it out! This article will provide an in depth review and description of how it worked on our horses.
This post may contain affiliate links which means that I may earn a small commission at no extra cost to you. As an Amazon Associate I earn from qualifying purchases.
First Impressions of the StripHair Gentle Groomer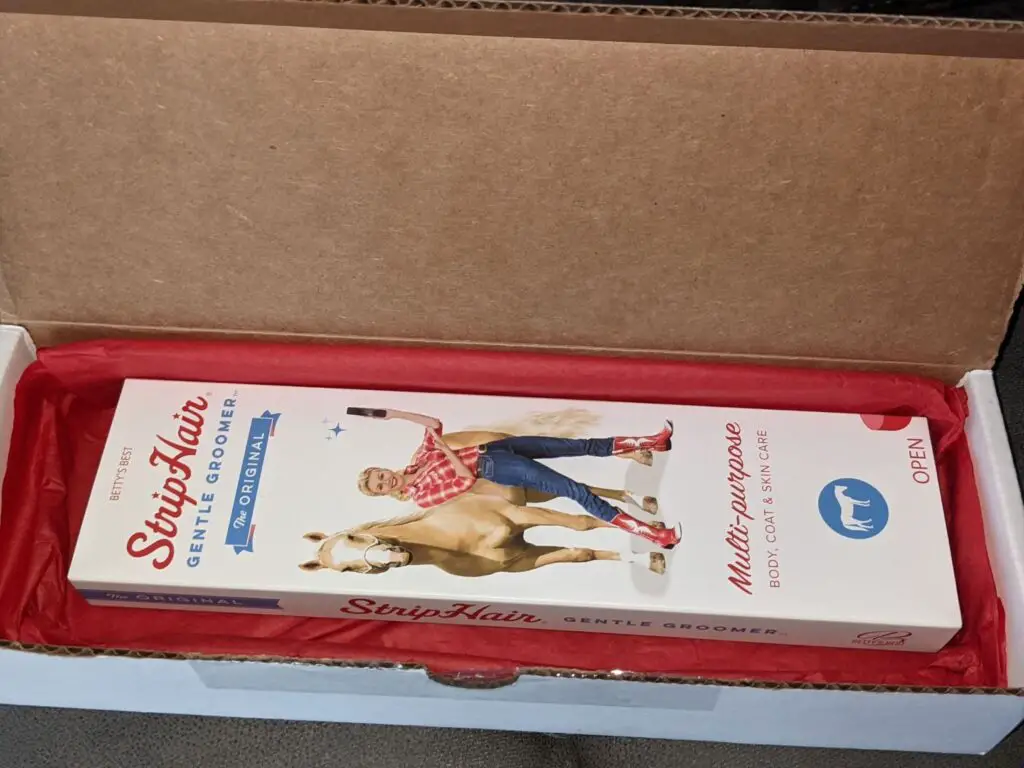 When I first received the groomer, it came beautifully packaged. When a company takes the time to wrap up their product nicely, including a magnetic clasp on the package, it shows they care about their customers and the quality of their product.
In addition to the simple, clean and neat packaging, the product comes with a carrying case, which I thought was a nice touch.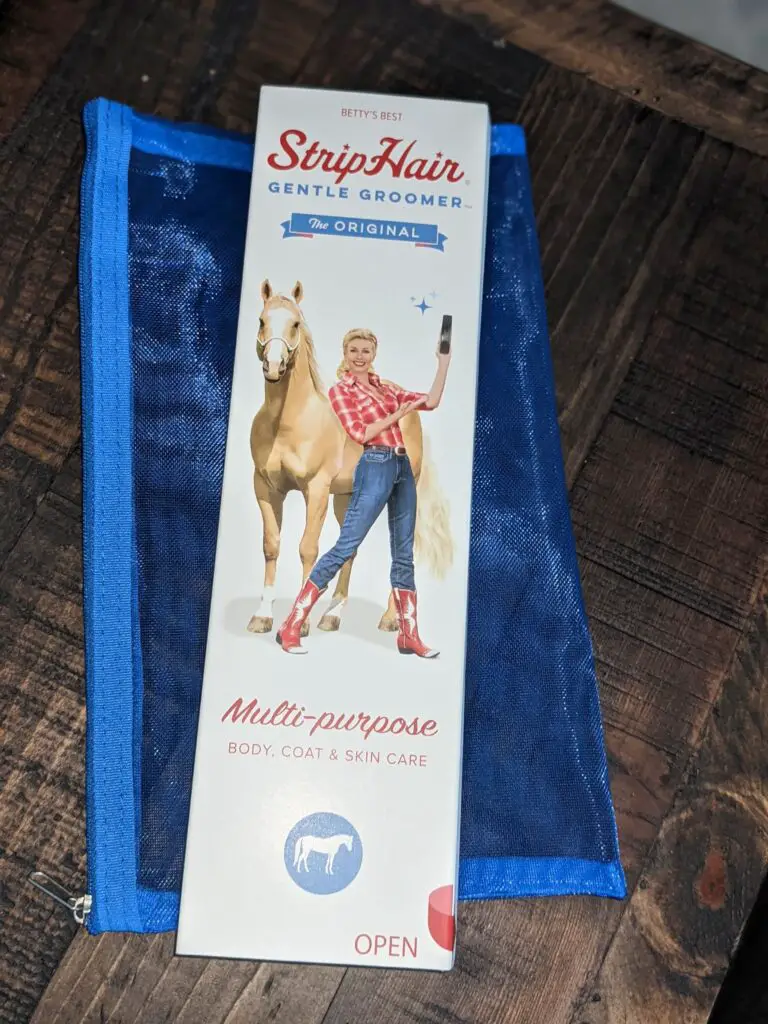 The package opens into a brochure style informational page.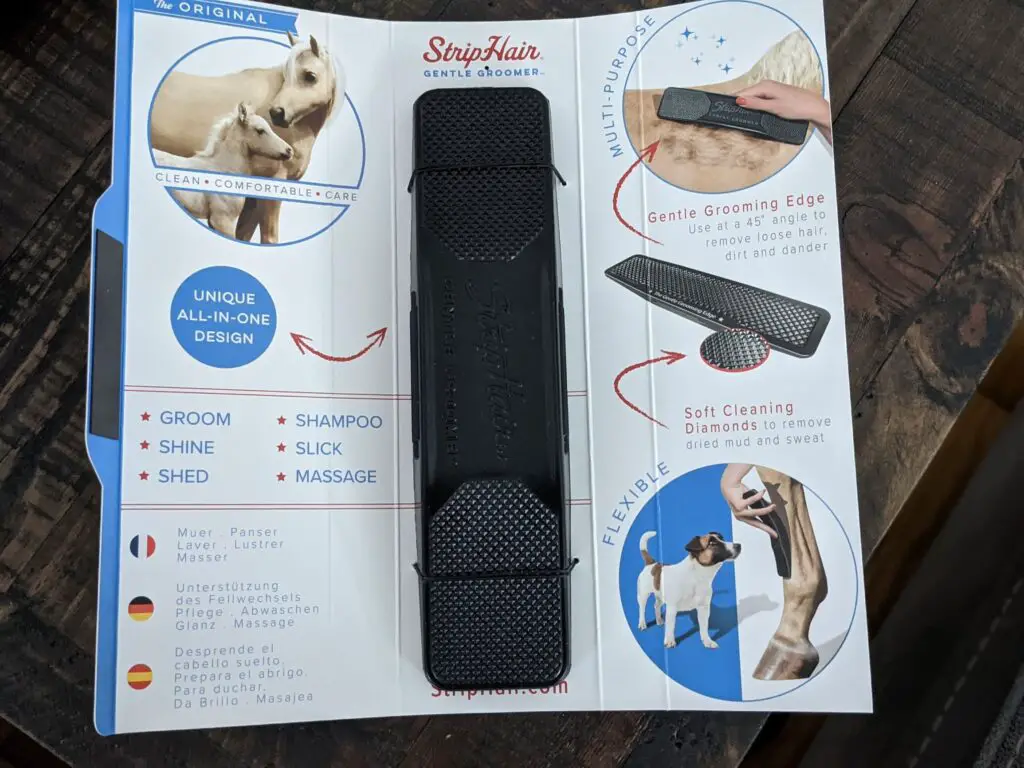 The groomer itself feels heavy duty and not flimsy at all. It does bend to allow for use at different angles and overall the quality seems good. Additionally, this grooming tool is actually made in the USA!
Trying The StripHair Gentle Groomer Out!
I have to say, the first time I used the groomer on one of my horses, I don't think I was using it correctly. I held the groomer flat and used it like a shedding blade. Not the best approach. If you're trying this product out, read the information on how it works.
The groomer is awkward to hold for someone like me that has small hands. I found, that when I'm using it as a curry, or using the ends for legs, it is easier to hold. If I want to use it at a 45 degree angle as a shedding blade, I need two hands.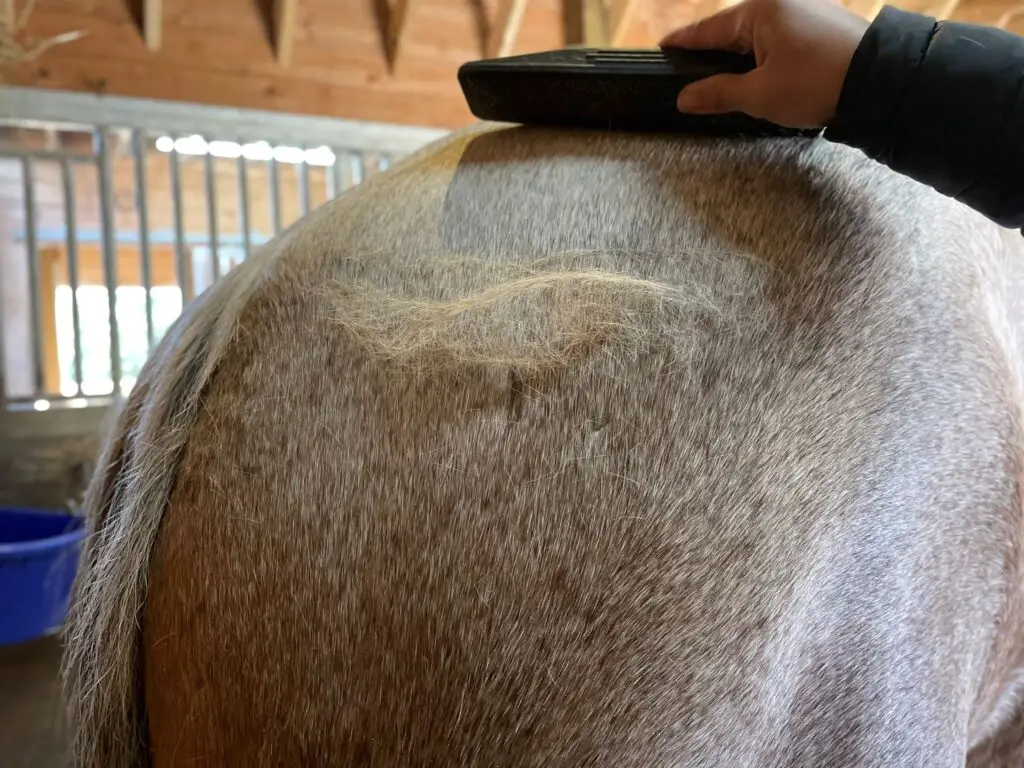 Rayven, our red roan AQHA gelding came in from the paddock with some dirt and crud on his legs a couple of weeks ago. So, I was anxious to find out if the StripHair Gentle Groomer would actually remove the grime the way it does in the videos. And to my pleasant surprise, it worked!
Watching dirt, hair and dried skin fall off in chunks is just so satisfying!
Next, I tested the groomer out on our AQHA mare Capi ( Captive Bees). On one random warm day last week, she was turned out without her blanket on. Hallelujah! As you might imagine, she came in completely filthy with caked on mud and manure.
I curried her with the groomer and was elated to find that once again, dirt and hair came flying off. A couple of our horses are starting to shed, but I hadn't noticed Capi shedding quite yet. So far, I can see this product being a staple in my everyday grooming routine.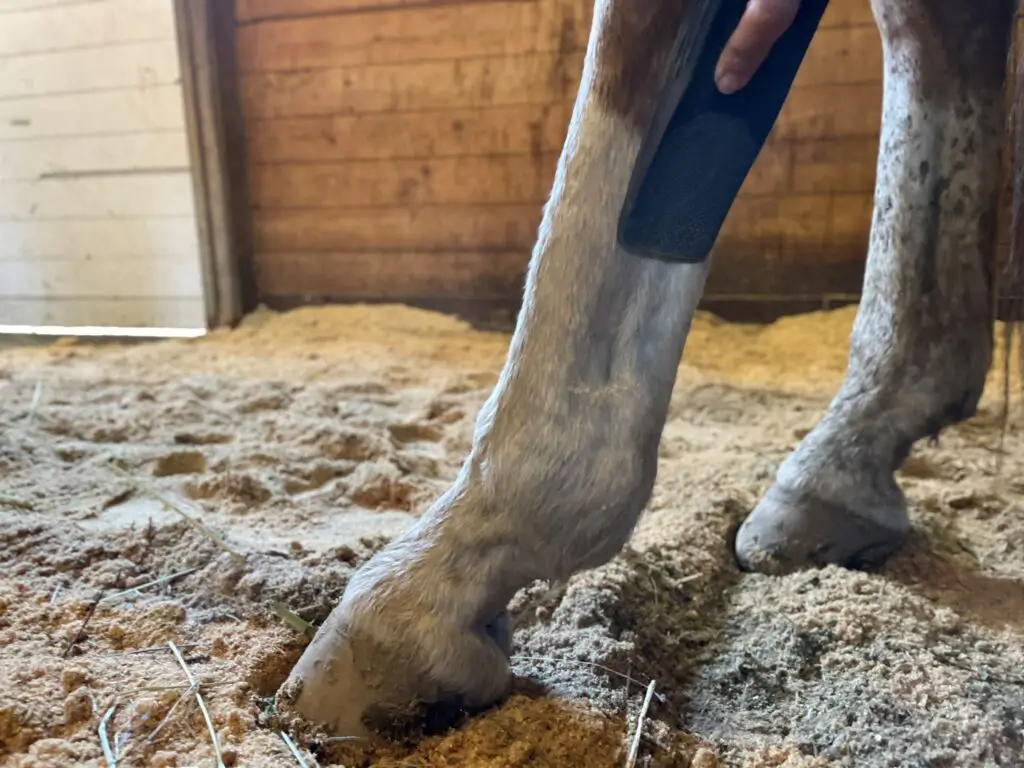 With the warmer weather right around the corner (forecast says 60's next week!) I am anxiously awaiting the chance to use the StripHair Gentle groomer while bathing my horses. I will update this post with pictures and details once we try it out.
Overall Thoughts
In conclusion, the answer to the ultimate question, is it worth it?
I paid just under $30 on Amazon. Compared to other grooming and shedding tools, it's fairly expensive. However, the groomer seems very durable and will likely last for many years. I can justify spending a few more dollars on a quality product that will last.
I would most certainly purchase the StripHair Gentle Groomer again. The quality is great, the tool works and does what it claims to, it comes with a carrying case, you can easily clean it and it is made in the USA!
So, Where Can You Get One?
If you're interested in trying it out, check out the link (picture) below! And if you try it or already have one, please comment and share your feedback, I'd love to hear your thoughts!