As a kid, I always wanted to have a farm of my own. I'm not sure that I want to manage a horse training facility on this large scale anymore, but it would be nice to look out the window and see my fur kids every morning.
Its Monday morning, I've put my daughter on the bus and sent my son off to daycare. I arrive to Sunflower Meadows Equestrian and as soon as I pull in, I can see it's a busy day. Some of the horses are outside enjoying the sunshine while others are waiting patiently for their turn.
The farrier is already at the barn shoeing some horses, Lindsey's phone is buzzing as she works her way through wrapping up the morning chores. The stalls are already cleaned but there is still lots more to do. Its a bit of an overwhelming scene but it makes for lots of photo ops!
In this interview, Lindsey Canesi owner of Sunflower Meadows Equestrian talks us through how to run a large training facility and what it's really like! If you're considering operating your own barn or becoming a professional trainer, read on to find out how she does it!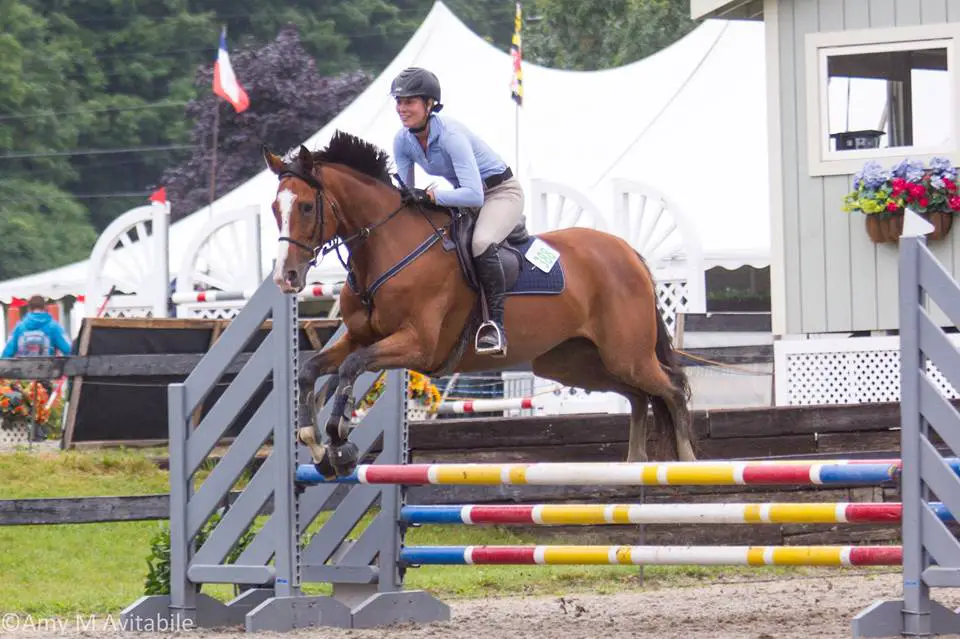 This post may contain affiliate links which means that I may earn a small commission at no extra cost to you. As an Amazon Associate I earn from qualifying purchases.
About Lindsey
Lindsey attended Mount Ida College as an Equine Business major, riding on the IHSA team at River Wind Farm. Lindsey boasts many years of experience, a passion for thoroughbreds, an understanding patience for young horses, and a huge love for the Hunter/Jumper and Eventing world! She truly enjoys sharing her knowledge with developing riders of all ages, running a diverse and solid lesson program. Lindsey firmly believes in a dressage foundation as well as cross training for horses and riders to help them enjoy strong careers which can be seen in her successful IEA Team!
For more information, check out Sunflower Meadows Equestrian!
What made you decide to turn your passion for horses into a career?
I wanted to be able to support my own horse showing and horse habit so I decided I needed to make money with horses. This way I can do what I love, expand my knowledge and compete my own horses while still earning a living.
How many horses do you currently care for?
I currently have 35 horses on the property.
What disciplines do you train and what events do the majority of your clients enjoy?
Hunter/ jumper and Eventing. We compete on the USEF hunter/jumper circuit and we do a handful of USEA Events each year as well.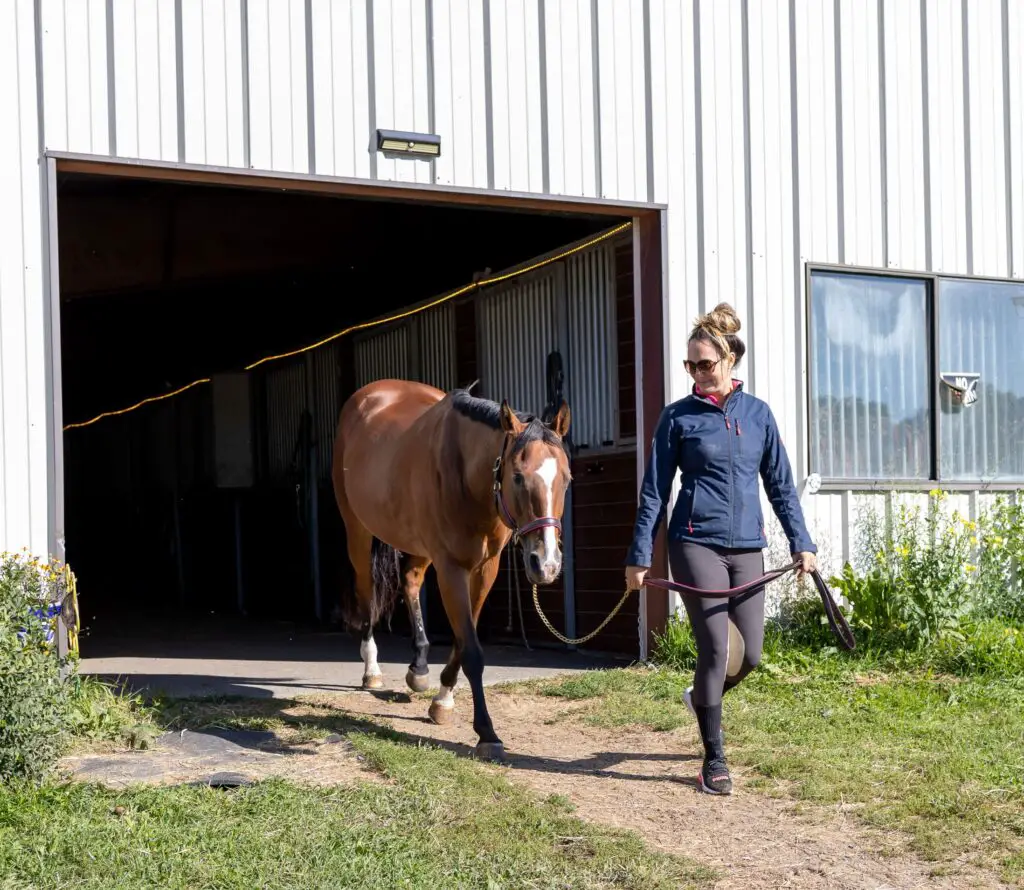 When you manage a horse training facility, what is a typical day like?
On an ideal day, I will help the staff with the morning chores before riding 3 to 4 horses in the morning. Typically, I spend the afternoons teaching lessons. I teach 25 to 30 lessons per week.
It is rare that an ideal day happens, things always pop up that take my attention away from the core tasks involved in running the barn and training horses. But, I still have to handle those responsibilities regardless.
And, there are always vet and farrier appointments throughout the week. My staff and I have to be available to hold client's horses or consult with the equine professionals that support our horses' care as well.
How do you balance the day to day operations of the farm while teaching, training, riding and competing?
I wake up very early every day and I work very long hours! I try to take good care of myself and stay healthy. It's a lot to juggle, so I also try to keep reliable staff to help. There are too many responsibilities for one person to handle alone.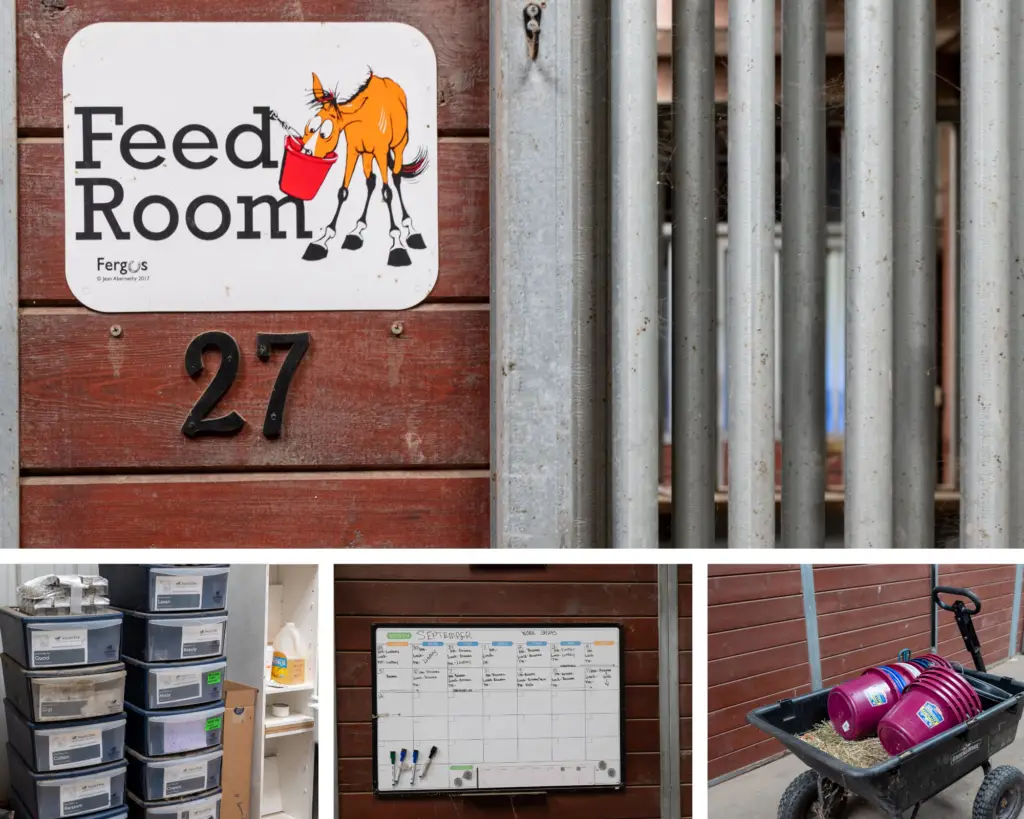 How do you manage the horses' varying needs with such a large facility? Feed, Supplements, Turn Out, Blanketing, Training Rides etc.?
We like to use white boards and keep everything written down. There are several white boards around the barn with schedules, turnout, feeding requirements etc.
I also use the Samsung notes app in my phone, and I have spreadsheets to keep track of everything.
What advice do you have for rookie barn managers on staying organized when they are trying to manage a horse training facility?
Write everything down. Always!
Every night or at the end of the day, update your notes and make changes before you do anything else. Be diligent about checking emails, texts, notes from phone calls, notes from vet and farrier visits etc. and update your documents with that information.
There are too many details to keep track of without writing things down!
What expenses might prospective horse trainers and barn mangers not be aware of?
Porta Potty
Trash Removal
Manure Removal
Utilities – lights, electricity, water, etc.
Insurance – farm, instructor's, horse, vehicle
Plowing & Mowing
Staff Expenses & Wages
General Maintenance and Facility Up Keep
Truck and Trailer Maintenance and Registrations.
How do you find reliable staff to help keep the farm running when you're on the road?
I always interview candidates and have them shadow me for a day. Then, once they start I work side by side with them for a few days.
I also try to offer extra perks like riding or allowing them to bring their own horse as incentive to do a great job and stick around.
What skills and qualifications are you looking for in a potential employee?
First and foremost, reliability. Showing up and being dependable are crucial.
A person who is able to work independently and confidently.
Being meticulous and doing tasks correctly, someone who does not take short cuts just to get the job done. Highly motivated, self starters, people who don't stand around waiting for something to do.
How do you find high quality equine professionals such as veterinarian, farrier, dentist, saddle fitter, chiropractor, massage therapists etc.?
I work with an older more seasoned trainer who makes recommendations.
I also consult my veterinarian since they have a broad network and know my horses.
My farrier was recommended by Cornell University to help with my mare's club foot along with some other issues and has now been shoeing my horses for several years.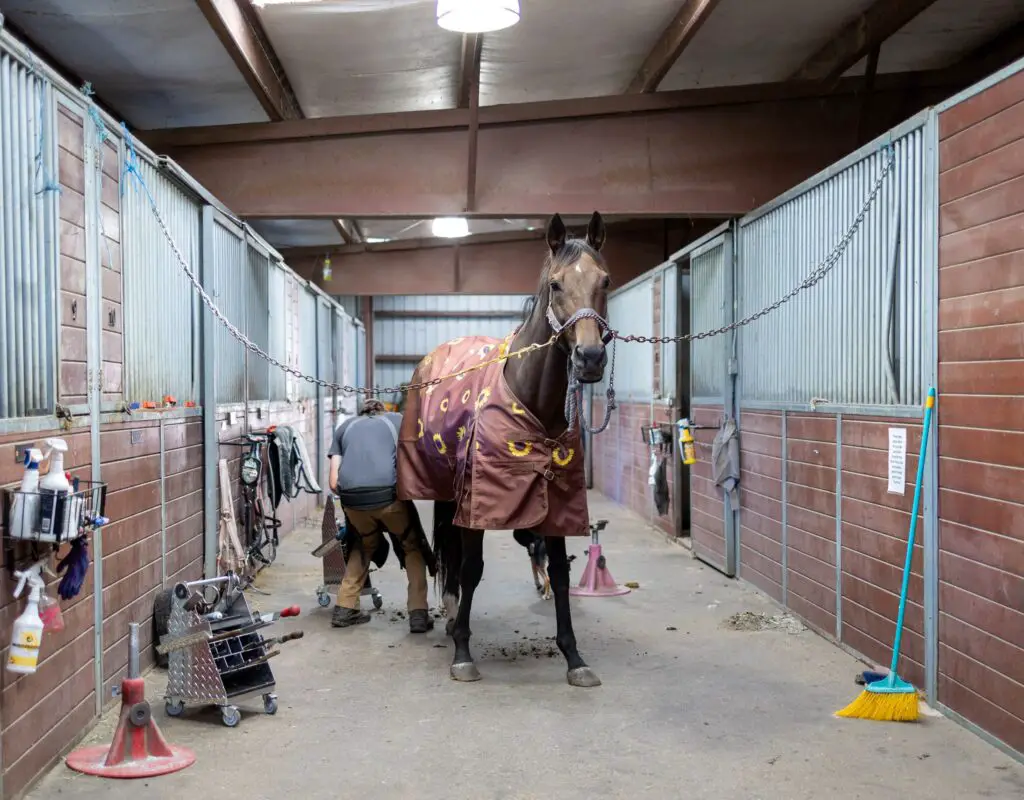 How do you find time to manage the business side of things? Bookkeeping, marketing etc.?
Most of the time I end up doing all of my administrative work at night. Sometimes even after I get in bed. This typically includes invoicing, responding to emails, marketing, social media, logging expenses, etc.
How did you learn how to care for horses and manage a barn?
I started with my aunt Julie who had horses when I was younger. Then, after taking lessons for many years I went to college for Equine Business Management.
What advice would you give to someone considering buying or leasing their first farm with the intent of teaching lessons, training and boarding horses?
Have a good amount of savings before hand, it takes more than you think! And, you really need a solid business plan and to stick to it. As your business grows, it is important to update your business plan accordingly so you can keep things moving forward.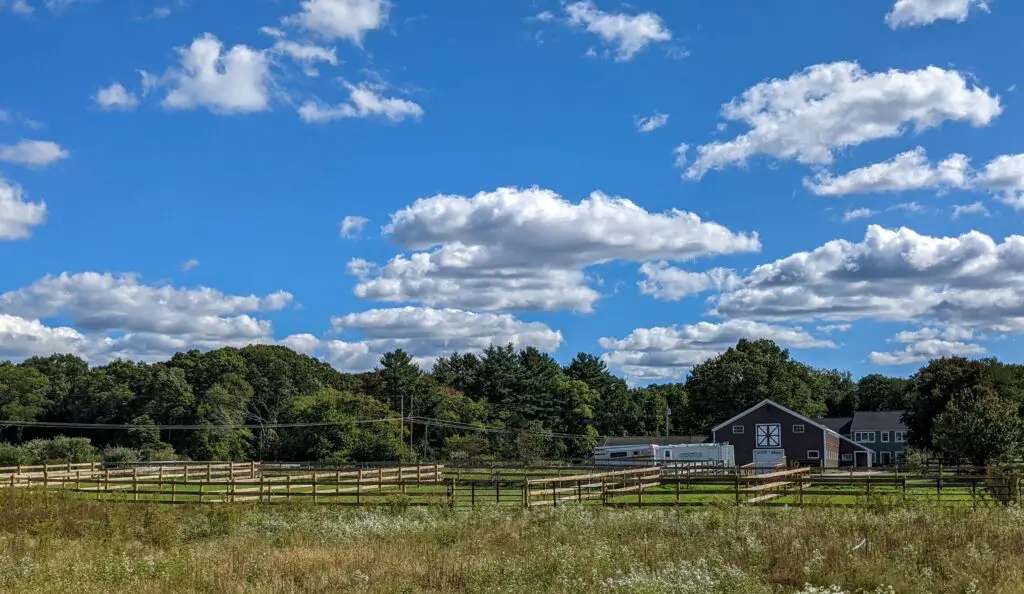 What advice would you give a prospective horse trainer or barn manager?
Find a local trainer with a solid program, a great reputation and many years of experience and go work for them!
If you want to manage a horse training facility and be successful one way is to avoid making mistakes other people have already made.
I would say you should work for them for at least a couple of years before branching out on your own.
With so many responsibilities, how do you find time to unwind?
Currently I try to take at least one full, uninterrupted day off per month.
I leave someone in charge of the farm that I truly trust that day. Most trainers I know end up answering the phone, doing administrative tasks or sometimes even end up at the barn on their day off each week. So, its important to have one real day off once in a while.
What secondary income streams do you have to help keep your barn running?
I have a large facility which makes allows us to host clinics and run our own horse shows.
We also run summer and vacation camps for kids and we do horse related seasonal events that don't involve riding.
What advice would you give to young horse trainers on handling difficult clients?
I always remind myself that it is impossible to make everyone 100% happy all of the time, and doing the best you can is what is most important. I try to relay the message to my clients, that I am always doing the best I can for them and have their horses best interest at heart all of the time.
How do you keep the drama out of your barn?
I give clients one warning if they start drama, after that it is 30 day notice that they can no longer board or ride at my barn the second time and I stick by it. I have a written statement that gets sent with a board contract when clients move in letting them know about this policy.
What keeps you motivated and helps you avoid burnout?
My love of animals, watching my students succeed and my own personal riding goals. Even if time for myself is limited with my own horses it makes it worth while.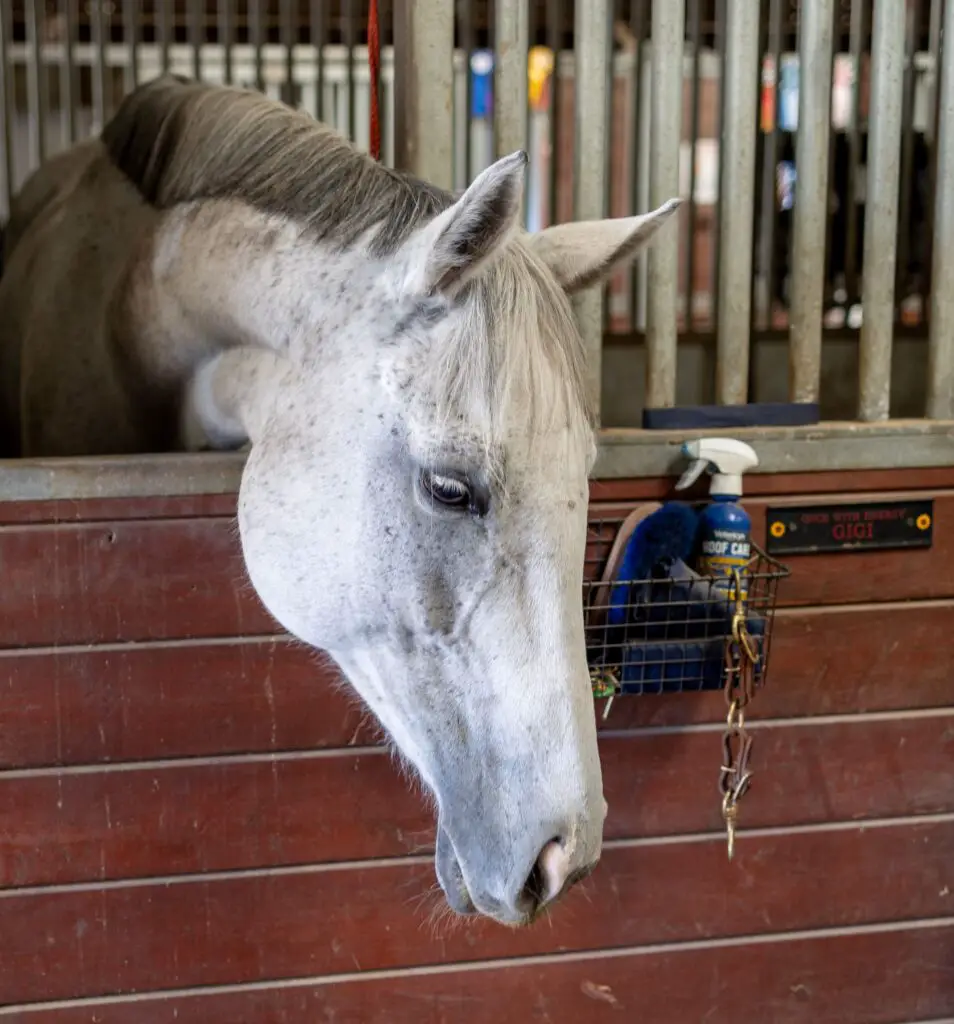 I hope you've found this article helpful! If you liked this post, please give it a share!
For more interviews and horse career ideas check out these articles!
How To Start An Equine Business Designing Custom Products
Equine Detailing, A Full Time Equine Career
How To Become An Equine Chiropractor
Learn What It Takes To Become A Professional Horse Trainer with Torey Roderick