Searching for and finding a riding instructor or new barn can be daunting. We'll cover questions to ask and key components to observe when visiting prospective barns in your search to find a riding instructor.
Let's start with the basics, where to even begin. The first step is to locate local barns in your area and find out if they have openings.
This post may contain affiliate links which means that I may earn a small commission at no extra cost to you. As an Amazon Associate I earn from qualifying purchases.
Make A List
Search on the internet and find riding instructors and farms in your local area, make a list of 5 to 10 farms. At this stage, you can just write down every local farm you find regardless of discipline. If you notice something on their website that intrigues you or seems like cause for concern, jot that down too.
Assess Your Skill Level
Are you a beginner who is new to riding or has never ridden before? Or are you an intermediate with a couple of years of experience, can ride independently and are comfortable in most settings? If you're advanced, you likely have a good idea of what you're looking for in a farm but this guide can help ensure you don't leave anything out.
Identify Your Goals
Do you want to learn to ride for fun or become a World Champion? Do you have a specific discipline in mind? It's ok if your goals change over time and they likely will. You'll want to find a riding instructor that will suit your current needs and has the ability to adapt and meet your future needs will be beneficial.
Need some help deciding on your personal riding goals? Check out this post! My Horseback Riding Goals And How To Set Yours!
Download your FREE Equestrian Goals Worksheet and start achieving your goals today!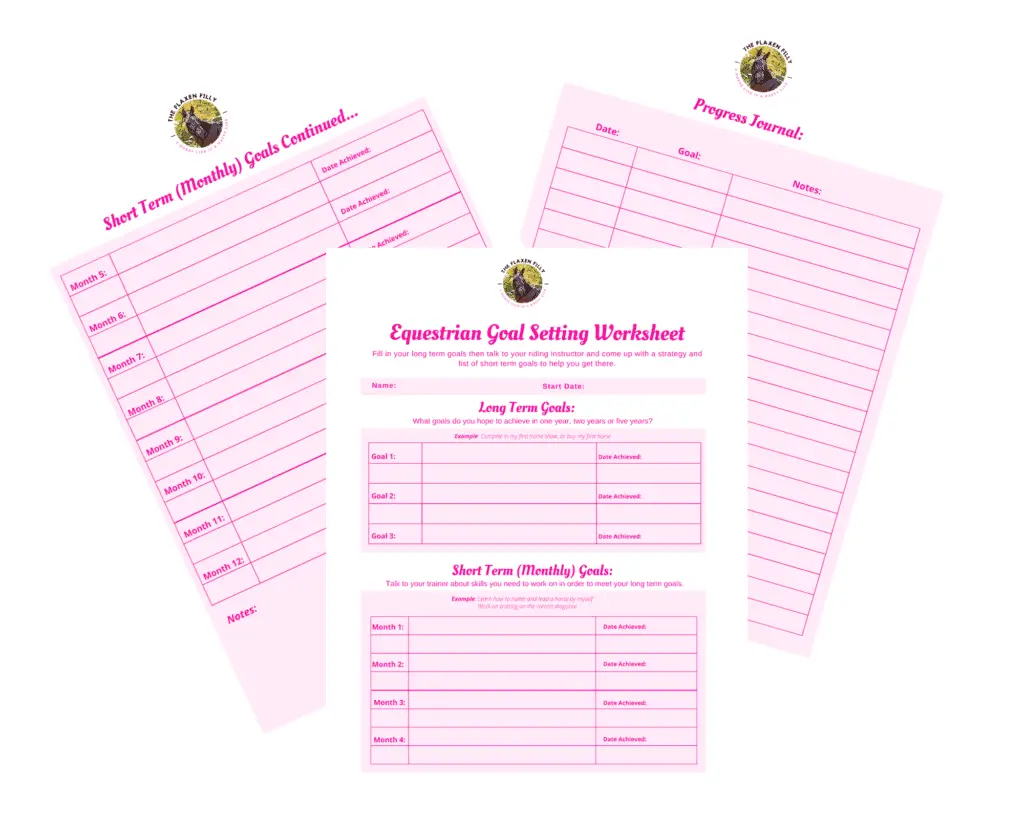 Narrow Down List
Once you've assessed your goals, review the websites and review for the farms on your list. Rule out any farms that won't meet your needs.
Schedule A Visit
During your visit, you may feel a bit of anxiety or nervousness, which is normal. In your quest to find a riding instructor you will likely meet many instructors, students and horses. During your visits you'll want to be prepared to ask lots of questions and observe the atmosphere.
We checked in with a couple of professional riding instructors to get their advice on finding the right fit. It's also important to be transparent with potential instructors about your skill level and goals.
If you've never ridden before or don't have much experience it's very important to communicate this. Many times riders tend to exaggerate their skill level, but a good riding instructor will make their own assessment.
What To Ask
Lindsey Canesi, trainer and manager at Sunflower Meadow's Equestrian recommends asking the following questions to get a good sense if the farm will be a good fit for you.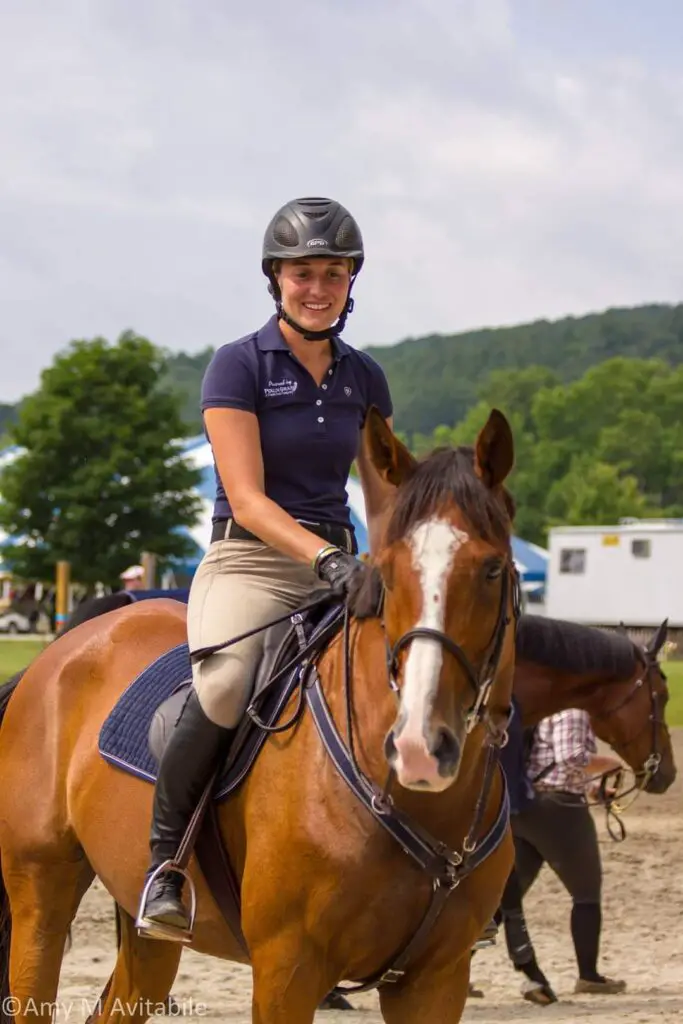 Will an instructor be able to help me lay out reasonable goals and a game plan to reach them?
" I feel so strongly about this, and I personally like to ask everyone that comes to me what their goals are and what they're expectations for reaching them are. I find far too often beginners come in and say they want to jump, or they want to play polo, etc. However they usually have expectations of that happening quicker than can really be expected keeping safety for both horse and rider in mind. So I like when people inquire about general time lines and want to talk about setting reasonable goals."
Do you have references from other recent beginner riders in your program?
"Many instructors can give you references of riders in their program for years, who are showing and jumping. Often times the beginner rider is overlooked when asking for a reference. Yet they are the ones who shine the most I feel, as they learn the basics."
Jane Rizzitano, owner and instructor at Rhapsody Hill Farm recommends checking to confirm the instructor is licensed and insured by the state. Some states don't require licensing, but instructors should always carry insurance. She recommends asking the following questions on each visit:
What process do you use to teach a student to ride and in general, how long does it take? 
"Find out if grooming and tacking are included in the lesson, along with warming up, cooling out and teaching style. Are you expected to arrive early?"
 Can I ride English or Western?
Will I be able to work with the horse on the ground?
Do I need to sign a release waiver?
What To Observe
Jane suggests requesting to observe a lesson or two before signing up for a lesson.
"As I walk through a barn, I look at the cleanliness and organization of the facility, whether it's big or small, fancy or simple. Are the horses well-behaved and friendly? What are the safety protocols that are posted or given out by the instructor? Most importantly, is the instructor willing to answer your questions? "
Similarly, Lindsey also recommends watching a trainer teach a handful of lessons before committing to that barn is helpful. Nothing compares taking an actual trial lesson to get a feel for a trainer. Ask to visit on a busy afternoon and just hang in the wings and watch trainers and riders interact.
"My riders all know I hold them to a high standard of sportsmanship and that being positive and helpful to the other riders around them is so important. I could not function in a different type of environment, however some prefer a more stern or demanding teaching style. Some riders are looking for a very competitive style barn, and that is great too but it is something you can get a feel for by observing other lessons usually. "
Schedule A Lesson
Scheduling your first lesson when you find a riding instructor can be intimidating. Try to be open minded, calm and patient as you get to know each other. It's best to schedule a lesson at more than one farm before making your final choice. This way you can compare teaching styles of each instructor. You may find a riding instructor that seems like the right fit but you won't know for certain until you've taken a couple lessons.
I hope you found this article helpful! If you did, please share!