Find out if becoming an Equine Chiropractor is the right horse related job for you! As part of our series on Equine Careers, we interviewed Dr. Michelle Dewar of Farm and Family Chiropractic to learn more about her day to day life and how she got started!
This post may contain affiliate links which means that I may earn a small commission at no extra cost to you. As an Amazon Associate I earn from qualifying purchases.
About Dr. Michelle Dewar
Michelle Dewar, DC is a chiropractor in Massachusetts who specializes in horses.  Her vision is for every horse in New England, especially performance horses, to be under chiropractic care on a maintenance level for optimal health and functionality.  She is a Massachusetts native who currently resides in the small, small town of Buzzards Bay by the ocean with her dog, Gunnar.  Dr. Dewar attended UMass Amherst for her undergraduate with a BS in Kinesiology, received a certificate in Equine Massage from Bancroft School of Massage Therapy, attended Sherman College of Chiropractic in South Carolina, and completed her dreams of becoming an equine chiropractor at Options for Animals in Kansas.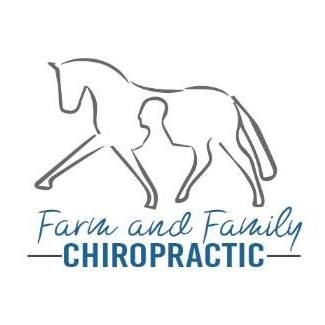 How did you get involved with horses and riding?
I have always loved animals growing up.  I rode for a couple summers when I was young with my sister, but when she stopped so did I.  When I went to UMass Amherst, I decided to join the IHSA team as a walk trot rider. It was the best decision of my life.  Instantly I became hooked and it was such an honor to be able to learn how to ride from my trainer, Jerry Schurink.  I have no plans on ever stopping again.
How and when did you become interested in equine chiropractic?
I knew I wanted to become a chiropractor, but I wasn't sure why. So, I put off the further education I needed for a while after graduation to do some soul searching.  I bought a horse, an OTTB gelding, and learned how to do equine massage.  Between these two, I discovered how powerful bodywork can be on a horse and I felt like I could do more.  When I had the chiropractor out for him, it hit me instantly that that was my "why" and I made the leap to attend chiropractic school.
How did you decide to become an equine chiropractor as a career?
Growing up, I always wanted to be some sort of doctor, but I wasn't sure which type.  I did a lot of shadowing in hospitals during high school and none of the positions seemed to fit. When I shadowed a human chiropractor, it just worked in my brain.  While at UMass Amherst, I was on the pre-med track and studied Kinesiology so I could learn everything I could about the human body and how it functions, especially during performance.  One of our classes had us write a report on what we wanted to do with our degrees and that was when I really started looking into chiropractic as my definite future.  It's been a wild ride, but I'm exactly where I need to be in life now.
What type of schooling is required to become a chiropractor?
In order to become an equine chiropractor, you must either be a human chiropractor or a veterinarian.  Once you complete one of those programs, there are a few animal chiropractor colleges throughout the states that you can attend.  These schools are backed by the IVCA (International Veterinary Chiropractic Association) and AVCA (American Veterinary Chiropractic Association) associations.  From the links below, you can search for a doctor if you are interested in having someone out to look at your horse.
https://www.animalchiropractic.org/
Homepage
Once you finished school, how did you get started in business?
The benefit to knowing exactly what I wanted to do when I graduated meant that I was able to jump right in.  I did not join another office. Instead, I immediately became my own boss and it was the best decision of my life.  I have a few family members who own businesses that helped me along the way, but my biggest piece of advice for anyone starting a business is to get a good CPA and lawyer to help.  These are invaluable to helping create everything the way it needs to be and will save you a giant headache.
What's your favorite part about your job?
I absolutely love being able to meet all of the wonderful horses out there and being a part of their team.  Getting messages from the owners about their animals' success in and out of the show ring makes my heart so full. 
What is the most challenging part of being an equine chiropractor?
I always wish I could do more for the horses.  I hate that they can't talk to me and tell me exactly what's wrong with them.  It however makes it into a puzzle in my brain and I love being able to help solve the puzzle.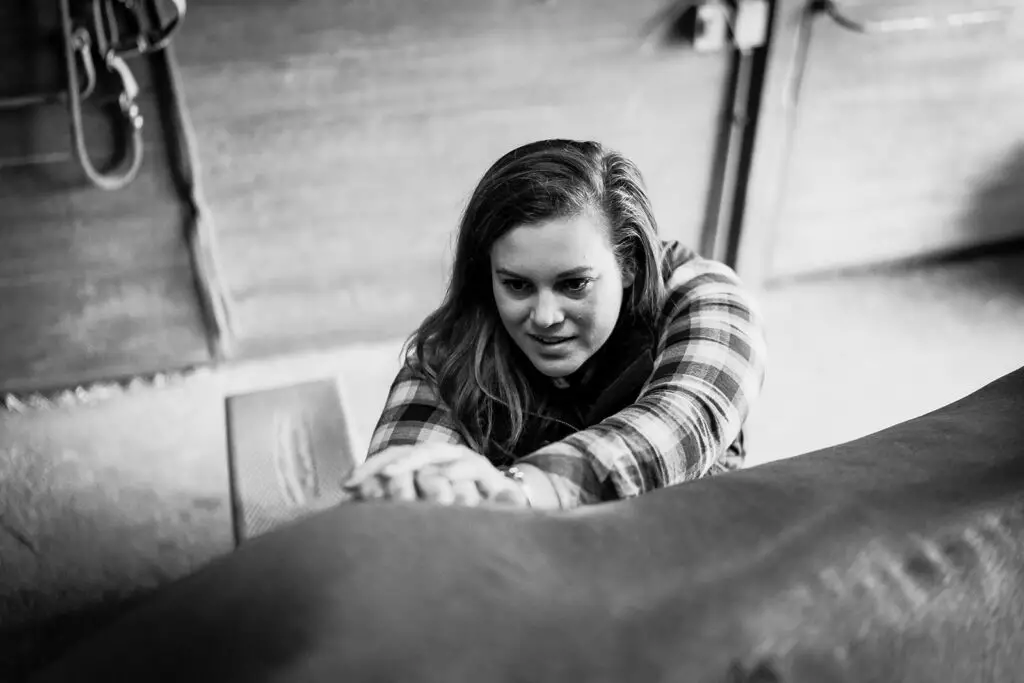 Can you talk about a horse you've worked on whose health has improved as a result of chiropractic work?
As an animal chiropractor, I do not diagnose or treat any disorders.  I simply help to restore the nervous system by adjusting the bones that are subluxated.  By doing this, you can have positive effects such as improvement in their gaits, bend, jumping, cutting, everything.  Every horse responds differently. 
Did you have a mentor that had a big impact on you or your career?
While in chiropractic school, I had gone to a few seminars put on by Dr. Jay Komarek and Dr. Petra Sullwold who are both in Colorado.  These two have molded my career more than they will ever know.  I still go to their seminars for part of my continuing education and have two upcoming this year that I'm very excited for.
What advice would you give horse enthusiasts who are interested in equine chiropractic as a career choice?
Shadow, shadow, shadow.  Get in contact with your local equine professionals and tag along for multiple days.  You'll get a feel for what each career is like.  I had also gone to the Bancroft School of Massage Therapy to learn equine massage prior to chiropractic school.  This helped me a lot to learn about the muscles more in depth and how they affect the body.
How do you manage work/life balance while successfully running your own business?
It's all about creating boundaries and keeping to a schedule.  Once you start veering off of a schedule, all aspects of your life are affected.  I work on specific days of the week out in the field and also on my computer doing general business work.  There's way more paperwork involved than one could ever imagine.  Making time for family and friends becomes super important as well to keep everything full circle and operating smoothly.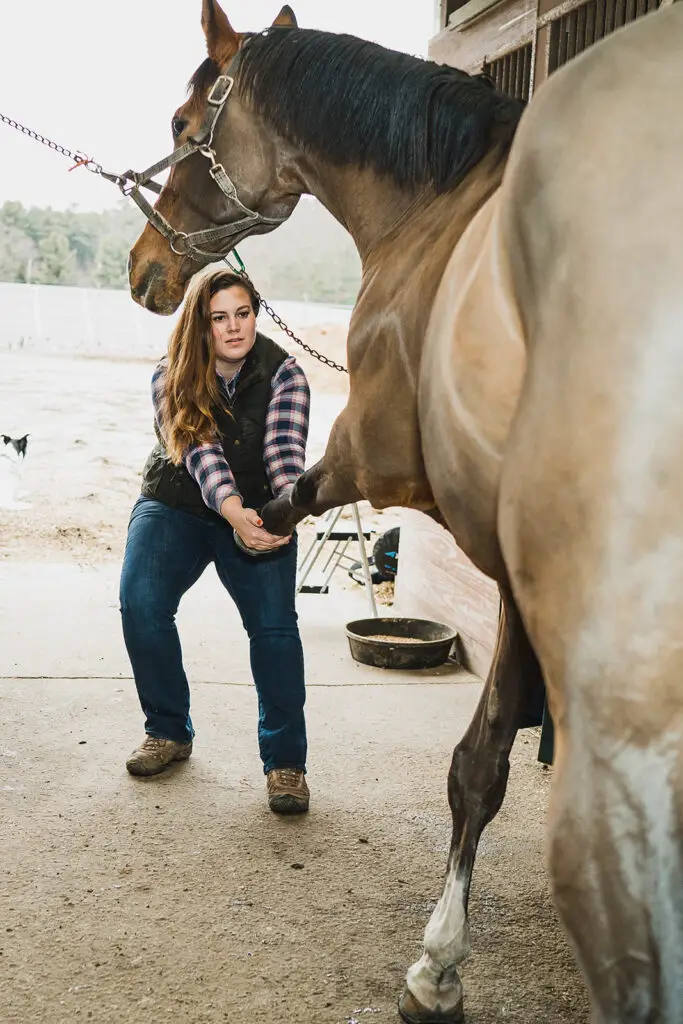 What are your short term and long term goals for your business?
I have a vision of opening up a nonprofit rehabilitation program in the long term.  I see so many horses out there that could benefit from my care with the addition of veterinarians and other equine professionals.  It's all a dream right now, but if I keep plugging away at it, anything is possible.
What hobbies do you have outside of horses?
There's not much outside of horses, but for anyone who follows my business page on Facebook, you will see my assistant Gunnar.  Gunnar is my adorable pup whom I've had for almost 8 years now and he loves to go for long walks on the beach.  He has been through most of this journey with me including the 15 hour long drives it took to get back and forth from South Carolina to Massachusetts.  If you have me out at your farm, you might get a glimpse of him in the backseat!  He loves to go to work and supervise through the window.