Whether you're preparing for your very first horseback riding lesson ever, or you are taking a lesson at a new farm, here are some things you need to know. You may be feeling anxious to actually start riding now that you've chosen a riding instructor. Being prepared is the best way to calm your nerves and have fun!
This post may contain affiliate links which means that I may earn a small commission at no extra cost to you. As an Amazon Associate I earn from qualifying purchases.
What To Bring To Your First Riding Lesson
Water
It is important to stay hydrated just like when participating in any other sport. You may work up a sweat even if the weather is chilly, so always be prepared and bring a bottle of water!
Helmet
Depending on your barn's policy, you may be able to borrow a helmet from the farm until you decide horseback riding is for you. Once you have taken a couple of horseback riding lessons and decided if you plan to stick with it, you will likely want to invest in your own helmet. You can find an affordable helmet that is SEI/ASTM approved for safety online or at your local tack shop. The benefit of owning your own helmet is that it will only be adjusted for you! For more information about riding helmets, check out this guide from the CDC.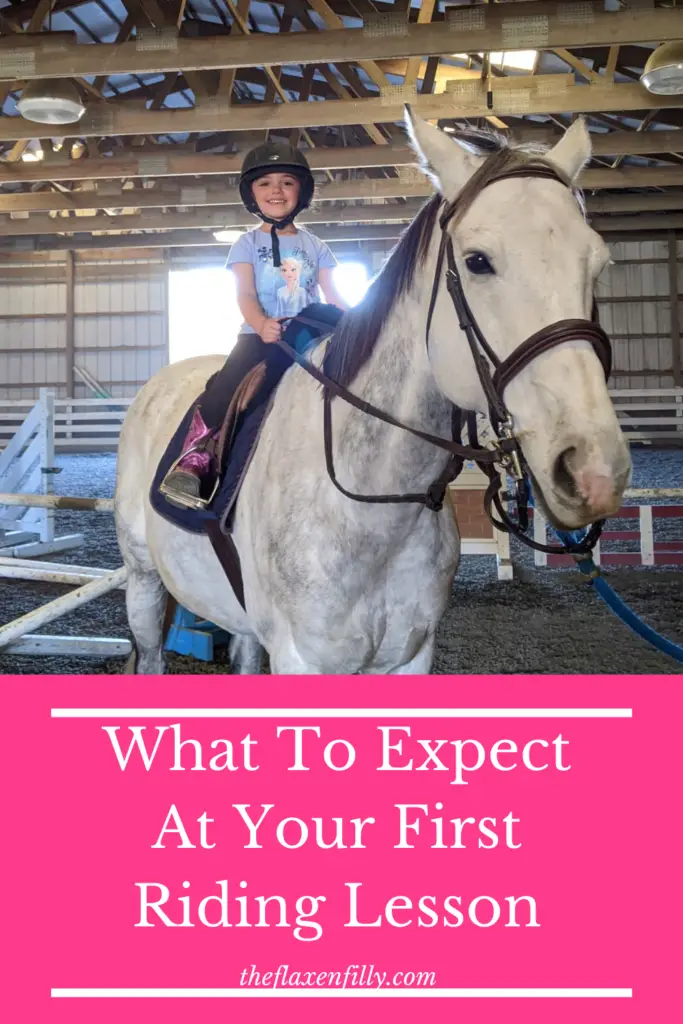 Payment
Always be prepared with cash or check (some farms take credit cards) at the beginning of your lesson. Just like any other business, fees are due at the time of service or in advance. Some farms operate on a monthly tuition basis, while others charge for lessons a la carte. You should confirm with the farm before your first riding lesson so that you can be prepared. You will also need to confirm the prices since many farms offer a variety of lesson types.
Horse Treats
If the farm allows, you can bring, carrots, apples or horse treats purchased from a tack shop. It is extremely important to ask permission before feeding any of the horses. Like people, horses may have allergies to certain foods, most horses are on specific diets based on their age and work load. Lastly, not all horses have good manners and you could get bitten. For this reason, many farms will allow students to put treats in the horses' feed buckets but not hand feed treats.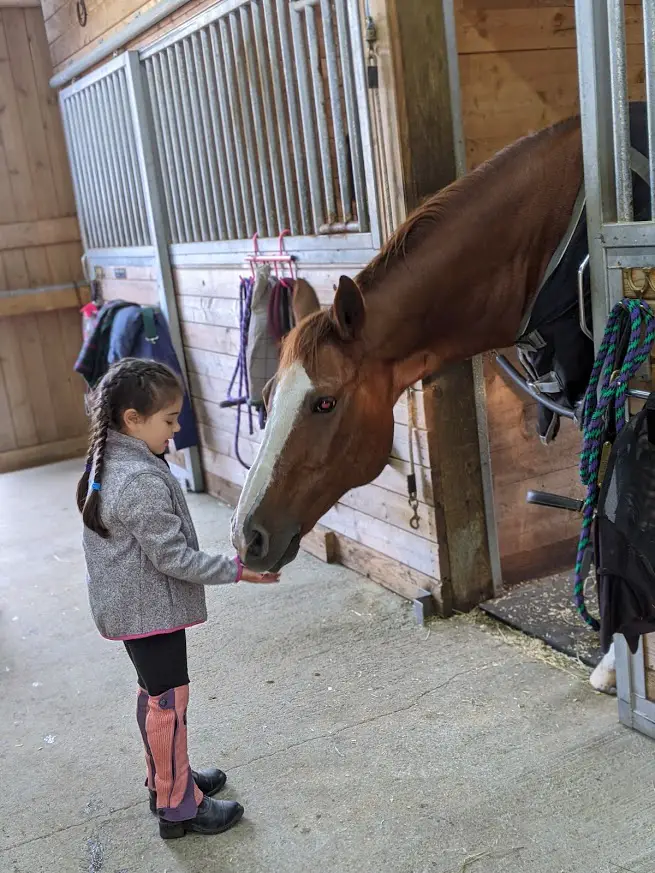 What To Wear To Your First Riding Lesson
What TO Wear
You will want to be comfortable during your lesson so plan to wear clothing that is easy to move in and weather appropriate. Wear jeans, riding breeches or riding tights, depending on what discipline you'll ride. Always wear long pants to avoid uncomfortable rubs on your skin from the saddle.
Most importantly, you need to wear boots with a small heel to prevent your foot form sliding through the stirrup. If you have long hair, you will definitely want to tie it back in a low pony tail or braid. A low pony tail at the base of your neck will ensure your helmet can be adjusted correctly. Lastly, you may choose to wear gloves to avoid blisters from holding the reins.
Need some help shopping for beginner friendly and budget friendly riding gear? Check out this article where I've gathered my favorites up into one list!
Shop Equestrian Products I Use And Love!
You can also check out a couple of items that I highly recommend below, click the pictures to shop!
What NOT To Wear
Avoid shorts and any type of baggy clothing which can get caught on the horse, tack or equipment inside the barn. Similarly, you should never wear any dangly jewelry like long necklaces, large earrings, dangly earrings or bracelets. In order to protect your feet from being stepped on, you should not wear sneakers, sandals or high heeled shoes.
Before You Ride
Sign Release Of Liability Form
Before your first ride, you will likely be asked to sign a waiver or release form. This form is to acknowledge that you are aware of the inherent dangers of horseback riding and will not take legal action against the farm.
Grooming & Tacking Up
Once you've arrived and signed the necessary forms, your instructor will teach you how to groom and tack up. Many farms require students to come to their lesson 15 to 30 minutes early to tack up. Often, younger children will learn how to groom but won't be strong enough to saddle their own mount. Grooming is an important part of horsemanship and horse care and is an essential part of learning how to handle horses.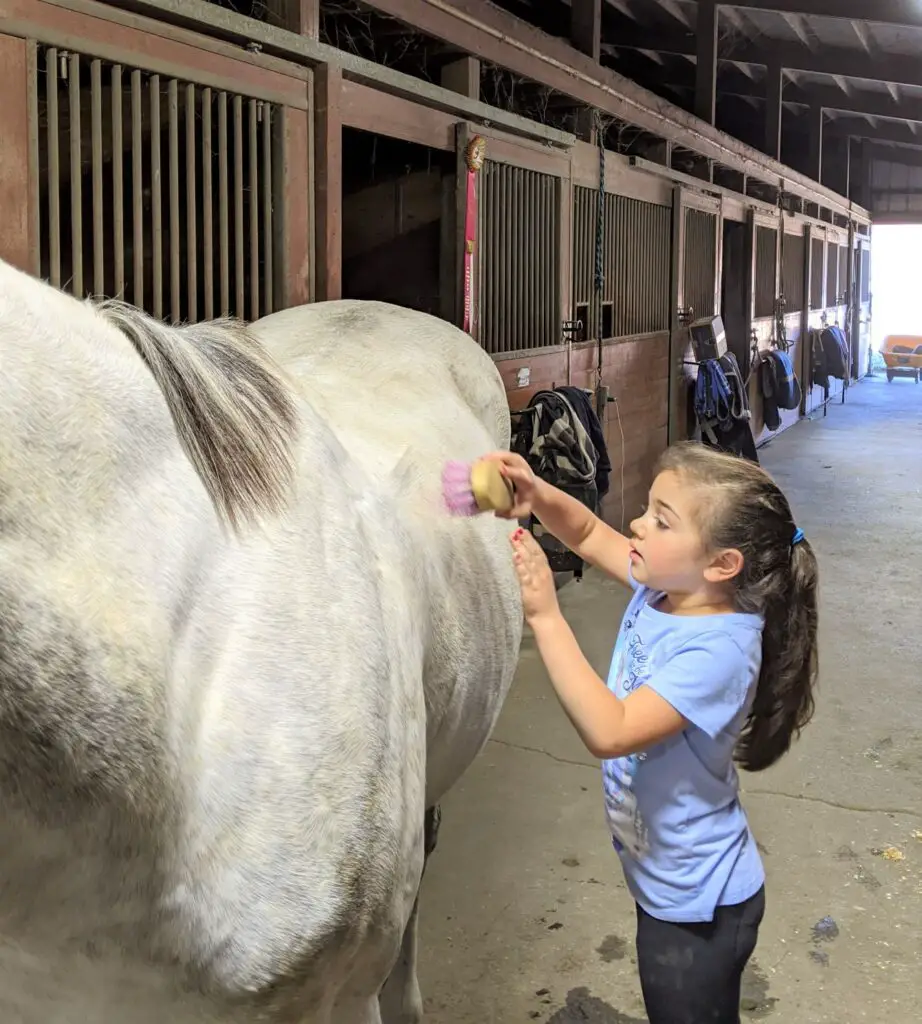 During Your Lesson
What To Expect During Your First Riding Lesson
During your first lesson you will learn how to properly and safely mount a horse. You'll start by learning how to steer the horse at a walk and will most likely be kept on a leadline so the instructor can help you control the horse. As you gain confidence and learn how to cue the horse, the instructor will begin to allow you more freedom.
Many people will stay on a leadline or lungeline for their first few lessons so they can become accustomed to the feel of the horse without the added pressure of controlling the horse. Depending on your comfort level your instructor may have you try trotting a few steps at a time. Your instructor will also teach you how to correctly and safely dismount from the horse when your lesson concludes.
Typically, farms offer different types of lessons of varying group sizes and time frames. Most beginner riders start with a 30 minute or 1 hour private lesson. It's important to be able to control the horse before riding with other people. So if you're looking forward to riding with friends, you may need to take a few lessons solo first. This is a general rule of thumb and varies by farm and the amount of farm staff available to keep everyone safe.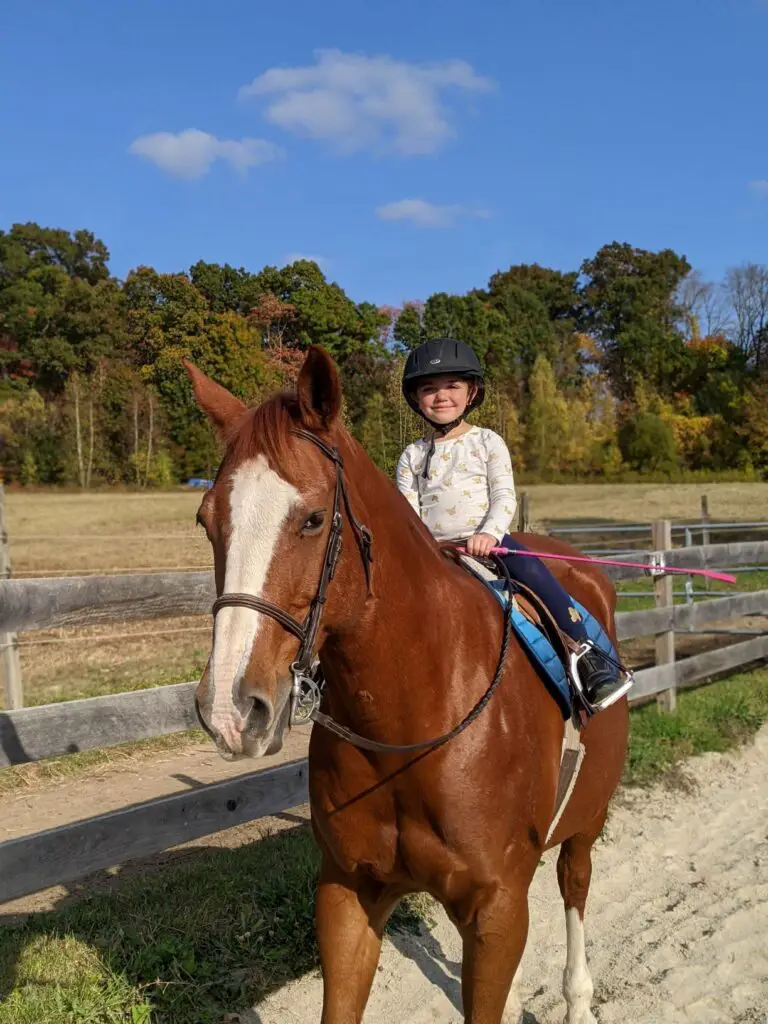 What To Expect During Your First Lesson At A New Barn
If this is your first lesson at a new barn but not your first time riding, don't be surprised if the instructor has you start slow. Your first lesson isn't the time to show off your skills. Your instructor needs to evaluate your riding and get to know your learning style. Safety is always the priority while you get to know the horse(s) and your new trainer. As you and your new instructor get to know each other, you'll be able to create a plan and set goals. Be patient if the first couple of lessons are low key, eventually you'll be able to get back to doing more exciting exercises!
After Your Lesson
Untack & Grooming
After your lesson, you may need to untack and groom the horse. You will learn where to put away all of the equipment you've used. You may also learn how to turn the horse out or safely put the horse back in their stall. If you've left dirt or manure behind, most farms will require you to clean it up. If you've gotten permission, now is the time to give the horse a treat!
Next Steps
Once you've completed the lesson and put the horse away, it's time to set up your next lesson! Hopefully you enjoyed your first ride and are ready to schedule another one! If not, you may want to give it another chance or try out another farm.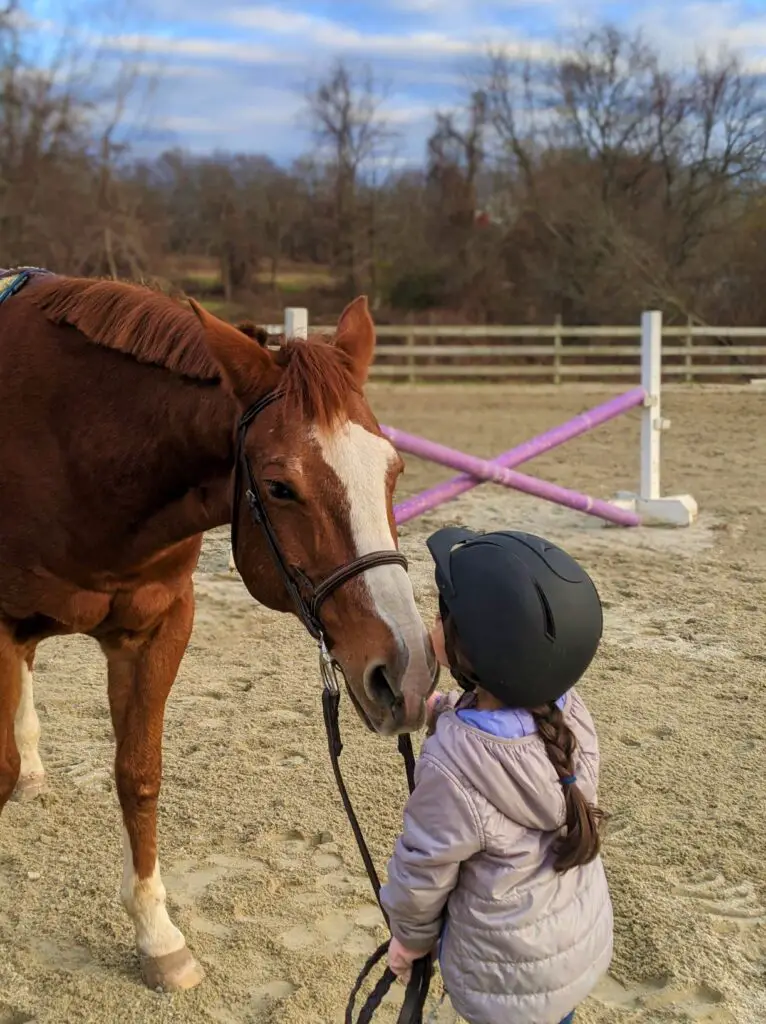 I hope you found this article helpful! If you did, please give it a share!
Check out these related articles!
How To Find A Riding Instructor And What To Look Out For
25 Holiday Gifts Your Horse Crazy Kid Will Love!
115 Need To Know Horse Terms For Beginner Equestrians
Top 16 Reasons Your Kids Need Horses In Their Life!