If you have a horse crazy kid who has been begging you for riding lessons, horse camp might be just the solution you're looking for. Often times your local farm will host camp for a few different weeks throughout the summer. And, usually they can accommodate both beginner students who have never ridden horses before and students who have already been riding for a while.
If you plan to send your child to an overnight horse camp, you will need to find out the requirements for riders. Some overnight camps that are solely focused on horses may no accept children who do not already take lessons.
In this article, we'll take a look at all the benefits of sending your child to horse day camp, usually run by local farms that offer lessons.
A Great Way To Try Out Horseback Riding
Summer camp is a great way for kids to try out new activities! If your child has been interested in taking riding lessons but hasn't started yet, attending horse camp will allow them to test the water. Your child will learn about handling horses in the ground, tacking up and lots of horse trivia all of which will set them up for success.
The benefit of riding at camp is that your child can become fully immersed in horses and learn more than they would in just a standard riding lesson. By the end of summer camp, your child should know for sure whether they want to continue horseback riding or not.
If your child is not currently taking lessons, check out these articles on finding a good riding instructor, what to expect at your first riding lesson and what skills your child will learn at their first lesson.
Your Child Will Progress More Quickly
If your child is already taking lessons, horse camp is a great way to work on and refine their skills consistently. Often times kids who attend horse camp, especially if they attend more than one session progress very quickly. This is because it takes a lot of practice and repetition to learn the coordination and body control required for riding. Being able to ride every day instead of just once or twice per week will make a huge difference.
Campers Will Learn About Horsemanship
During camp, your child will learn about horses and horse care in addition to just riding. They may get the opportunity to give a horse a bath, become more self sufficient at tacking up, meet a veterinarian or blacksmith. There is so much to learn about horses, and typically a weekly riding lesson just can't cover it all. Learning about horse behavior, anatomy, health, diet and horsemanship in addition to riding is very important for keeping kids safe and creating an understanding between them and horses. Here's a list of topics and activities that take place at most horse camps.
Parts Of The Horse
Types Of Tack
Parts Of Tack
Tack Cleaning
Exposure To Multiple Disciplines
Breeds Of Horses
First Aid
Horse Health
Horse Diets
Exercising Horses
Training Young Horses
Dental Care
Hoof Care
Veterinary Care
Common Diseases, Illness and Injuries
Crafts
Games, mounted and unmounted
Trivia
Bathing Horses
Clipping, Banding and Braiding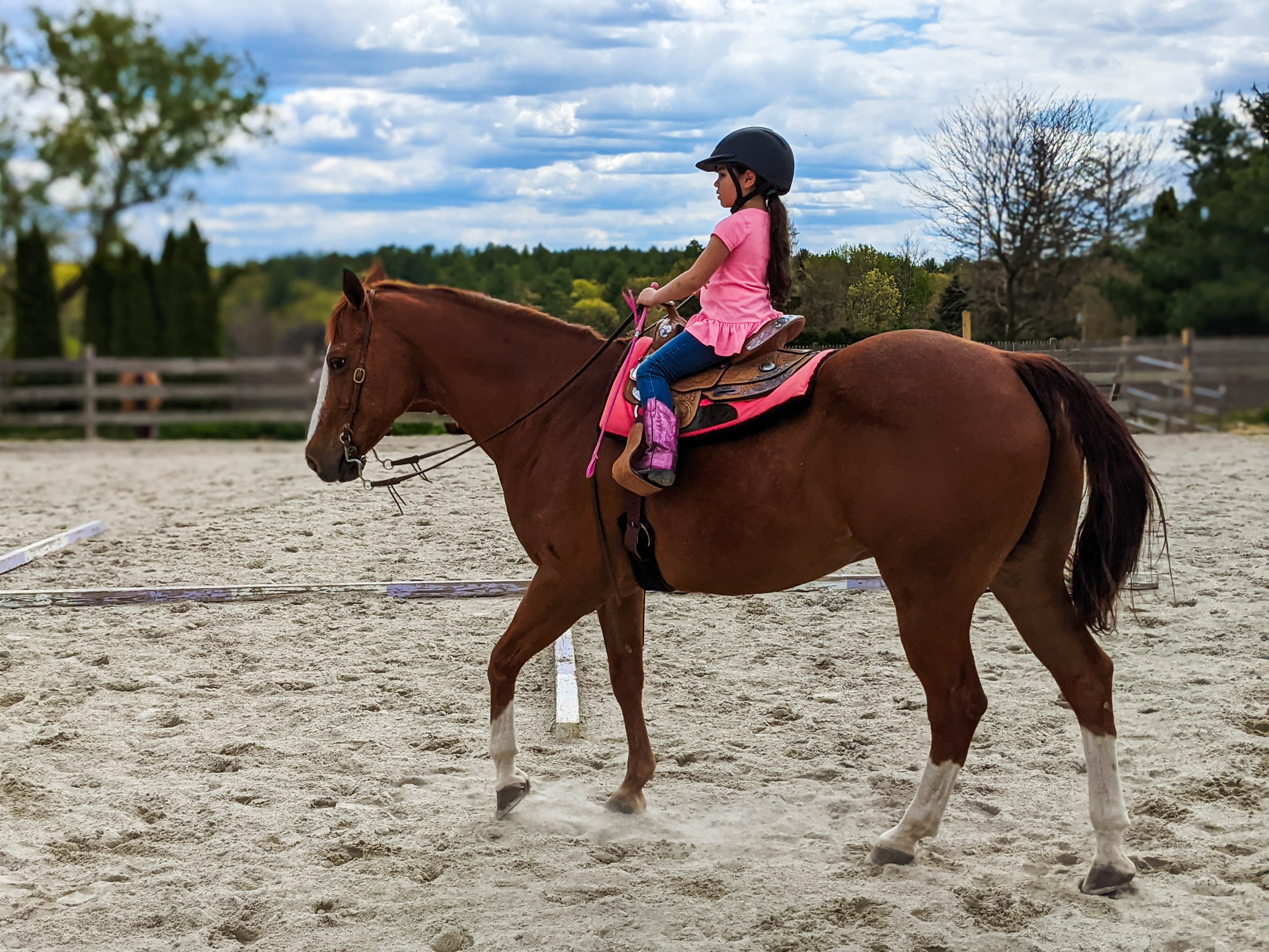 Timid Riders May Overcome Fear More Easily
If your child is a timid or nervous rider, afraid to try new things or loves horses but is fearful, camp could be the solution. Many children that start out timid around horses can overcome their fear by spending more time around the horses.
Additionally, spending time in the barn, with friends and learning more about horses than just riding will help make them feel more comfortable. And, if your child is afraid to try a new skill while riding, seeing their peers try it out may encourage them. Once children spend time at camp having fun with friends and having the opportunity to try things a little at a time and consistently each day, they often become much more confident.
Your Child Is Bound To Make New Horse Friends
This one might be pretty obvious to most parents. When your child attends horse camp and meets new kids who are equally horse obsessed, they'll likely become fast friends. Sharing a common passion for horses will cause your child to make lots of new friends at camp.
What could be better than making new friends who share your love for horses? For any of you parents out there that grew up riding horses, you know the feeling.
In fact, this is true of spending time in the barn whether it's riding lessons, horse shows, leasing a horse, owning your own horse. Horse people are a unique breed of people and we tend to bond together like magnets. For many people, horse friends become life long friends.
An Opportunity To Try Different Things
Not only is camp a great time to try out riding, it's a great time to try out different disciplines. Even for riders who have been taking lessons for years, horse camp is the time to test out all the things you've wondered about.
When I was a kid, I started off riding English. I was always interested in learning to ride western but never really took the time to try it until I was about 11. I had already been riding for 6 years! And guess what? I love riding western! I still love riding English too, but I'm glad I branched out.
Riding multiple disciplines will help give your child a broader understanding of horses and how they think and operate. Even if your child really loves their current discipline, learning about and trying other things will help them progress.
One of the absolute, most fun activities kids get to try out at horse camp is riding bareback! When the weather is hot and the horses need to be cooled out after a ride, this a great time to try out bareback riding!
The Chance To Ride New Horses
If your child attends horse camp at a barn other than their own, they will get the chance to try out some different horses. Becoming a well-rounded and skilled rider means being able to adapt between horses.
Even if your child attends camp at their current farm, chances are they'll get to hop on a new mount. Many camps assign children a horse for the week so that they can bond with that horse and develop their skills.
But, there is usually time for kids to swap horses. That's part of the fun of riding horses as kids, especially for kids who own their own horse. Trading with a friend for a few minutes is a new and exciting experience.
Some farms also assign a different horse each day so that children have the opportunity to try out a few different horses.
Everyone has a favorite and your child may be disappointed if they don't get as much time with their favorite horse as they had hoped. But just remember, this is a great learning experience.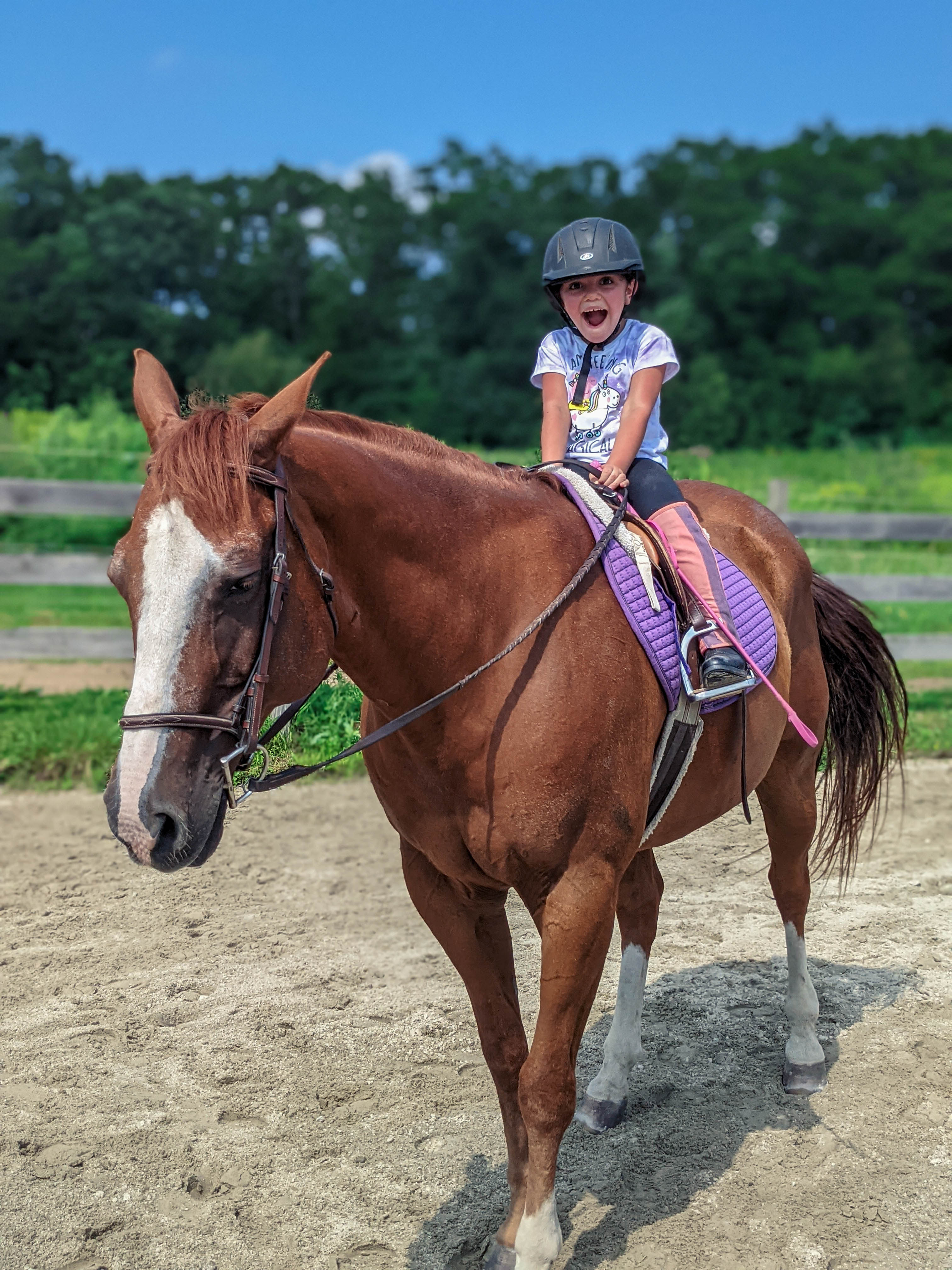 Horse Camp Is So. Much. Fun.
You've probably gotten the picture by now. But, seriously, horse camp is all it's cracked up to be. If you find the right camp for your child, they're bound to have a great time. To re-cap all the components that make it so fun. Your child will get to try out new disciplines, learn more about horses than they ever could in lessons, make new friends, play games, make crafts, get dirty and laugh!
I hope you enjoyed this article! And if you did, please share it!