When I say equestrian products I use and love, I literally mean if you walk into my closet, my daughter's closet or my parents' barn, you'll find these items.
Whether you're shopping for supplies for your first horse, apparel and equipment for the rider in your family or stable supplies, browse the list below to check out some of my favorite products.
This post may contain affiliate links which means that I may earn a small commission at no extra cost to you. As an Amazon Associate I earn from qualifying purchases.
Many of the items below can be found on Amazon, however we also love to shop at the following tack stores as well.
Smartpak
Dover Saddlery
Sheplers
Rods
Schneiders
My Favorite Rider Gear
The most used and well loved riding gear my mom, daughter and I use daily around the barn and away at horse shows.
Helmets
My absolute favorite helmet that I have owned to date is this One K Defender which you can find in local tack shops and on Amazon. I have also owned several other helmets over the years including Charles Owen, IRH and Troxel. The One K fits better and is more comfortable than any others I've tried, plus it looks sleek and stylish. I wrote a full review on this helmet which you can read here.
If the One K Defender isn't quite in your budget, here is a more affordable option that my daughter has ridden in for the last couple of years. This IRH helmet has held up well and easy to adjust.
Western Boots
Jeans
English Boots
Breeches
Horse Tack & Equipment We Ride In
Western Tack
My absolute favorite saddle is my Wenger roughout western training saddle that I ride in all the time. My mom bought this saddle for me new back in 2016, and it still looks new. I love this saddle so much, it is incredibly comfortable and durable. And, I have to say, I've ridden in several Harris and Blue Ribbon work saddles as well, this one is still my favorite!
If you're interested in one of your own, check out Wenger Leather Works for more info!
My mom currently rides in a Blue Ribbon work saddle, which she absolutely loves. We bought it used and I highly recommend this saddle too.
If a new high end Western saddle isn't in your budget (it's not in mine), here are some alternative options. I've owned and currently own a couple of Billy Cook, Circle Y and Reinsman saddles. HorseSaddleShop.com carries these brands and also has a used saddle section on their site, so you may find a great deal on a used high quality saddle as well.
English Tack
Horse Blankets, Sheets & Hoods
Horse Care Products I Love!
grooming, bathing, clipping, fly gear and spray
Horse Show Equipment & Products We Use
hoof polish, show sheen, banding equipment, hat cans, leg wraps, bridle rack, saddle rack, grooming cart, saddle pad bags, hunt cap, folding table, cross ties, ring bag, CR shirt
Farm Equipment & Supplies We Can't Live Without
wheelbarrow, pitchfork, saddle racks, saddle pad rack, bridle rack, buckets, bucket hangers, blanket rack, cones, lickit, feed dishes, tack boxes,
Blogging Tools & Equipment
Just a quick note about this camera, many of the photos on my site were taken in years past before I had a camera. Some were also taken by professional photographers at horse shows or on the farm. We've had our Canon EOS R6 for about a year but so far we love it!
The Flaxen Filly is a Word Press site which I highly recommend if you're looking to start a blog. And, our hosting is through Bluehost.
Bluehost is not only affordable but their customer service is great. I've contacted them a few times for assistance and they are always responsive, timely, polite and helpful.
I also use Tailwind for managing Pinterest pin scheduling. Managing Pinterest can be a big under taking once you have a good amount of content on your site and is a crucial platform for bloggers. So, using Tailwind helps me schedule pins at the right intervals, to the right boards and for the right articles without having to manually post pins all the time. I do manually post some pins directly to Pinterest, but the automation from Tailwind significantly reduces the time I spend posting content to Pinterest. Tailwind also provides scheduling for other platform so I'm excited to try it out for Facebook and Instagram as well.
I hope you've found this list helpful, and thanks for reading! If you did, please share it on Pinterest!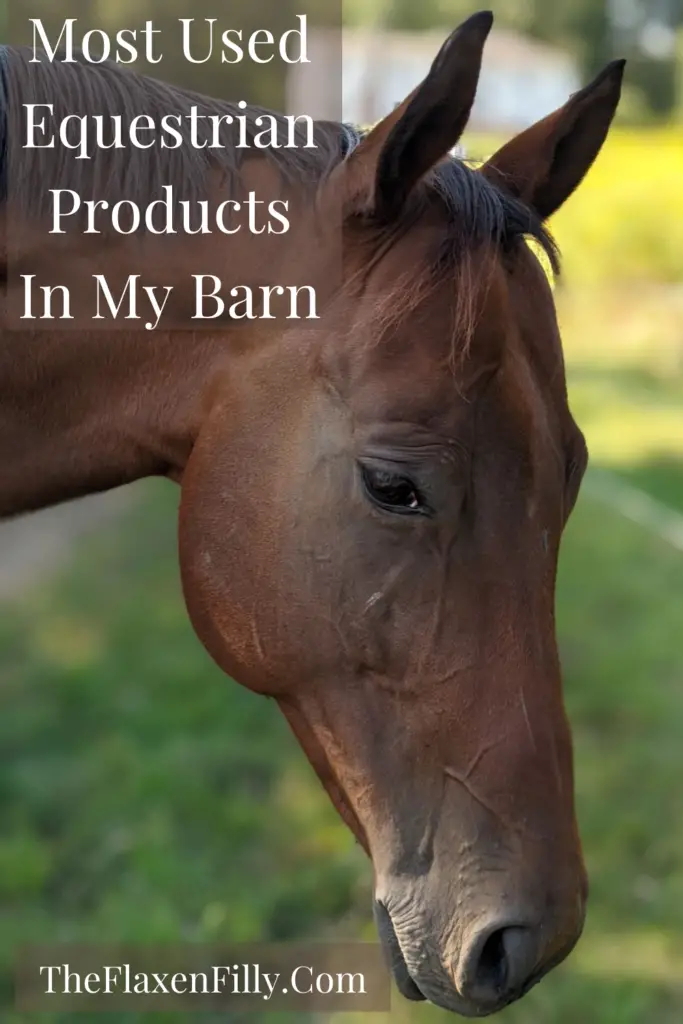 Leave a comment with your favorite retailer of equestrian products!