So you want to ride horses but feel like you may have missed your opportunity? Rode as a kid but gave up precious barn time for career and family? Don't worry, it's not too late!
The age old question (pun intended), what age is too old to start horseback riding? The truth is, age doesn't matter when it comes to riding! You're never too old to ride! As long as you can get on and off of the horse safely, you can ride! However, horseback riding is a dangerous sport no matter how old you are, and there are some things to keep in mind in order to be safe. As an older rider you may have concerns about injuries or falls that the bold teenager in your barn isn't worried about.
In this article we'll discuss tips for starting or returning to horseback riding as a middle age or senior adult.
This post may contain affiliate links which means that I may earn a small commission at no extra cost to you. As an Amazon Associate I earn from qualifying purchases.
Never Too Old To Ride
First off, if you're an adult who has always wanted to ride or are getting back into riding after a hiatus, don't let anyone tell you you're too old! You're not! While there may be considerations for middle and senior aged adults who want to be careful, that does not have to stop you from riding all together. As long as you can safely get on and off the horse, then you can ride.
Some of the most successful equestrians have competed in the Olympics after the age of 50! Here are some examples!
| | | |
| --- | --- | --- |
| Name | Olympic Games | Age At Olympics |
| Phillip Dutton | Tokyo 2020 (2021) | 57 |
| Beezie Madden | Rio 2016 | 52 |
| Lorna Johnstone | Munich 1972 | 70 |
| Mary Hanna | Tokyo 2020 (2021) | 66 |
| Andrew Hoy | Tokyo 2020 (2021) | 62 |
| Ian Millar | London 2012 | 65 |
| Hiroshi Hoketsu | London 2012 | 71 |
| Arthur Von Pongracz | Berlin 1936 | 72 |
| Nick Skelton | Rio 2016 | 58 |
Choosing The Right Place and Horse To Ride
The most important aspect to enjoying horses safely for any beginner, regardless or age, is to find the right place to ride! The right barn will have a knowledgeable instructor and safe horses!
Riding appropriate horses that meet your needs as a rider, in a safe and well maintained arena with a competent instructor is the key to avoiding an injury. Now let's be honest, accidents happen no matter who you are and what level you ride. So there is always still going to be some level of risk. If this is a concern for you, talk to your health care provider about if riding is an appropriate activity for you.
For more tips on how to find, interview, analyze and choose the right farm and riding instructor to fit your needs, check out this article! How To Choose A Riding Instructor
Know Your Limits
Now just to be clear, I'm not saying you should never push yourself a little, especially if your instructor has confidence in your ability. But, be mindful of your physical abilities. This is not an excuse to avoid trying new things, but if you are having an off day or feel you're not up to a certain task, it's important to communicate that.
If you're a beginner rider, you'll have limits regardless of your age. However, as your skills grow you'll be able to push the limits a bit more.
For example, when you first start out you may want to stick to riding in private lessons where to avoid all the arena traffic. Or, you may want to start with half an hour lessons instead of riding for a full hour. Take the time to build up your strength and stamina, then start challenging yourself within reason once you feel you are able.
Want to know more about what you can expect when you first start horseback riding? Check out these two articles!
What To Expect At Your First Riding Lesson
What Skills You'll Learn At Your First Riding Lesson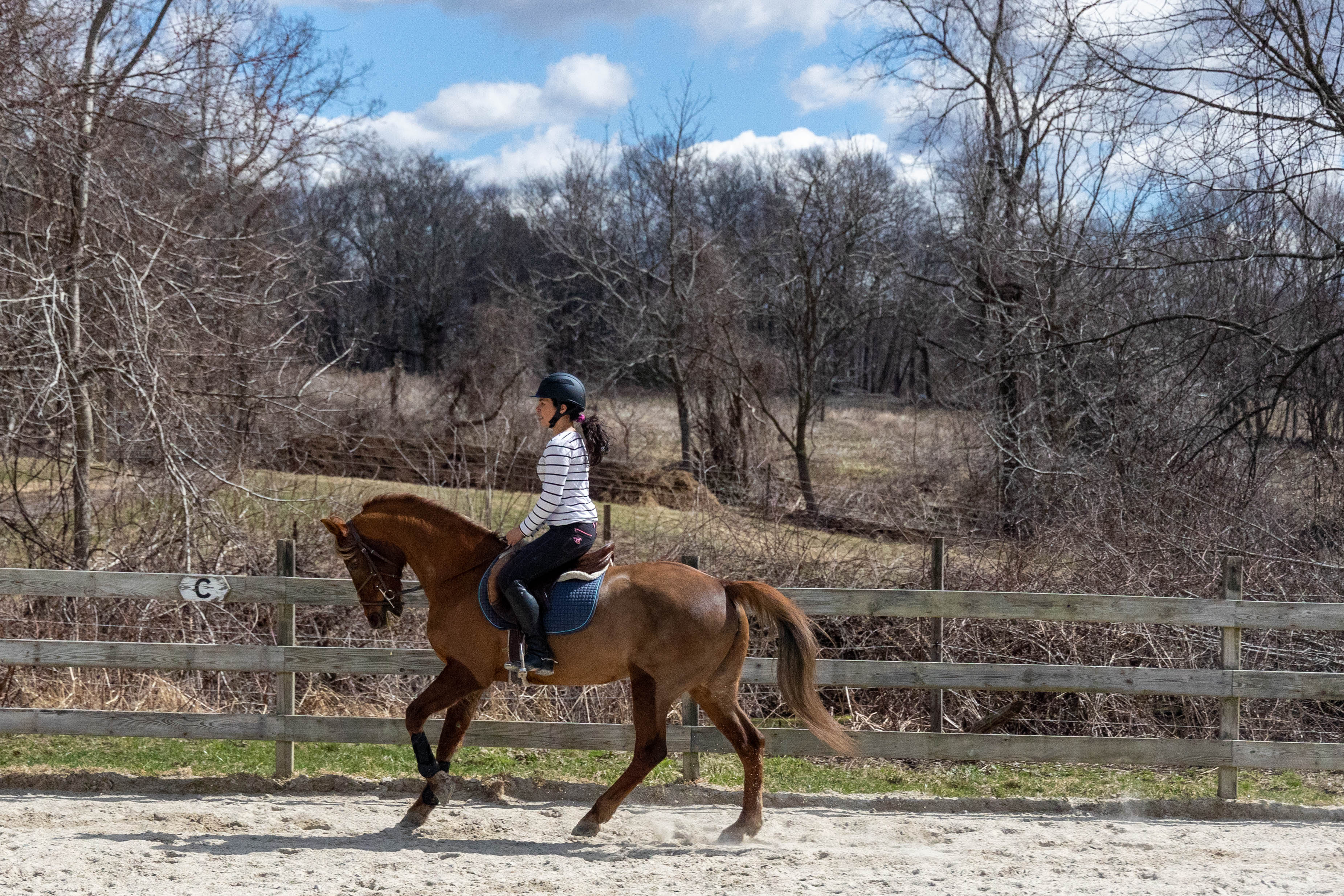 Be Consistent
If you think about what most people consider consistent riding, a weekly 1 hour lesson, that's only 52 hours of riding per year! That means in the course of one year of horseback riding lessons, you only rode for almost 1.5 work weeks. Crazy, right?
So, if you want to improve and gain strength and confidence without pushing yourself beyond your limits, you'll need to find more time to ride. Try riding in two lessons per week and once you're independent and have enough skill, consider leasing a horse.
If you're a returning equestrian whose taken a break over several years, just remember, riding a horse is like riding a bike. You don't forget how to do it. That said, you'll probably still be pretty sore when you first get back into riding. One way to get past this stage, is to ride consistently and keep your rides short and sweet for the first few weeks. It won't take long to get back in the groove!
Communicate With Your Instructor
Once you've taken the time to assess your physical fitness, strength and level of bravery, it's time to come up with a plan. You need to talk with your instructor about how you're feeling and your goals. If you are very fit and want to be pushed and treated like any other athlete, let your trainer know! My trainer knows I want to get whipped into shape and pushed to be competitive. But, this isn't for everyone.
If you're nervous, have a concern about an old injury, lack the amount of strength and physical fitness to do certain things, then make sure your trainer knows!
Your trainer should have the ability to analyze your riding and should only push you to try exercises you can handle. But, that doesn't give them the ability to be aware of health concerns you have. So, the best thing to do is talk to them before you get on! Let your trainer know you want to take your time to build up your strength and that you are more comfortable starting slow.
Choose A Good Quality Helmet And Boots
When it comes to safety on and around horses a good quality helmet and boots are key. You need to protect your noggin from a potential fall or kick! And, as far as boots go, not only will they protect your feet on the ground but they'll stop your foot from sliding through the stirrup during your ride. This means, if you fall, your foot will not get caught in the stirrup.
A good quality riding helmet that fits properly is essential. And, a pair of riding boots with an appropriate heel will protect your feet on and off the horse. Below are my top picks for helmets and boots that my daughter and I like best.
I'm actually wearing this helmet and boots in the photo up above, and while the One K helmet is still fairly new to me, I've been riding in it for a couple of months now and really like it! The Ariat Heritage Contour boots I'm wearing I bought in 2014. They have been used at shows and worn at home (not as often as my western boots), and they're still in great shape and comfortable!
Try To Stay Fit Outside The Barn Too
One way to improve your balance and security in the saddle is to stay fit outside the barn in addition to riding. Horseback riding is great exercise, contrary to popular belief, but there are other ways to help you ride more confidently.
While I won't try to pretend I'm qualified to give fitness advice, I will say that exercises to improve your core strength, leg and arm strength, flexibility and cardio will help you develop better balance, coordination and confidence.
Riding horses can be very difficult since you not only have to learn to balance, but you also have to give clear direction to a thousand pound animal at the same time. Working around horses requires quick reflexes, strength and stamina so keep that in mind when you're not feeling up for a workout!
I hope you've found this article helpful! If you did, please share it!