After a lot of procrastination about spending the money on a new helmet, and months of researching and hemming and hawing I finally bought a new helmet! I looked on line, read reviews and went to the tack shop to try helmets on. After giving it some thought, I went back to the tack shop a couple of weeks later and tried helmets on again and finally bought one!
So, why the delay?
Well, I don't like wearing a helmet when I don't have to. I realize the importance of helmets for safety and I do advocate for wearing a helmet. However, in my experience they're never comfortable and certainly not for long periods of time. And quite frankly, I didn't want to spend the money. Even mid-grade helmets are expensive and I didn't want something cheap.
You may have guessed from the title of this article, the helmet I finally settled on is the One K Defender. Check out my affiliate link below if you would like to see the specs, check pricing or purchase this helmet.
This post may contain affiliate links which means that I may earn a small commission at no extra cost to you. As an Amazon Associate I earn from qualifying purchases.
And spoiler alert, I highly recommend it! It's not perfect and I'll tell you why later in this article, but I like the One K Defender better than any other helmet I've ever owned!
What I Bought
I chose the One K Defender in a size medium, matte black.
I didn't buy any of the more expensive models because I don't do a whole lot of jumping. I do ride a couple of times per week and go to a few horse shows, plus I'm hoping to do some trail rides or hunter paces this year if time allows.
Here is a list of some other models available:
There are also some other color and bling options available as well.
My First Impressions
My first impression of the One K Defender when I walked into the tack shop to try out helmets was, I love how it looks. I've tried on other brands and thought they looked nice on the rack, but when I put them on they looked silly. I especially loved the Rose Gold option, however my size wasn't in stock at my local tack shop.
This helmet looks classy and when I actually picked up to look at before putting it on, it just felt like great quality. It's not heavy, weighing in at one pound, but it doesn't feel light and cheap either. It has some substance to it and feels durable.
How The One K Defender Helmet Fits
The fit of this helmet is great, I previously had a Charles Owen that never fit my head quite right. The One K Defender also comes in both round and long oval so depending on your head shape there are options. Often times when it comes to my western hats I need a long oval so it's nice to see that this is an option in a helmet.
I purchased the helmet in a size medium based on the One K size chart since my normal size is 6 7/8. I also chose the regular round option because surprisingly, it was very comfortable and felt like it fit securely when I tried it on.
When I move my head around or shake my head the helmet does not move and it also doesn't feel too tight. I never feel it slipping at all. The harness is easy to adjust and the best part is, the harness strap has Velcro which makes adjusting it even easier.
Helmet fit is extremely important, a poor fitting helmet will not protect you as well as a helmet that is adjusted correctly.
If you're not sure how to fit a helmet correctly, you can try them on at a tack shop and the the employees at the store will be help to you. If you choose to buy online, read the size chart and have your instructor check the fit before you mount up.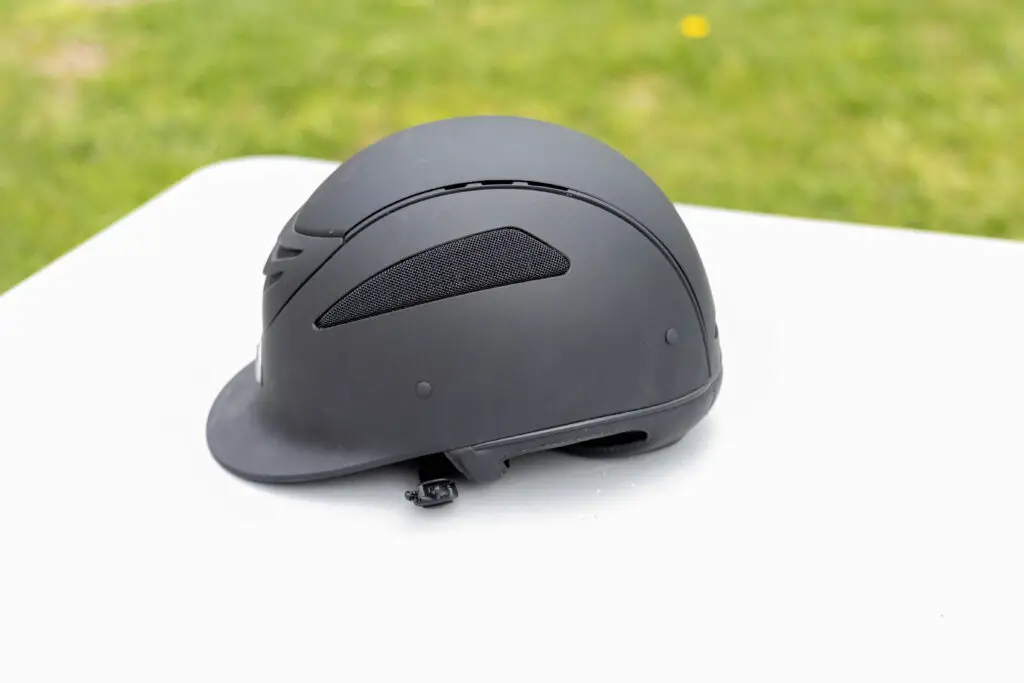 Comfort While Riding
At this point I've ridden in my new helmet about 20 times. I bought it almost two months ago and I've worn it for a couple of hours straight without taking it off. I've ridden multiple horses in one day while wearing it and didn't find it irritating.
I'm the sensitive type that gets a headache after wearing sunglasses on my head or a headband for too long so this is a big deal. Plus even on warm days my head didn't get all sweaty. Of course, I can't promise your head won't sweat because when it's hot out in the summer you just can't avoid that. However, the helmet has several vents to help keep you cool.
One minor inconvenience with regard to comfort is this: The harness is a bit further forward than some helmets which can be annoying if you are wearing earrings. Without earrings on this doesn't bother me at all. However, I typically wear earrings when I'm showing, so I will opt for a smaller, flatter pair.
Price Of The One K Defender
I paid about $270 plus tax for this helmet and while that's a big chunk of change, it's not unreasonable at all. Helmet prices can be pretty steep especially for high level competitors. When it comes to sporting the latest and greatest many competitors opt for brands like Samshield many of which cost upwards of $500.
While low level beginner helmets can start around $50 or $60 they are entry level helmets for a reason. That's not to say they won't protect riders well. But, there is a difference between slipping off a quiet lesson horse when you lose your stirrup at the trot versus a professional getting launched by a powerful young warmblood they're breaking out.
If you're jumping massive cross country fences at a dead gallop or competing in the jumpers you need a helmet that can really protect you. And at that point, in my opinion the price tag no longer matters as long as your head will be protected in the event of a bad fall.
In conclusion, the price is within the range I would expect for the level of sport I ride at. And, while I hate to let go of those pretty pennies, it's worth it.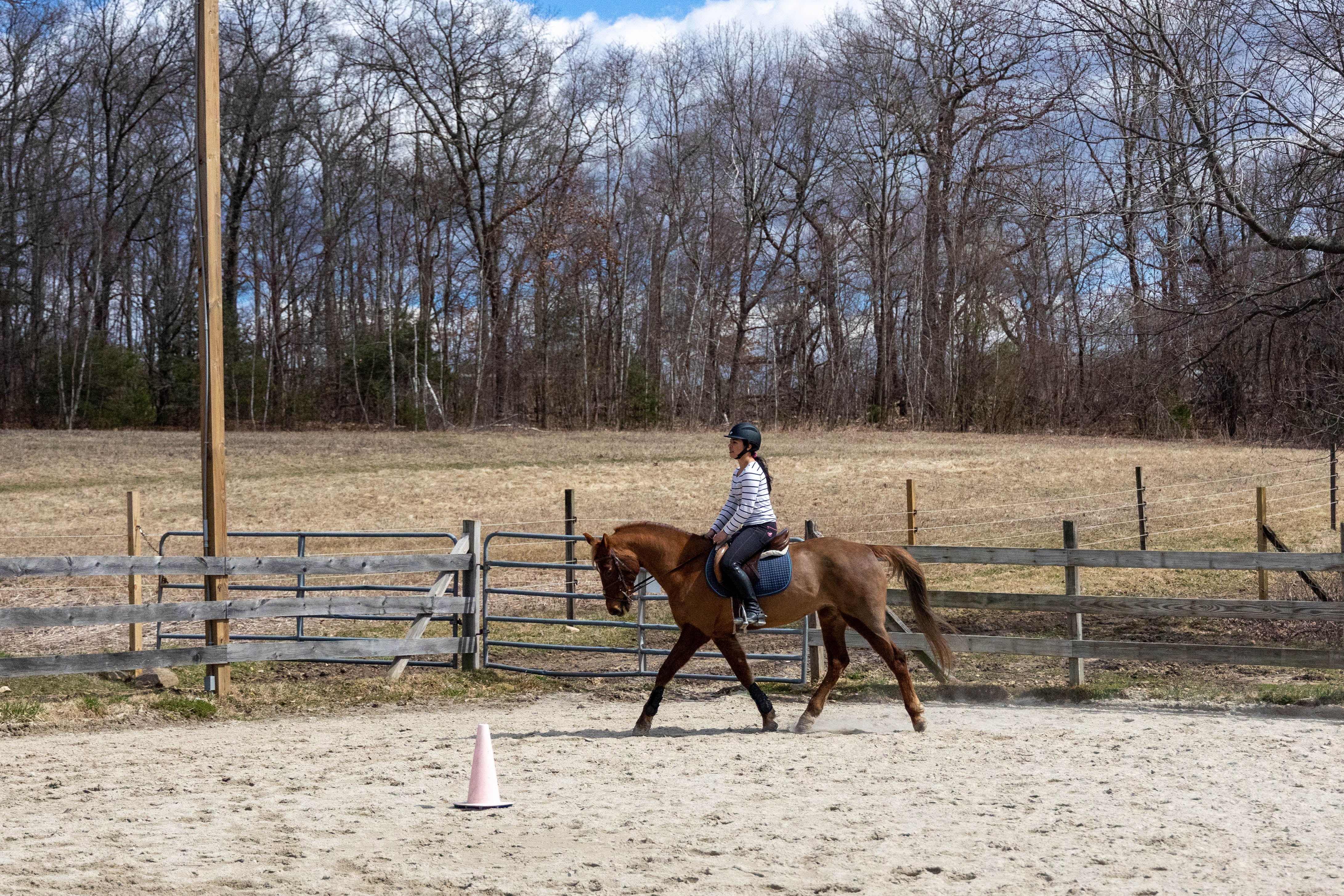 Key Features
Here are some of the key features of this helmet according to the One K website:
Glossy or Matte polycarbonate and advanced ABS Composite Outer Shell
Two Side Vents
Two Front Vents
One Back Vent
Two Center Stripe Vents
Comfort padded harness with synthetic suede lining
Hook & loop adjustment
Fastex buckle
Washable quick-dry, moisture wicking, antimicrobial liner
ASTM/SEI certified
Round or long oval shape available
I hope you found this article helpful! If you did, please share it!