Considering a career in the horse industry but don't know where to start? PEMF Therapy is becoming increasingly popular in the horse industry. Find out how to start helping clients feel their best as a PEMF Practitioner for horses! In this article I interviewed Jenny Cournoyer, owner of Grey Mare Magna Wave! Jenny tells us all about how she become certified and got her equine business started!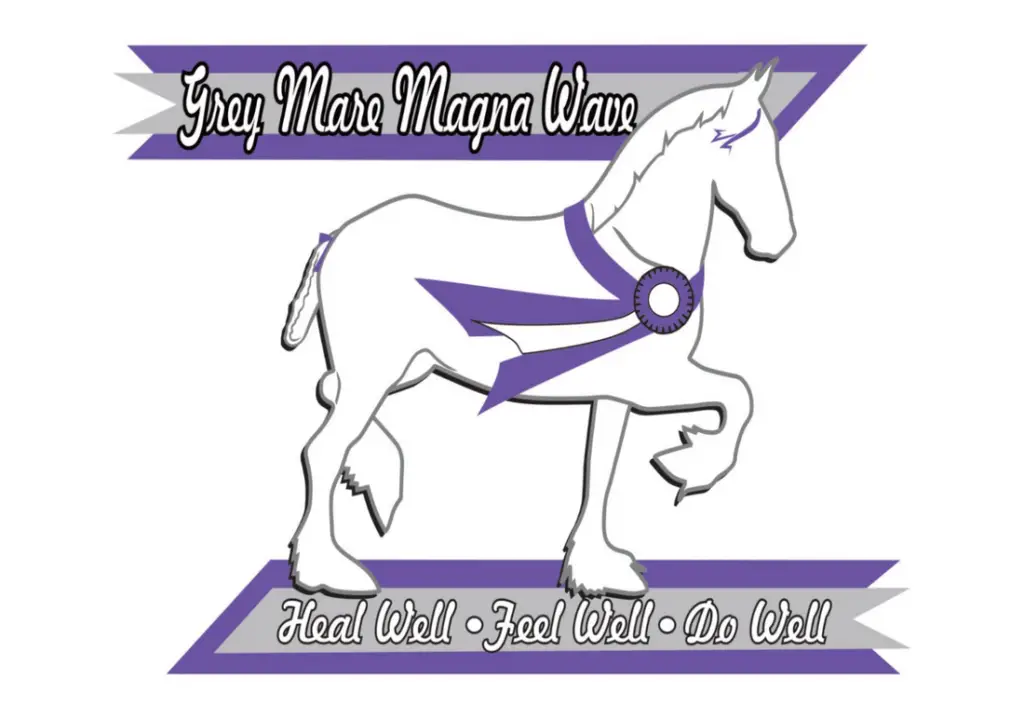 Jenny's Background Before Becoming A PEMF Practitioner For Horses
How did you get involved with horses? 
My great uncle had horses and the minute I met them, I was hooked! The adage "I wasn't born in a barn, but I got there as soon as I could" definitely pertains to me. My parents said that if I saved up enough to buy a horse that we could get one. So, I started doing odd jobs for the neighbors and pilfering change from couch cushions.
By the time I was twelve I had a two thousand dollars.
I would have been happy with a blind, three legged pony! But my dad had decided that only a Shire Draft Horse would do. He was intrigued by their size, rarity, and work ethic and he was willing to chip in to buy one. We bought Shannashawns Country Roller, a sassy two year old colt who had just been gelded, and never looked back. Today we show our horses very successfully on the Draft Horse A-Circuit! And, our entire show string is home raised.
What lead you to decide you wanted to have a career in the horse industry?
 I truly love everything about horses. I eat, sleep, and breathe horses. A career in the horse industry was something that I have always known I would have. I went to school for a degree in Animal Science. Throughout high school and college I traveled with my horse veterinarian and loved meeting new people and animals so I intended to become a vet. Once the sheer cost to become a veterinarian became apparent, I decided to go a different direction.
All About PEMF Therapy
What is Magna Wave and how does it work?
Magna Wave Pulsed ElectroMagnetic Field (PEMF) Therapy is a highly effective form of physiotherapy that introduces PEMF's to the body in a way that is extremely bioavailable for cells. The addition of this energy source results in a variety of benefits but essentially, cell metabolism is enhanced. The improved circulation of oxygen and nutrients through the cells results in faster recovery and optimum performance. As the PEMF penetrates the many layers of tissue, it physically smooths muscle fiber and fascial adhesions so it also feels pleasant. It also releases endorphins and greatly increases circulation, all in a non-invasive, totally natural way.
PEMF therapy has been scientifically proven to help improve a large range of issues! Some interesting examples include, germinating seeds and protecting astronauts removed from the Earth's electromagnetic field from experiencing cell death. PEMF Therapy has been around for a long time! It first became popular therapy for horses in the racing industry. It is a legal, natural, and effective way to enhance performance and speed up recovery between races. Magna Wave is a brand of PEMF devices and I am a firm believer that all PEMF is good PEMF if used properly.
What equipment do you use to administer PEMF Therapy?
Magna Wave machines vary in strength depending on which model you use, but all are effective at providing exceptionally effective PEMF's. With the higher output machines, such as my  MAXX or the JULIAN DUO, I'm able to influence cells about twenty inches into the body or even effect dense connective tissues such as bones, tendons, and hooves. Magna Wave devices come in either spark chamber analog machines or digital versions. I personally prefer the spark chamber machines, though they require more maintenance, as they produce a more rounded sin curve of energy which is identical to the Earth's own, and I find it very effective.
What are the benefits you've noticed for your clients? 
Clients in a regular PEMF program typically recover more quickly from work or injuries. They are easier to adjust for chiropractors and have less deep seated tension and less significant adhesions when massaged. Healthier cells result in a better immune system, more effective nutrient absorption, and better energy and stamina. PEMF reduces inflammation and pain while stimulating the synovial membrane of joints to produce more fluid. This causes arthritic clients see improved range of motion while also minimizing pain. Every bodily system; circulatory, nervous, digestive, endocrine, muskuloskeletal, respiratory, reproductive, etc; can be positively influenced by PEMF therapy.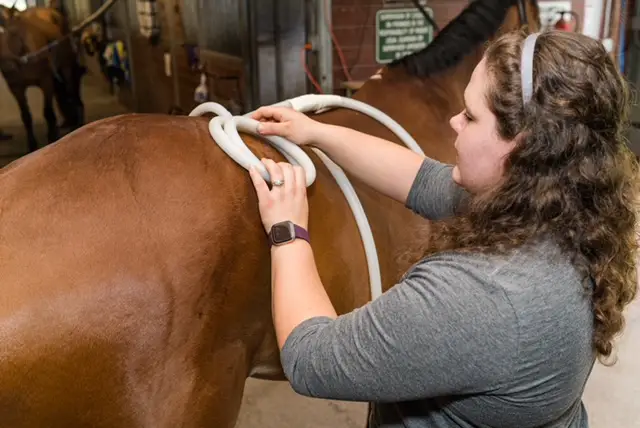 How did you discover Magna Wave?
When I was showing Draft Horses professionally we had a gelding hurt himself in his stall overnight at the Ohio State Fair. He was fine at night check and toe-touching lame at 5am breakfast. While we waited for the horse show vet to arrive, we had Marissa Cush (a fellow competitor) take a look at him. Marissa is an Equine Chiropractor and a Magna Wave PEMF Practitioner. Upon assessment with the Magna Wave she suspected a pulled deltoid muscle. She treated it and he was immediately much better to the extent that we were able to use him that night.
I looked into the science behind the therapy and was very impressed by the evidence. I'm a science person and I need to see irrefutable proof by way of peer reviewed journal articles complete with large sample sizes of mixed groups. Anecdotal evidence is not enough for me so I really liked what I saw.
After researching several PEMF device distributors, I went with Magna Wave because they have the best education and support system. They stand behind their product and want educated and effective practitioners using their systems.
How did you learn to administer PEMF Therapy?
 I did both the online and hands-on portion of Magna Wave certification in order to become fully certified for horses, humans, and small animals. I have been a practitioner for years and have developed my own protocol for treating common conditions based on my own experience.
Starting An Equine Business In PEMF Therapy
Were you required to get any special certifications or licenses as a PEMF Practitioner For Horses?
At this time, no. PEMF practitioners are not required to have special certifications or licenses. This is changing, because with this high-powered therapy it is easy to do more harm than good. I have been fully certified and licensed since I started because I wanted to be an effective provider. I would caution people looking for a PEMF practitioner for horses to make sure that the person they are interested in using is certified. All PEMF systems have a map of certified practitioners on their website.
How did you set up your business and what were the start up costs? (You do not need to include dollar amounts just the types of expenses)
My business is an LLC. Start up costs included setting up the LLC, purchasing a machine with attachments and education, advertising, and insurance. The machine was the biggest expense as in order to provide effective and long lasting results I purchased the highest output machine available, the Magna Wave Maxx. I have since added another high output machine, the Magna Wave Julian Duo, and a lower powered device, the Magna Wave Sol which I rent to approved clients.
Starting An Equine Business
What is a typical busy work day like for you?
I joke that I drive for a living.  Some days I am fortunate and get to spend the day at a single barn! I often have my assistant, Certified Magna Wave Practitioner, Emma Milford with me on those days. With her help, we are able to work on two clients at once. Other days I drive from farm to farm, spending more time behind the wheel, cleaning equipment between visits, and doing session reports than actually working on horses. Scheduling, re-scheduling, and scheduling Emma's sessions take up a large part of my day. I'm understandably at the mercy of my client's availability. Due to the capricious nature of horses in general this is a significant challenge.
Do you need to carry a special insurance?
I carry liability insurance and equipment insurance as well as significant car insurance since I'm on the road so much.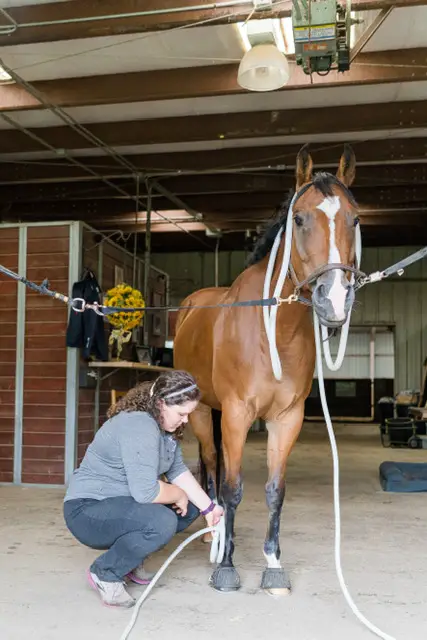 How do you market your business?
I advertise in print magazines and show books, I use Social Media to stay relevant, and I sponsor classes at shows. I teach clinics for interested farms and present PEMF at Equine Affaire every year. My best marketing is word of mouth, I have wonderful clients, veterinarians, and farriers who recommend me to their friends and clients.
What has been the biggest challenge you've faced as a business owner?
 My biggest challenge has been finding a work/life balance. I'm a people pleaser and want to be very available to meet my client needs. Making sure to schedule time off has been my biggest challenge. 
What keeps you motivated in your career as a PEMF Practitioner For Horses?
My clients keep me motivated! I work for some inspiring individuals and I want them to be able to reach their goals. Whether they are a professional shooting for the Olympics, an amateur trying to get a clean flying change on an aged school master, an instructor keeping their valuable lesson ponies sound and happy, or an owner trying to keep their back yard retiree comfortable through the winter, I can't wait to do my best to help them achieve their goals.
What advice would you give to someone interested in starting their own equine business?
Do it!  You will never work harder but you will never be more fulfilled. Give up on sleeping. If you are passionate about something you will be successful.
I hope you found this article helpful! If you did, give it a share!
For more equine career information, check out these related articles!
How To Become An Equine Chiropractor
Learn What It Takes To Become A Professional Horse Trainer With Torey Roderick