Choosing a horse camp for your child can be an overwhelming task! In this article we'll discuss determining your child's wants and needs and how to assess prospective horse camps. Along with what types of questions to ask when you call or visit different camps.
Does Your Child Want A Horse Camp Or Summer Camp With Horseback Riding?
The first thing you will need to determine is what type of camp your child is interested in. Does your child want to ride at camp but also participate in non-horse activities like swimming and tennis? If so, you might want to find a summer camp that offers horseback riding as one of their many activitites.
If your child takes regular riding lessons or is horse obsessed they may want to attend a camp that is centered around horses and horse care. Your local farm may run a summer camp which would be ideal for your child since they are familiar with the staff, farm and horses. If your child is not currently enrolled in regular riding lessons but wants to continue riding after camp, check out this article on choosing a great riding instructor.
What Type Of Instruction Is Offered And What Is Your Child's Riding Level?
When researching prospective camps you'll want to inquire about the different ability levels they can accommodate. For example, a horse centric overnight camp might require that campers have a certain level of independence on and around horses. They may not allow a beginner that has never ridden horses before and may be more geared to kids who own their own horses.
While a regular summer camp that offers horseback riding as a fun activity may cater to beginners only. If your child is serious about riding, they may be bored with the lessons at camp. Of course, reinforcing the basics can only help your child become a better rider. But, often it's difficult for young kids to understand why they're being restricted from riding at the level they feel they are capable of and they can become frustrated. If your child is a competitive rider or has a lot of experience and they also want to attend a versatile camp, they may have to make a sacrifice and be aware ahead of time that they may not get the instruction they were hoping for.
Finding A Reputable Horse Barn
If you've now determined that your child wants to attend a camp centered around horses consider camp at a local farm. The benefit of attending camp at a local farm if your child doesn't already take lessons is that could potentially keep riding their. If they come home from horse camp with a horse obsession (which they will) they will probably beg you to let them keep riding. Signing up for lessons at the barn where they attended camp means they are already familiar with the horses and the staff. Plus, they'll get to see friends they met at camp at the barn!
For children that already ride consistently, start by inquiring with your farm about programs they offer in the summer. If your barn doesn't offer this type of program they can likely give you a recommendation of a reputable facility.
It's important to choose a farm that is reputable and runs a safe lesson program where the horses are well cared for and the kids needs are met.
The remainder of this article will cover the qualities you should look for in a reputable horse farm.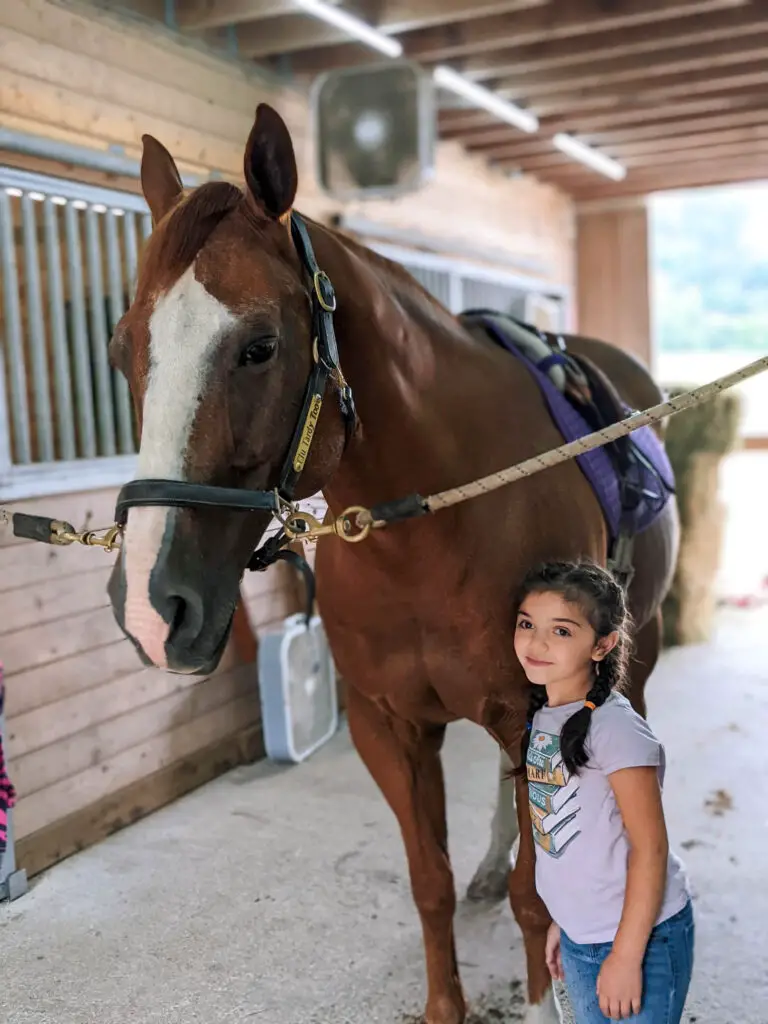 What Type Of Experience Does The Riding Instructor Have?
First and foremost, you need to know what type of instructors the camp employs. Remember, the instructor is the one who will keep your child safe while riding during their lessons at camp and handling the horses in the barn. The instructor is responsible for anticipating and preventing accidents based on the horses' behavior, children's riding habits and ability and external factors. They're also responsible for managing the counselors assisting them with the lessons and in the barn.
Find out if the instructor teaches riding lessons full time or if this is a side job. You should also ask how long they've been teaching and the type of students in their current program. Find out how accomplished they are as a rider and trainer so you have an understanding of their horse knowledge. In order to keep your child safe, they need to understand horses. It's not just about teaching your child to ride with their heels down and practicing steering through cones.
Ratio Of Counselors To Campers
The next crucial factor in keeping your child safe at camp and ensuring they have a great experience is the ratio of counselors to children. Now, I should mention, there is no set number. Depending on the size of the program and the ability level of the riders the need for more or less counselors may vary.
That said, if you have 10 beginner campers who have never or barely ever ridden horses and only one counselor to assist the instructor, this is a problem. There should be enough counselors to assist the instructor with lessons in the ring by leading or spotting riders and other counselors to manage unmounted activities.
If the group of campers has mixed ability levels then one counselor per four campers is probably suitable. In a group of all beginners, more helpers will be needed for the riding portion of camp.
Safe, Beginner Friendly Horses
Now that you've determined the instructor is qualified to be teaching your child and the camp is correctly staffed, it's time to ask about the horses. How many horses does the camp use for lessons and unmounted activities in the barn.
Do the horses at the camp live there all year around or are some of them being leased for camp? Find out if the horses teach lessons and are beginner safe. You can ask more specific questions about how well behaved the horses are on the ground and how spooky they are. Ask for specific examples of how the horses react in different situations
Clean Facility
One sign of a great farm that takes good care of their horses and runs a solid program is a clean facility. Of course, a barn is a barn and there are times that even the cleanliest facilities get cluttered and chaotic. Look for a farm that is well organized, where the aisles are clean and the stalls and paddocks have been mucked.
Check to see if the horses have clean, fresh water in clean buckets. See if the stalls have fresh shavings and if the fencing is in good shape. Look at the arena to see if the footing is being maintained and the jumps and equipment stored neatly when not in use.
Camp Reviews and References
Another way to find out how reputable a horse farm or horse camp is, is to read reviews. Check Google and Facebook to see what type of experience other campers have had in past seasons.
You can also ask the camp if they have any references you can contact before you sign up. They may be willing to share references from past students.
What Other Activities Does The Camp Offer
In addition to riding it's important to find out what other activities the campers will participate in. Most camps will have the children do crafts and activities that teach them about horses and horse care. They'll also participate in mounted and unmounted games and have the opportunity to win prizes. And if the camp is not centered around horses there will likely be other sports and summer activities.
Here's a list of topics that should be covered at a horse camp:
Grooming
Bathing Horses
Horse Care
Horse Diet and Feed
Tack and Equipment
Tack Cleaning
Barn Chores
Parts Of The Horse
Horse Breeds and Markings
Riding Disciplines
Hoof Care
Veterinary Care
Dental Care
Visit The Farm In Person Before Enrolling Your Child In Horse Camp
If you plan to send your child to horse camp at a barn other than their own, you will need to tour the facility before enrolling your child. It is difficult to assess the criteria above without visiting the farm in person. You should be able to get a good sense of which camps are not a good fit over the phone and from the farm's website. But, if you think you've found a camp that will be a good fit for your child you should schedule an in person visit.