Shopping for your equestrian friends can be stressful for many reasons. Firstly, horse gear and equipment can be pretty expensive and if you're not into horses you may not even know where to start. In this guide I've listed my favorite Equestrian Christmas Gifts Under $50 that would make great gifts for ANY horse lover! Regardless of skill level or discipline, these items will make your equestrian friend smile!
This post may contain affiliate links which means that I may earn a small commission at no extra cost to you. As an Amazon Associate I earn from qualifying purchases.
Equestrian Christmas Gift Under $50 From Horze.com
Winter Riding Gloves
Winter Headband
Fleece Helmet Liner
Tendon or other protective boots
Fun Saddle Pad
Set of Polo Wraps
Cute Horsey Baseball Cap
Winter Hat
Lead Rope
Fly Bonnet
Equestrian Christmas Gift Ideas From Brown Acre Designs
Horse Travel Mug
ICE ( In Case of Emergency) Stall Sign
Custom Horse Christmas Ornament
Cute Horse Sweatshirt
Horse T-Shirt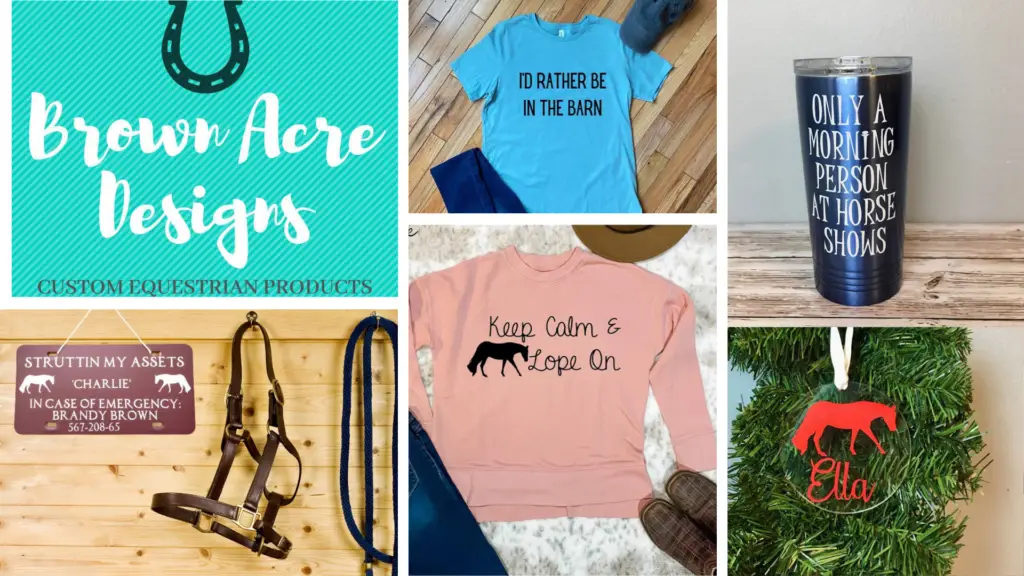 Equestrian Gifts Under $50 From Amazon
Strip Hair Gentle Groomer For Horses
Horse treats
Equestrian Phone holder
Dark Horse chocolate
Horse Socks
I hope you found this guide to equestrian Christmas gifts under $50 helpful! If you did, don't forget to share! Leave a comment with your favorite horse related gift ideas under $50 too! And, Happy Holidays!
Before you go, check out these related articles!
StipHair Gentle Groomer Full Review
22 Amazing Holiday Gifts For Your Horse Trainer