So now that you've finally ironed out your summer plans and have decided to send your child to horse camp, you're probably wondering what they need. If your child has never taken riding lessons before, they may not have all of the items below.
For example, you may not have a helmet or riding boots. In this case, contact the horse farm and find out if they have helmets your child can borrow and what type of boots they will allow. Often times a sturdy boot with a heel will do even if it's not a riding boot.
In this article you'll find a complete list of items your child will need to bring for horse day camp. And, we've even included a list of supplies you'll need to remember if your child will be bringing their horse with them.
A Full Water Bottle
Water is the most important item to pack and send with your child. Spending the day out in the warm weather riding and doing activities around the farm will quickly make them hot! If your child becomes dehydrated during camp they may start feeling ill and not be able to participate in activities.
Send your child with a large water bottle even if you send another type of drink in their lunch. Many farms can refill water bottles if campers run out as well.
As far as the type of water bottle, send one that's either very durable or disposable. Remember, your child is going to be in the barn for the day. Concrete floors are notorious for breaking items that fall, like cell phones, bottles, cups, sunglasses etc. Plus, anything you send to camp at the barn is going to get dirty. So don't send anything you're too attached to.
Lunch Packed In An Insulated Lunch Box
Make sure to send your child with an insulated lunch box and/or an ice pack in their lunch. Unless your farm has a refrigerator (most don't have a large one) you'll need a way to keep your child's lunch cold.
Pack your child plenty of healthy snacks to keep them going throughout the day. Most camps take a break for a snack and a lunch throughout the day. If you send your child with a horse friendly snack, like an apple, make sure they don't share with the horses without permission.
Horseback Riding Helmet
Your child will spend at least some time riding during each day of camp and may even get to ride twice on some days. If your child has their own helmet, be sure to send it along. And, make sure your child's name is in or on the helmet. If you don't already own a horseback riding helmet, do not send your child's bike helmet. In order to be fully protected on and around the horses, your child needs an ASTM/SEI approved horseback riding helmet.
You can also inquire with the stable about allowing your child to borrow a helmet. However, a borrowed schooling helmet will not necessarily fit or be adjusted to your child. For the best protection, purchase your child a helmet at your local tack shop where the staff can make sure it fits properly and adjust it correctly.
Often times campers, especially around the same age, end up with the same or similar items. If you want to avoid having to replace an expensive helmet, make sure it's labeled.
When preparing your child for camp in the morning, be sure to tie your camper's hair back neatly in a low pony tail or braid. High pony tails, high pig tails and voluminous braids should be avoided otherwise your child's helmet will not fit properly. Your child will need to put their helmet on with ease.
For more information about how to prepare for your child's first time horseback riding, check out this guide to What To Expect At Your First Horseback Riding Lesson.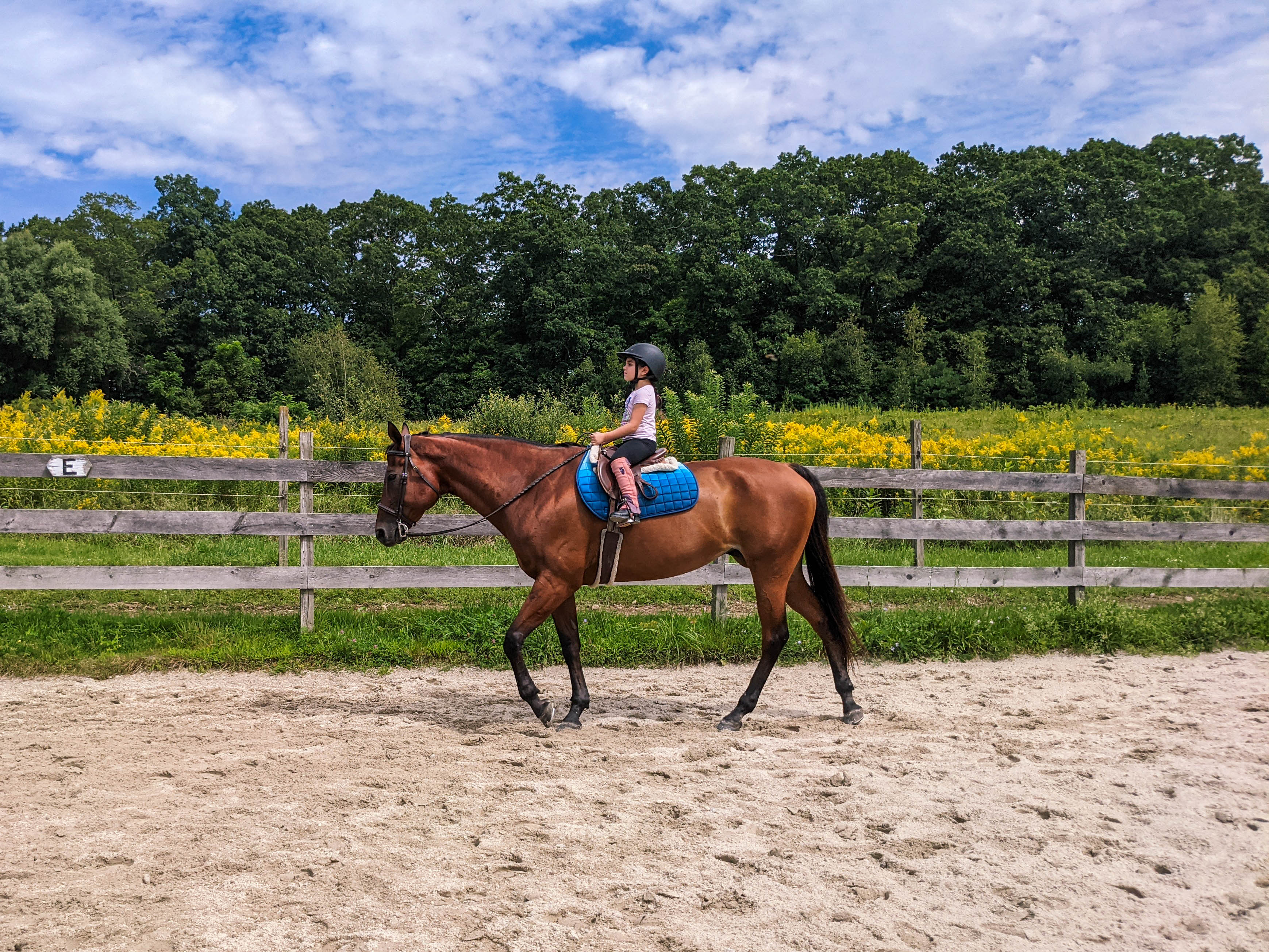 Riding Boots
Ideally, your child will wear their riding boots to camp. However, if your child does not own riding boots, they will still need a sturdy boot with a 1/2 to 1 inch heel.
It's important that your child has boots for riding as the heel will prevent your child's foot from slipping through the stirrup and getting caught. If your child were to lose their balance and fall you don't want them to get dragged by the horse. Most farms are extremely strict about this policy.
Do not allow your child to ride in sneakers even if the farm says it's ok. And, proper footwear should be worn while handling the horses on the ground as well. Accidents happen and if your child gets stepped on you want to minimize the chance of injury.
Riding Clothes
Even if you do not have specific riding clothes for your child like breeches, your child can still ride! However, there are some basic guidelines to follow when choosing an outfit. For starters, it's important to wear long pants, not shorts! Your child cannot and should not ride a horse in shorts! If they do, they will end up with saddle sores, and trust me, they hurt! You'll also want to send them in fitted pants like leggings or jeans. Do not send your child to the barn in sweatpants, slippery active wear type pants or anything baggy.
Next, assuming the weather is warm in the summer where you live, where a short sleeve shirt! If there is an air conditioned facility or the possibility of a cold front due to upcoming inclement weather, bring a sweatshirt and rain gear!
Change Of Clothes
At camp, kids are bound to get wet, dirty and sweaty! Pack your child a change of clothes that they can be comfortable and safe in. Some camps ask for children to show up in the morning in riding gear but will later allow them to change into shorts when riding has concluded for the day. You'll need to inquire specifically with your camp about this.
Either way, a change of clothes will be helpful!
To get an idea of what other types of activities your child might be doing at summer horse camp, check out these two articles!
16 Super Fun Horse Camp Activities Your Campers Will Love
22 Games To Play At Horse Camp This Summer
Sneakers or Rubber Boots
Pack your camper an extra pair of shoes for doing non-riding activities around the farm. If your camper goes on a hike in the woods, gives a horse a bath or does some painting you'll want avoid ruining their riding boots.
Plus, your child will likely be more comfortable in another pair of shoes for non-riding activities.
Sun screen
It's very easy to quickly get a sun burn when you're out on the farm all day in the hot sun. Have your child wear sun screen before arriving at the farm. And pack some sunscreen in their bag for them to re-apply as needed.
Fly Spray
Another important item is fly spray. Even the cleanest farms get buggy and if you want to avoid your child getting covered in bug bites and itching all week, definitely send some bug spray.
Similar to the sunscreen, you should apply bug spray to your child before they arrive to camp and send them with extra. This way they can re-apply as needed throughout the day.
Horse Feed
If you are bringing your horse to camp each day or if he will be staying at the camp all week you'll need to bring his food. Make sure you bring enough hay to last the day or week. If your horse will be eating his meals at the camp, pre-measure out the grain and add supplements.
Label all of your horse's feed so it does not inadvertently get fed to another horse. The barn may have a designated area for you to keep your supplies as well.
If your horse won't be at camp all week, you'll still need to make sure he has hay and water for the day.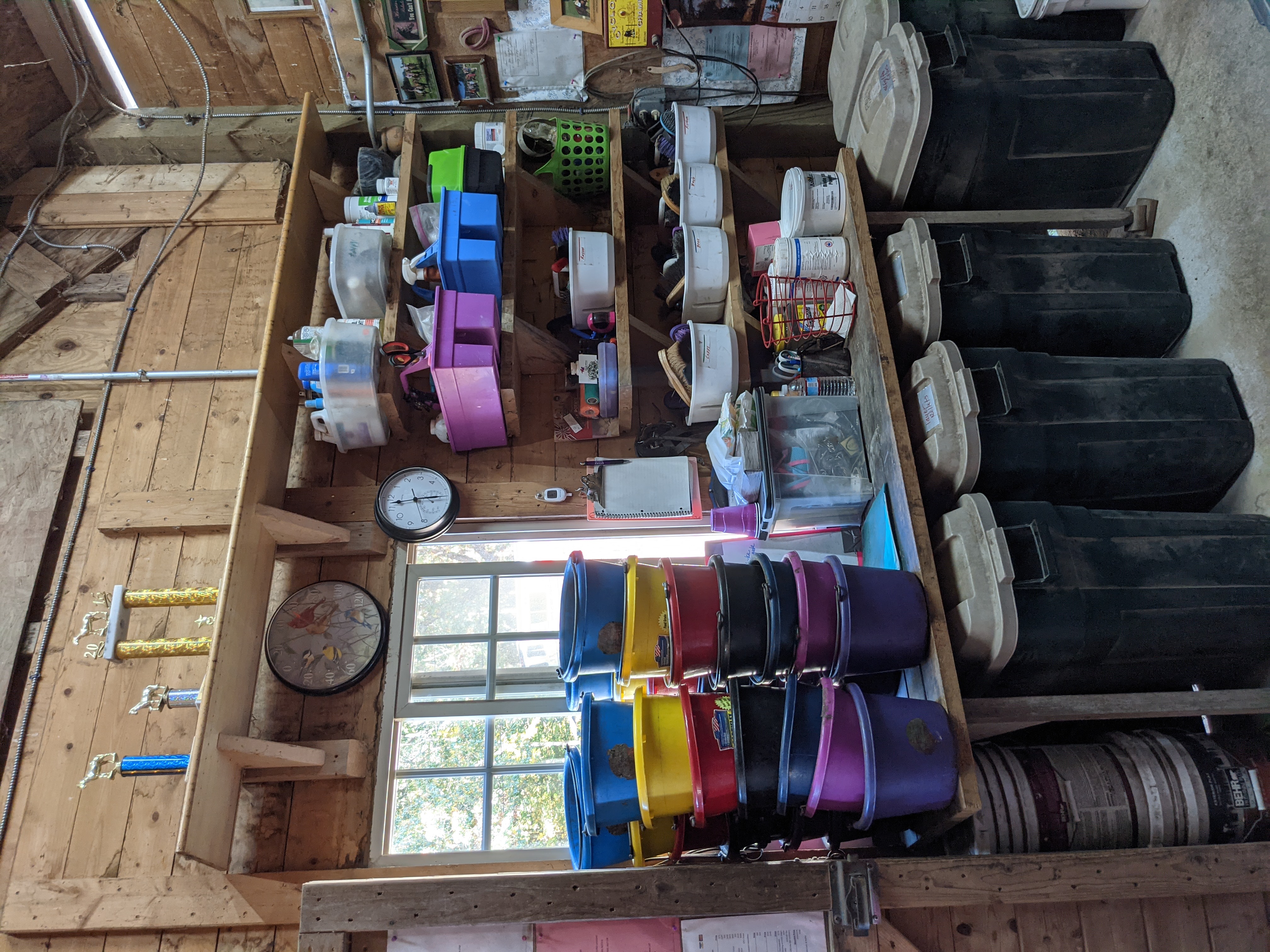 Water From Home
If your horse is no staying overnight at camp but is just attending for a day, you'll need to make sure he drinks. Some horses don't drink water well when they travel. Others, just won't drink strange water. If your horse is only attending camp for one day, you might want to bring some water from home in large 5 gallon jugs. This way, you can be sure to keep your horse hydrated.
Tack For Your Horse
If you plan to bring your horse to camp, be sure to remember all of your tack so you can ride! And, it's a good idea to label all of your tack too!
You'll need to remember your saddle, bridle, girth, saddle pad, leg protection and fly bonnet! And, if your horse requires any other equipment like a martingale or a different type of bit remember to pack those too!
Grooming Tools & Fly Gear
Make sure to pack your own grooming box. You'll need to be able to groom your horse before and after your ride. It's not a good idea to share brushes between horses so don't plan to borrow the farms grooming equipment. Unfortunately, this can spread germs and even cause skin irritation for your horse.
Want to find out which grooming tools you'll need in your grooming box? Check out this article all about my Daily Grooming Routine and favorite tools!
If your horse has a fly sheet, fly mask or ear bonnet be sure to pack those along with fly spray. You'll want to give your horse a spritz before you ride to avoid him acting silly if the bugs are biting!
Horse Medication & Instructions
If your horse requires any special medication be sure to pack that as well. And, you'll want to write down the exact instructions for administering medication to eliminate any confusion with the barn staff.
If your horse has any other special needs or instructions for sensitivity, allergies or chronic issues make sure to write those down too!
I hope you found this article helpful! If you did, please share it so other parents will know what to pack their kids for horse camp this summer!