Now that you understand what to look for when evaluating boarding facilities, let's move on to services. In this article we'll review the types of boarding services that are commonly offered.
This article will help you determine which type of horse board is best for you and your horse. Article written in collaboration with Brooke Waldron of Stepping Stone Ranch.
This post may contain affiliate links which means that I may earn a small commission at no extra cost to you. As an Amazon Associate I earn from qualifying purchases.
Understanding Full Board
The most common type of horse board is full board because it allows people of varying abilities to fulfill their dream of being a horse owner. Boarding barns offer the facility and amenities horse owners without their own barns need along with support and guidance from a professional.
What Does This Type Of Horse Board Include?
Full board generally includes all daily care associated with horse-keeping 365 days a year! Generally, feeding 2-3 times per day, turnout/in, stabling, stall cleaning, fresh water and the use of the facility.
Extra services may be available and generally have an additional fee; fly spray, fly masks, blanket changes, protective boots for turnout, grooming.
Extra Services
You'll want to consider the cost of services not included in the board price as well. For example, typically, handling your horse for vet/farrier appointment is not included and you should plan to be present. If you cannot be available you should plan to pay the barn staff to handle your horse in your absence unless otherwise agreed upon.
Additional services which may incur fees on top of the base board price include, caring for an injury, blanketing changes or administering medications.
Communication
If your horse requires care above and beyond the standard, it is imperative that you communicate these requests clearly with the barn staff. It's a good idea to have these items included in your board contract and signed by both parties to avoid confusion when it comes to fees and services.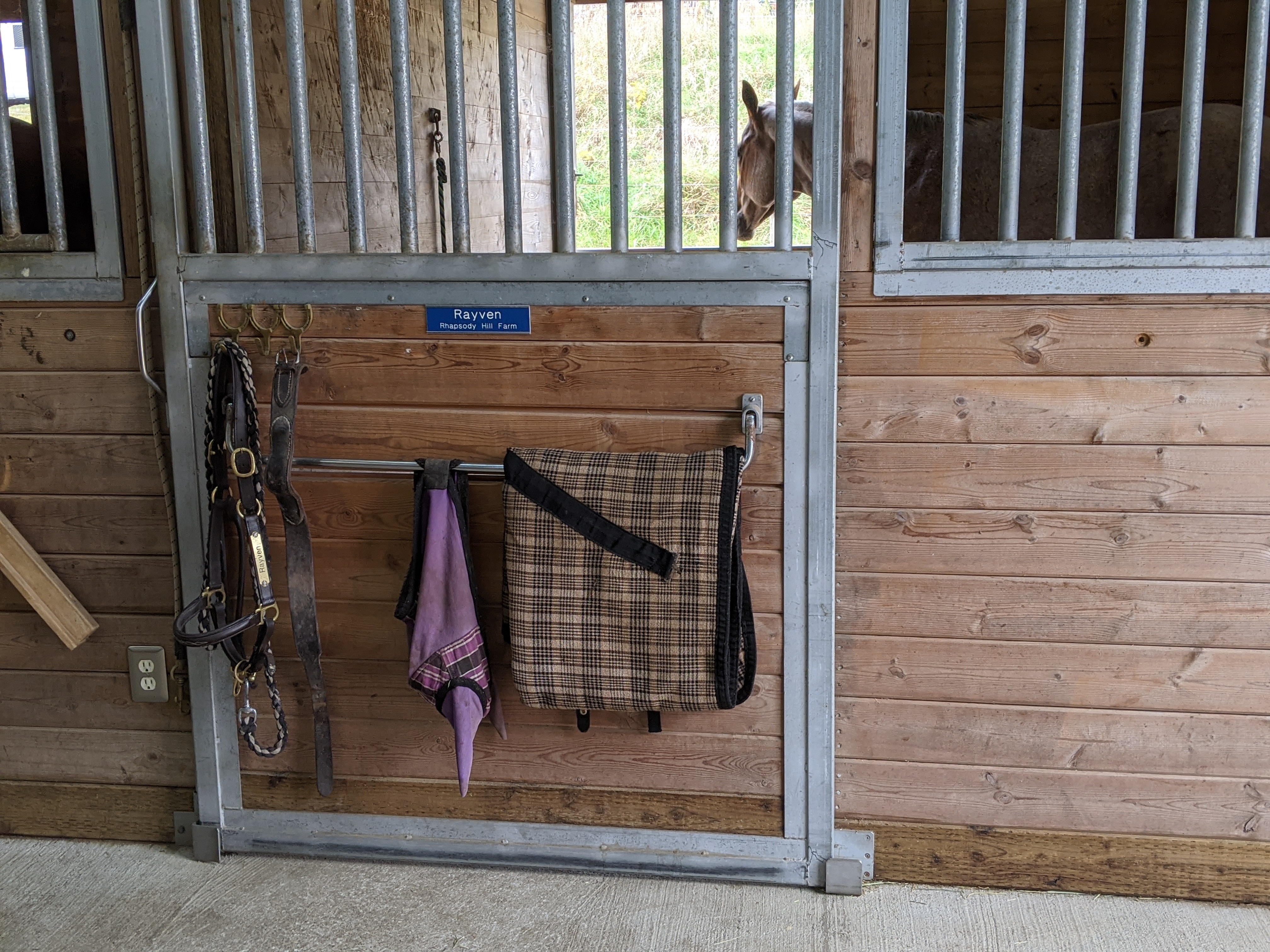 Evaluating A Full Board Barn
Overall Horse Health and Happiness
When evaluating a full board facility, look at the overall health of the horses in the barn. For example, are the horses in good weight? Do the horses' coats look shiny and healthy? Are the horses overdue to have their feet trimmed? Are the horses blanketed and do they have hay available?
At a glance, do you notice any alarming horse behavior? Observe whether the majority of the horses appear anxious and stressed or happy and relaxed. If there is a horse on stall rest or that has a vice you'll need to take this into consideration as their behavior may not be indicative of the care the receive.
Find out if the farm has regularly scheduled vet and farrier visits.
Barn Policies
Can you bring your own instructor or trainer? Or is there a trainer on site that you can take lessons from? What are the farm hours and will you be able to ride at night if you work full time? Are outside farriers or vets allowed or will you be required to use the farm's vet and farrier?
Organization & Cleanliness
Make note of how the facility is kept. A clean and tidy barn is an indicator that the horses are well looked after. While a messy or disorganized facility does not necessarily indicate a lack of care, it could clue you in to how the farm is run.
Amenities
Make a list of amenities that are important to you such as an indoor and outdoor arena. If you like to trail ride, find out if there are local trails to ride on either directly off the property or close by.
Make sure the tack room appears well organized and that each customer has their own space. Locate the cross ties or designated grooming areas and wash rack. Does the farm have hot water available?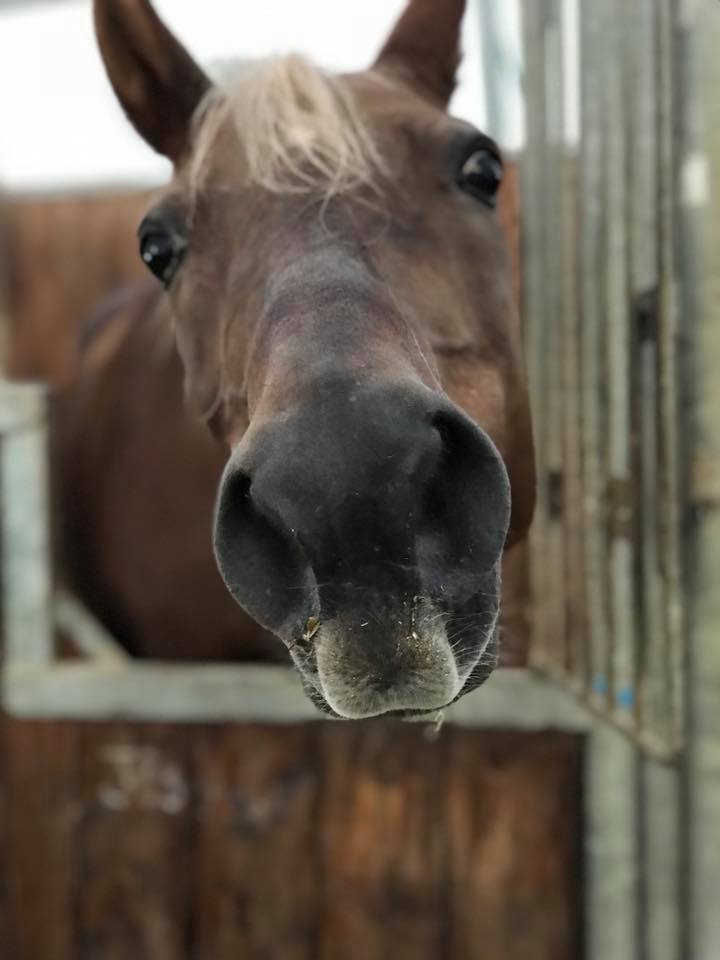 Full Board Cost
Your board payment covers various operating costs including feed and supplies, taxes, employees, arena and farm repairs, tractors maintenance and fuel, equipment, insurance and electricity.
Depending on the area, the base price of full board can range anywhere from $500-$1000 or more per month. As discussed above, you may need to pay for additional services in addition to the general care.
While the price may seem steep, ensuring your partner is receiving the best possible care is worth it. As the saying goes, "you get what you pay for." If you hunt for a deal on full board, chances are the quality of feed and care may be lacking.
Training Board Explained
Another type of horse board is training board which allows owners to have a professional trainer work with their horse regularly. This is a great option for show horses and/or green or young horses.
What's Included In Training Board?
All of the services provided with Full board with the addition of training and exercising your horse. Depending on the farm, lessons may be included in training board. If not you'll want to schedule and pay for them separately. If you are going to spend the money to keep your horse in training, it's a good idea to take lessons with the trainer.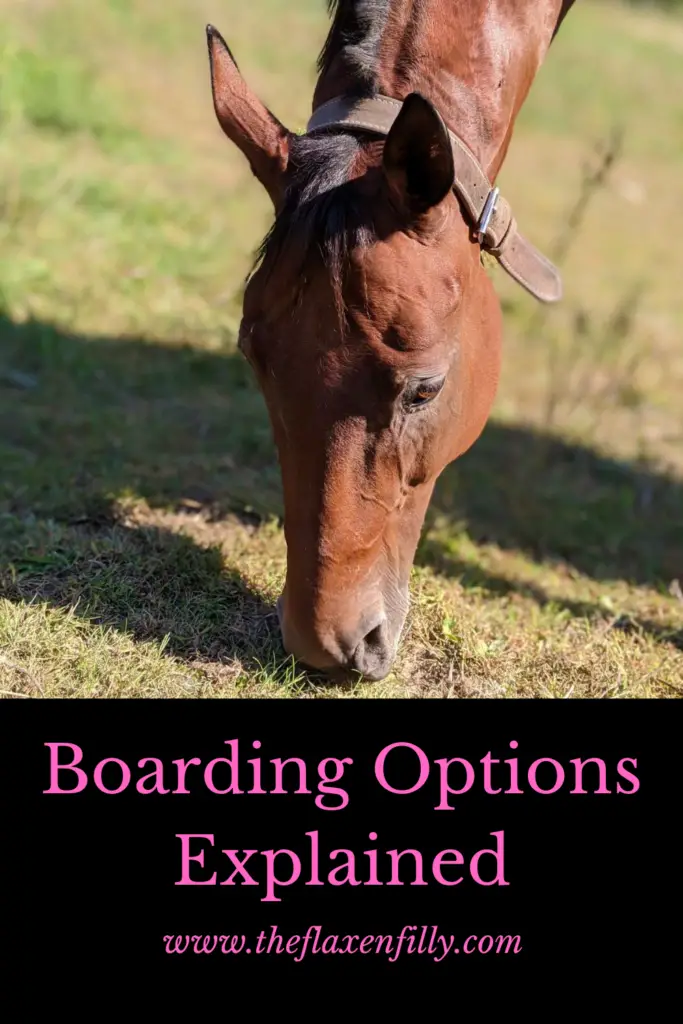 Is Training Board The Right Type Of Horse Board For you?
In addition to competing or owning a green horse, training board is perfect for amateurs who have a busy schedule and cannot provide their horse enough exercise and attention. Keeping your horse in training allows them to be in a consistent work program and tuned up for when you are able to ride.                         
What to Keep in Mind
Show barns will have plenty of extra luxuries to support the needs of competitive performance horses. However, there may be high expectations of clients.
These requirements might include mandatory training or lessons, tack and equipment requirements, or restrictions on various other practices.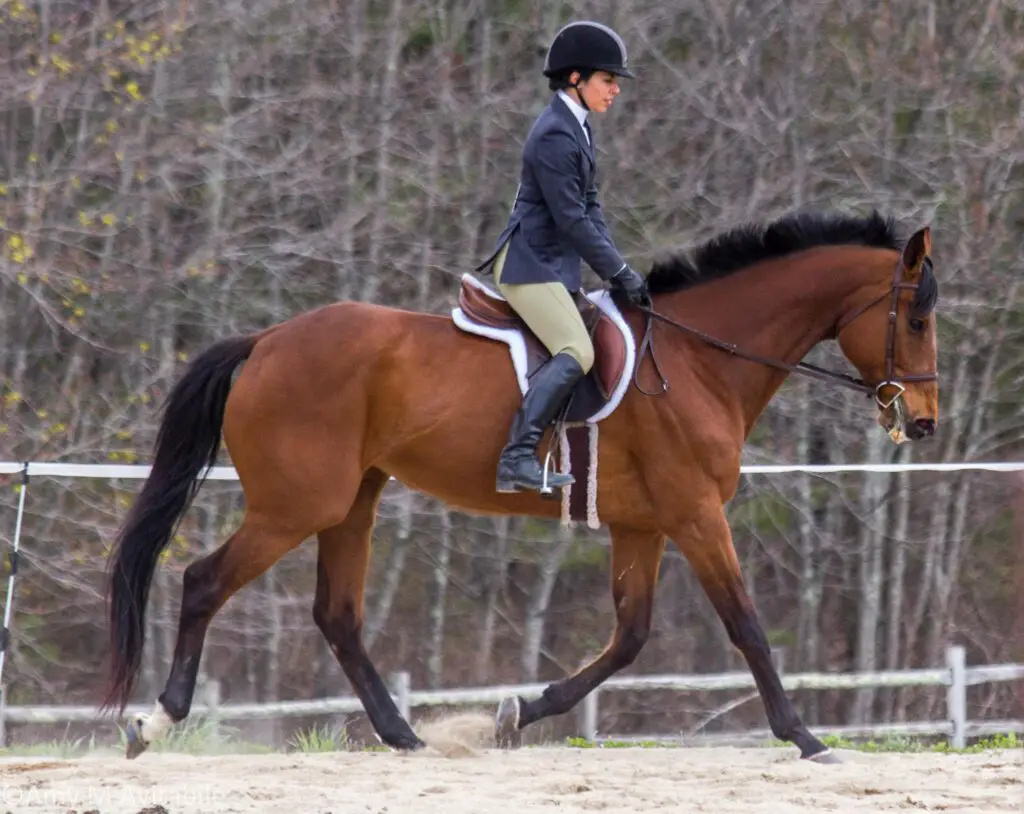 Training Board Cost
Training Board prices vary between disciplines and locale, but commonly averages between $850-$1500 per month or more.  
Keeping a horse and rider team at the top of their game requires immense dedication both physically and financially. It requires consistently investing in yourself and the growth of your horse.
Professional horse trainers have tremendous work ethic and have spent decades building their skills combined with limitless hours in the saddle.
Training board may seem expensive but don't skimp on setting up a successful future for your horse. Choose a boarding barn and trainer that fits your goals!
Semi-Rough Board
Want to spend more quality time taking care of your horse but also need some help? This type of horse board situation might be right for you. Maybe you enjoy cleaning your own stall but cannot be available to feed your horse 2 to 3 times per day. Semi-rough board allows for more flexibility than rough board but you still get to bond with your horse outside of riding.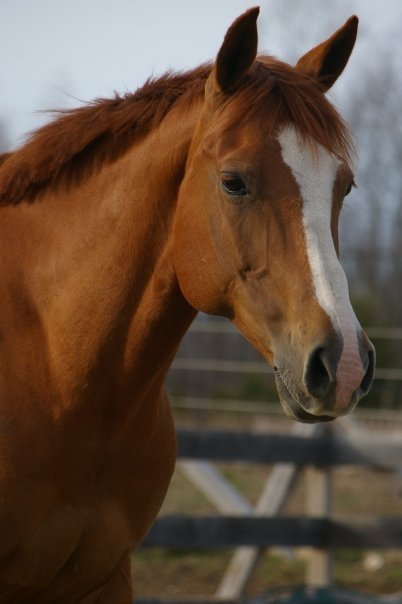 What's Included In Semi-Rough Board?
Generally, in a semi-rough board barn you'll receive partial care. There is shared responsibility between the horse owner and barn manager in exchange for a discount on board. Three examples of Semi-Rough Board are outlined here:
Type 1:
Horse owner is required to provide their own feed and shavings.
Barn Staff will complete daily chores such as feeding, turn-out/in, stall cleaning.
This method works well for keeping all of the horses in the barn on the same schedule.
Type 2:
The farm provides feed and shavings.
The horse owner is required to feed their horse and clean their stall daily.
This method can be difficult and costly for the farm to manage since the horses in the barn may be on different schedules and owners are using farm supplies at will.
Type 3:
A hybrid model of the first two types of Semi-Rough Board.
The Horse owner provides feed and shavings and cleans their stall daily.
The farm completes daily feeding and turn out/in to keep all of the horses on the same schedule.
Is This Type Of Board Right For You?
This is a great option to save some money on board and stay within your budget. However, semi-rough board is a huge time commitment.
If you're sick, you will either need to tough it out or pay the barn staff to complete your chores. And, you'll need to provide notice early enough in the day to ensure they have resources available to assist you.
Rough Board
Rough board is arguably the most budget friendly type of horse board. It is also the most time consuming and unforgiving option.
If you run out of time or supplies there is a risk that your horse will go without. For most horse owners and farms this is unacceptable.
So before you commit to choosing a boarding barn that offers rough board, you'll want to thoroughly evaluate your availability.
What's Included In Rough Board?
Usually rough board only includes a dry stall and use of the facility (arena, turnout, etc.) but no services or supplies.
Essentially, the owner leases a dry stall from the farm on a monthly basis and is responsible for all care for their horse. The owner will also need to provide all of their own feed and supplies.
Typically farms will have equipment available for use such as pitchforks, wheelbarrows etc. However, I have been to barns that required rough boarders to have their own stable management equipment.
Check out these helpful resources on caring for your horse yourself:
Considerations For Choosing Rough Board
Driving distance to the farm and availability throughout the day are key factors. If you live close by and have the ability to make frequent trips to the farm, it'll make rough-boarding more manageable.
Remember, in addition to daily care, if your horse becomes sick or injured you'll be solely responsible for monitoring, administering medication and wound care.
You'll also need to be good at managing inventory to ensure you keep your horse fully stocked with feed, bedding and first aid supplies.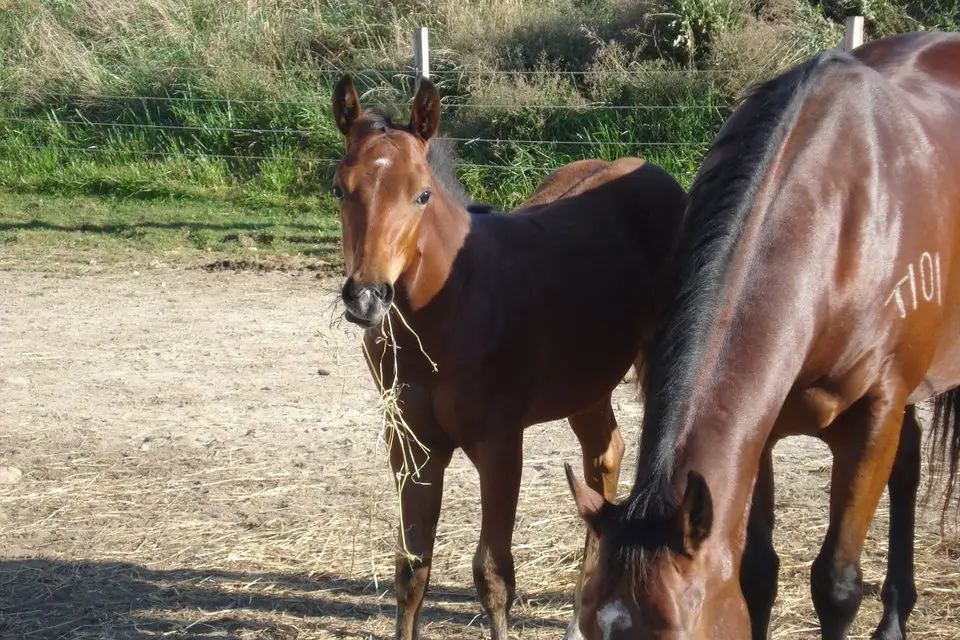 Deciding Which Type Of Horse Board Is Right For You
Now that you understand the different boarding options, you'll need to do some research in your area. Make a list of local horse barns in your area and determine which are the most conveniently located, the price of services, and the quality of services provided.
Once you review locations and prices, think about your schedule and your horse's needs. Next it's time to tour some facilities and compare them before making a final decision.
Check out this article on how to evaluate a facility here and download the free guide!
If you found this article helpful, please share it with your friends!
About Co-Author Brooke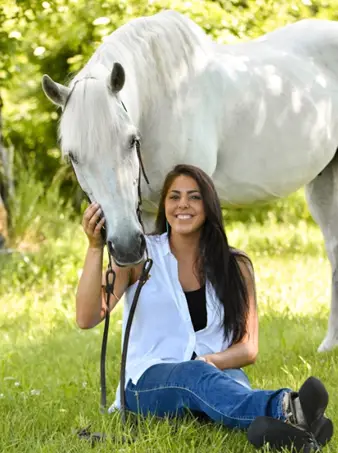 Brooke Waldron is a third-generation horse professional with a family history of riders. Born into the industry, her mother has a riding career spanning 45 years and managed barns for 30+ years. Brooke has been employed by multiple USDF, AQHA Congress and World level trainers and has coached riders at local, regional, and national level shows. 
"I was raised in the business, not on fancy horses, and this lifestyle demands passion and dedication to be successful. I have had the unique opportunity to learn from different trainers and countless horses. My parents bought a 3-year-old gelding from a livestock auction for $600.00 and gave him to me 20 years ago. He was a young screwball but taught me invaluable life lessons and above all was patience! Shoshone is my best pal, enjoying his senior years now, he laid my foundation as a young rider. As an adult, I love watching new riders develop partnerships, horses are the best teachers, and we are never done learning!"