This post may contain affiliate links which means that I may earn a small commission at no extra cost to you. As an Amazon Associate I earn from qualifying purchases.
Equine Affaire – Springfield, MA – November 12th – 15th, 2020
This event is now virtual due to Covid-19, visit the Equine Affaire website for information on how to attend! Equine Affaire has been a tradition for both my family and Rhapsody Hill Farm for many years.
Clinics
I've had the pleasure of attending many awesome clinics in the past. For example, John and Josh Lyons, Courtney King-Dye, Steffen Peters, Richard Shrake, Phillip Dutton, David and Karen O'Connor and many more!
Breed Demos
During the demos, breed organizations exhibit horses in a variety of disciplines from jumping to halter and saddle seat. As a result, attendees get to see what other breeds and disciplines are all about! Several years ago, my sister participated in the Pinto Horse Association demo. Pictured below with our yearling gelding, Caramel.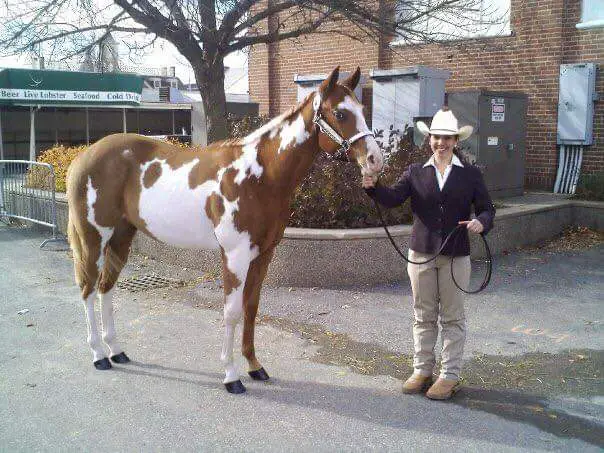 Shopping
Of course, you can't forget about the amazing sales! Equine Affaire is my favorite time to stock up on blankets, hoods and above all, boots! Many of my favorite vendors attend annually like Schneider's Saddlery, Ariat, Bit of Britain, Dover Saddlery, Smartpak, Rod's and many more!
Fantasia
The Fantasia is the star of the show and many horse lovers attend just to watch it! The show always includes something for everyone! Freestyle dressage, reining, driving, jumping, drill team, trick riding and more!
Virtual Format
I have to confess, I'm disappointed the event won't be in person. It won't be the same without the scent of horses in the air! I'll miss walking through the barns to meet the horses and exhibitors! Kudos to Equine Affaire for pivoting to a virtual format instead of cancelling!
Aside from horseshows and organized rides, there aren't many horse events our area. Subsequently, Equine Affaire has always been one of the highlights of the year us!