Spring is right around the corner! If you're a horse owner you are probably chomping at the bit to get out there and start riding, showing and trail riding. You may be dreading shedding season or looking forward to leaving the barn covered in horse hair from head to toe knowing it's worth it for a shiny, clean horse! Spring is also the time of year to get your barn in order and repair any damage from the winter. In this article we'll review 22 items you should clean and/or check for safety during you spring barn cleaning this year!
1. Power Wash The Barn Exterior
After a long fall and winter with rain and snow piling up on top of dust, mildew and pollen your barn is probably in need of a good washing. Just like your house or any other structure. And, if you have build up on your roof or the sides of your barn it could be covering up any damage that needs attention.
Plus, if you a business at your barn whether it be a lesson program or boarders, it'll leave your farm looking clean and professional!
2. De-Cob Web Inside The Barn
If you're like me, you've kept up on de-cobwebbing your barn all winter long. But, sometimes tasks we're good about in the warm weather get put on the back burner in the cold. No judgement here, sometimes it's just cold and you have to hurry up to avoid freezing.
But, cob webs look messy and they hold onto dust and debris that isn't good for your horses to breath in. Plus it's a potential fire hazard. So get a broom or duster with a long pole and get into all those hard to reach places that like to fill up with cob webs in your stalls, aisle, rafters, hayloft etc.
You may want to wear a hat to avoid cob webs falling and getting in your hair. And, if you're sensitive to dust you may also want to wear a mask.
For more tips on keeping your barn aisle pristine, check out this article: 6 Easy Tips For Keeping A Tidy Barn Aisle
3. Power Wash Inside Barn
Once you've removed all the cob webs, now is a great time to get washing the interior of your barn.
You've probably avoided cleaning off those manure stains, dried slobber, mashed feed, urine etc. in the cold weather. You can buy or rent a power washer that won't remove paint or you can use a good old fashioned scrub brush and bucket to clean the aisle walls, stall walls and metal bars.
If you choose to scrub the walls by hand you'll need a ladder or a long scrub brush to reach the top. And, it goes without saying, be careful not to get water in any electrical outlets.
4. Check & Repair Fencing
While it's important to keep an eye on your fencing all year around, winter can take a toll on fencing. In the cold, plastic and wood are more brittle can break more easily.
Plus the mud, snow and wind may also have caused damage. Every year after winter, it's a good idea to thoroughly inspect all of your fencing. Check for loose posts, broken boards, drooping electric wire etc.
And while you're checking the fencing, you should also check the gates to make sure they are also in good condition and look for nails and screws that may have come out of broken fencing.
5. Maintain Arena Footing
You've probably been maintaining your footing all year around between snow removal and dragging footing. But spring is a great time to add footing if you need it and to make sure your footing is level.
If your outdoor arena has had any damage from water and snow you'll want to repair it so that as the weather warms up you can focus on riding.
6. Wash & Repair Blankets
If you've ever owned a horse or leased one you've witnessed the abuse horse blankets take. That beautiful new, warm, cozy blanket you bought for your horse in October is probably full of stains, rips, maybe even missing a leg strap. When the weather warms up, gather up all of your blankets and get them washed and repaired to be used again next year.
If you have access to a laundromat that allows horse blankets or a heavy duty washer in your barn you can even wash your blankets yourself. Once they've been cleaned, repaired and water proofed, store them in plastic cases to keep them clean for the summer. If you have a lot of blankets and sheets like we do in our barn or multiple horses, label the size and horse's name on the bag.
7. Clean & Organize Tack & Equipment
You may have kept up on tack cleaning throughout the winter but for many of us it's just too cold. When it finally warms up give your tack a thorough clean and condition. And, don't forget to check for any wear and tear. It's a good idea to check the condition of your tack every time you ride to prevent an accident as well.
Don't forget, keeping your tack covered will help prevent mold and mildew from building up as well. Unless your are fortunate enough to keep your tack in a climate controlled tack room, you're bound to wind up with mildew at some point.
This is also a good time to go through your tack and equipment and decide what needs to stay or can be sold or donated. As you make more room be removing things you no longer use, you'll be able to stick to your system of organization. Check out this article for my tips on organizing your tack room.
8. Clean & Disinfect Grooming Tools
One task we like to do every spring as soon as the weather is warm enough is wash our brushes. Removing all the dirt and dead skin from grooming long winter coats will leave you with nice clean brushes to use and prevent residue from getting smeared around in your horse's coat. One way to keep your horse cleaner is to keep your brushes clean. Clean brushes and a good grooming routine will have your horses sparkling!
9. Check Paddocks For Holes
The freezing and thawing of the ground throughout the winter can cause holes. It's a good idea to find them and fill them in so you horse doesn't twist an ankle or worse. Although, it goes without saying, you should check your paddock for holes on a regular basis and not just once a year in the spring.
10. Inspect Barn For Water Damage
Each spring, check your barn for water damage and make any necessary repairs. According to Precise Buildings, black stains are an indication of long term water damage. White stains are an indication of more recent damage. In either case, you'll need to assess the damage and have it repaired.
11. Re-clay Horse Stalls
If you don't have concrete floors in your barn, chances are you'll need to re-clay and level your stalls each year. To do this you'll need to get some helpers. Remove the stall mats, fill in any holes and level the stall. Then clean the stall mats and replace them.
12. Disinfect Stall Mats
If you're one of the lucky ones who does not need to re-clay your stalls, it is still a good idea to remove the stall mats and clean and disinfect them. While your stall mats are drying, clean the floor underneath them. If you have concrete floors you can wash and disinfect them and clean any urine that seeped through the mats. No matter how thoroughly you clean your stalls each day the floors under your mats are likely still pretty dirty.
13. Trailer Maintenance & Service
You might be getting ready to head out to shows, hunter paces, trail rides and beach rides once the weather warms up. So, make sure your trailer is ready to go. In addition to cleaning the inside and outside of your trailer thoroughly, check the floor boards underneath. Fix any broken latches, window seals etc. and don't forget to check your tires. You can also inspect your hitch for any rust or other issues.
14. Scrub & Disinfect All Water & Feed Buckets
You've likely been cleaning your water buckets out all year long even in the cold. Or at least you should. It's nice to remove all buckets whether they are for feed or water and scrub them down in the spring. Grain buckets get a gross layer of build up after a while so give them a good scrub and disinfect them.
15. Clean Gutters & Check Roof
Check your gutters and see if they need to be cleaned, the last thing you need is a problem with your barn like a leak. And while you're at it, you should inspect your roof for damage from winter weather. If you need your roof repaired you'll have time to get it fixed during the nicer weather before another round of snow next winter.
16. Check For Rodent Damage
Rodents are unavoidable even in the best of circumstances. There are ways to reduce the risk of rodents inhabiting your barn like keeping your grain in sealed containers instead of leaving it in bags. You can also get a barn cat or two. Barn cats are awesome, not only are they efficient but who doesn't love having a soft, fluffy, friendly pet around in the barn? In any case, check you barn for rodent damage during your spring cleaning.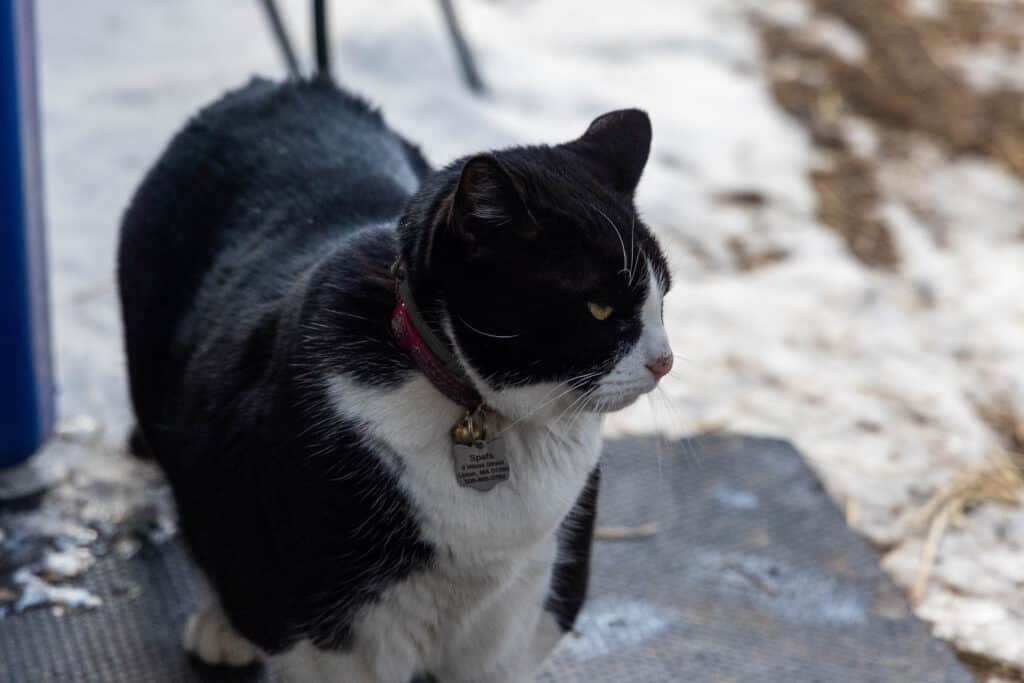 17. Inspect Fire Extinguishers
You may already have an automatic check scheduled with the company who provides your fire extinguishers like we do at our farm. However, if you don't, you'll need to check them to make sure they are in good condition. For more information about how to check your fire extinguishers or to get them inspected check out the link below.
Fire Extinguisher Inspection Impact Fire
18. Clean Fans
Most people use fans in the barn throughout the late spring, summer and early fall. If you've had your fans in storage in the ban, take them out and thoroughly clean them before you hang them up. Our fans tend to get very dirty after being used in the barn throughout the summer with lots of dust build up. You can use your leaf blower to blow them off. On a side note, if you don't have a leaf blower for cleaning your aisle, you should! They're super handy!
19. Check Spray Bottles
Check which sprayers still work, find bottles with cracks and toss any that are no longer functioning. Once you've got an assortment of usable spray bottles, clean them out. Then, label them and mix up things like fly spray and coat polish that you'll use throughout the warmer months. Fly season will be here before you know it!
20. Level & Fill Potholes
If you live in New England you're probably sick of the potholes by now. Patch up and potholes in your barn driveway or driving paths around your farm!
21. Clean The Hayloft
Thoroughly sweep up all the loose hay and cob web the rafters and all around the hay loft. If you store other supplies besides hay and shavings in your hay loft make sure everything is organized. Dust off tack boxes, cabinets, stored blankets etc. And as you go, get rid of any excess clutter that is no longer needed.
22. Update First Aid Kit
As you are cleaning out and organizing the barn one of the areas that needs attention is your first aid kit. Check medications for expiration dates and clean out any that are expired. Make sure you have enough supplies for an injury or illness that you may need to be prepared for. Obviously if the unexpected or a serious issue arises you may need prescription medications and instructions from your vet. But it's good to have the basics on hand like betadine, bandages, antibiotic ointment, bute, banamine etc.
I hope you've found this article helpful! If you did, please give it a share!